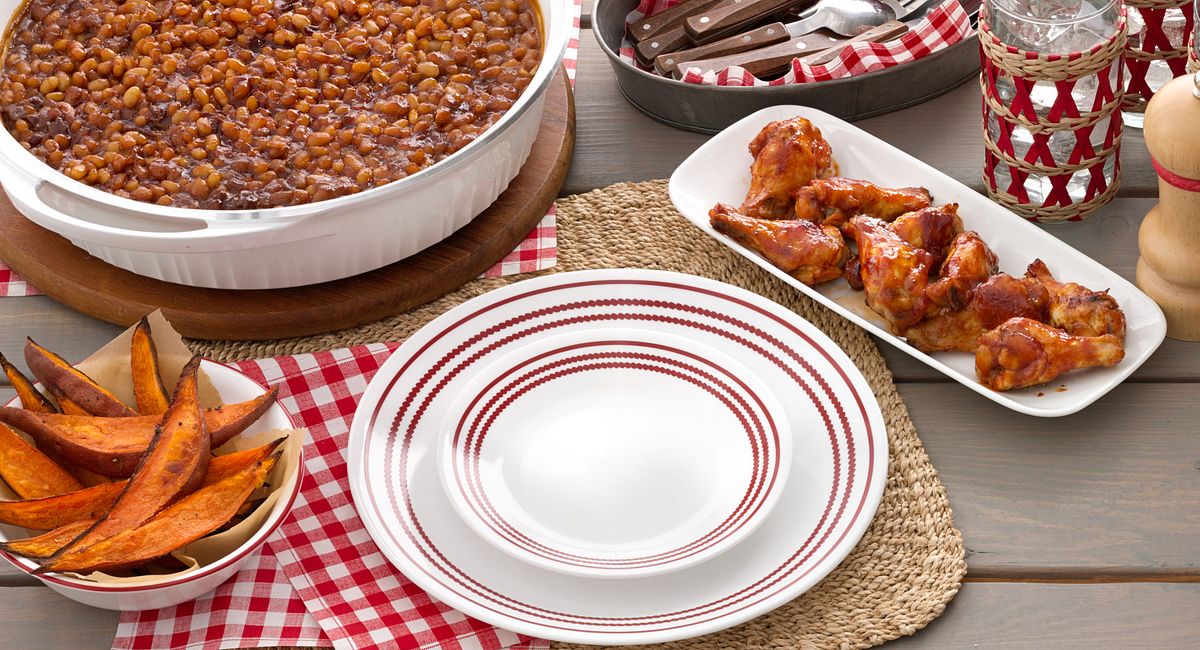 Light Up Your Backyard Barbecue Bash
Throw a finger-lickin', side-splittin', bone-suckin' good time in your own backyard with these 7 secrets for grilling up your most successful barbecue bash ever! From creative side dishes to pit master tricks, we've got you covered so you can celebrate National BBQ Month like a boss.
1. MAKE MAGIC WITH A MARINADE
Show your meat—especially the tough cuts—a little tenderness by giving it a soak in a liquid marinade before it meets the flame. Usually a mix of flavor-enhancing elements like herbs, soy sauce and spices, and tenderizing acidic components such as citrus juice, vinegar or dairy (yogurt, buttermilk, etc.), marinating should always be done in the refrigerator and never in a metal container. Glass, ceramic or food-safe plastic is best.
2. WORK IN A RUBDOWN
If you're pressed for time, adding a rub to your meat even minutes before grilling will give it a major boost in the flavor department. Make your own—sweet, smoky, spicy or a combination—or buy one of the many store-bought varieties available. The longer the rub adheres, the more intense the flavor (just make sure to keep meat in the refrigerator if it's more than an hour or so). And don't skimp—slather that stuff on!
3. GET CREATIVE WITH YOUR SIDES
Cornbread, baked beans and coleslaw—traditional side dishes that rightfully deserve a spot alongside the main event. But these basics don't have to be boring. Make a trendy apple-bacon slaw, add chopped chipotle peppers and shredded sharp Cheddar to cornbread muffins, or give this recipe for sweet 'n smoky baked beans a try. Yum!
MAPLE-RUM BAKED BEANS
Classically seasoned for that irresistible blend of smooth, sweet and tangy, our recipe elevates the must-have barbecue side by mixing in the robust, rich flavor of dark rum.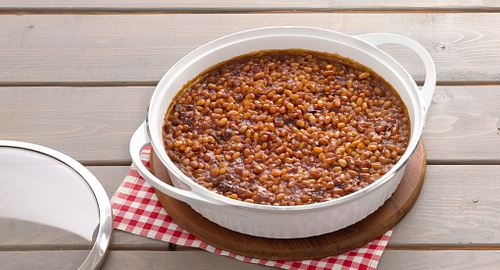 GET THE RECIPE
HINT: We have more sensational side dish ideas right here!
4. FEED YOUR EYES, TOO
Any good host knows that how you show off your spread is just as important as what you plan to serve. Set a carefree summertime vibe with colorful dinnerware in picnic patterns and coordinating linens. The lively CORELLE® LIVINGWARE™ RUBY RED 16-PC DINNERWARE SET looks right at home against a traditional red-checked tablecloth, while the fresh palette and fun design of the CORELLE® LIVINGWARE™ SOUTH BEACH 16-PC DINNERWARE SET offers a more modern look.
5. SMOKE OUT MORE FLAVOR
Smokers are the ultimate when it comes to achieving mouthwatering smokehouse flavor, but you can get similar results by adding a handful of soaked wood chips—think pecan, apple, oak, hickory or alder. Spread atop your charcoal or place them in a small, inexpensive cast-iron smoker box if using a gas grill. You can also make your own smoker pouch by wrapping a cup or two of soaked chips in a sheet of heavy-duty foil. Poke a few pencil-sized holes in the pouch so the smoke can escape and permeate your meat.
6. CHECK THE TEMP, THEN LET IT REST
Forgo the "is it done?" guessing game by investing in a meat thermometer. Easy to do yet often overlooked, taking your meat's temperature will help ensure perfect results every time. Also, as tempting as it may be, resist the urge to cut into the cooked meat until it has rested under a sheet of foil for at least 15 minutes. Doing so redistributes the juices within, giving you tender, moist and, yes, pit boss-worthy results.
7. GATHER 'ROUND AND DIG IN
The best thing about barbecue is the way it brings people together. Keep it that way by serving mains, sides, salads and desserts family style! Corelle offers plenty of serving platters and bowls perfect for the occasion. Our favorites? The versatile CORELLE® VIVE™ ENHANCEMENTS 12-1/4″ SERVING PLATTER and the CORELLE® SQUARE™ PURE WHITE 1.5-QT SERVING BOWL.
Want more of the low ('n slow) down on how to master your barbecue? Check out our handy infographic, and make your summer sizzle!
YOUR TURN: How many times will you fire up your grill this month?