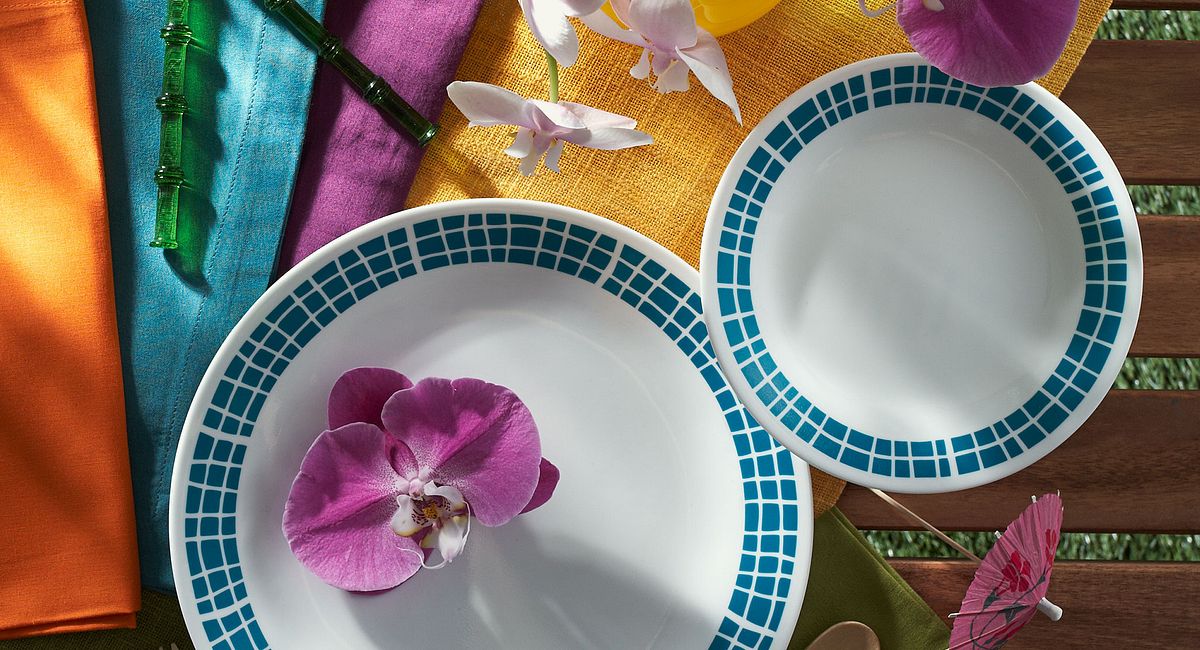 Pattern of the Month: Aqua Tiles
Summer is in full swing, and this month we're cooling things down with CORELLE® LIVINGWARE™ AQUA TILES pattern. Bright, aquamarine mosaics burst from the plate, making this dishware a stylish addition to any summer tablescape. Whether you're planning a party, picnic or an alfresco gathering with friends, this cheerful design is ideal for casual, upbeat entertaining.
Here are three ways—shall we go so far as to say our coolest faves—to dress up this versatile dinnerware:
PERK UP YOUR POOLSIDE PICNIC
Blue Is the New Cool. A poolside picnic is perhaps the most refreshing summer celebration of all. Host a pool party to keep the neighborhood kids cool, or plan a lively adult evening get-together complete with cocktails. No matter whom you've invited over, the Aqua Tiles pattern offers a simple way to add a splash of color to outdoor gatherings. The best part? Corelle dinnerware is chip-resistant, making it perfectly safe to take outside and poolside. Dress up your tablescape by setting plates on a bright blue tablecloth, then accent with bouquets of orchids, palm leaves or tropical birds-of-paradise. Don't forget coconut or tiki drinkware, complete with tiny umbrellas! With this fresh, simple party setting, you'll capture the best of summer at its peak.
Get more fun ideas from Pyrex® for how to Dive into Summer with a Cool Pool Party.
LIVE LA VIDA LOCA
Get Hot, Hot, Hot! Make your party table sizzle with rich colors and textures of textiles from Central and South America. Drape a striped serape (a long blanket-like shawl, often brightly colored and fringed at the ends) over your table—it's a quick and easy way to establish the party theme. Place terra-cotta pots of succulents and cacti down the center for easy, rustic-chic centerpieces. If you're feeling extra crafty, put together tiny desert-inspired terrariums for your table and send them home with guests.
Get inspiration for your own jam jar terrarium from The Sirona Springs Blog.
Once you have your tablescape decked out, finish it off by adding the Aqua Tiles plates. The simple design complements the vibrant table setting and welcomes guests to a fun summertime fiesta.
BRING BACK THE WINTER BLUES
Dreaming of Winter in July? The frosty whites and beautiful blues of the season are never more appealing than in midsummer. Exactly! It's more fun to dream about a winter wonderland when you're not subjected to the subzero temps. Though it might seem counter intuitive to bust out ice- and snow-themed decorations this time of year, frosty fun is on-trend right now, especially for birthday bashes or kids' slumber parties. Get some icy inspiration for a snow-themed spread from Bubbly Nature Creations. Then, simply set your table with the Aqua Tiles pattern. Its bright design makes any party table cooler than a snowman wearing shades!
When it comes to summer, the tans will fade, but the memories will last forever—just like your chip-resistant CORELLE® LIVINGWARE™ AQUA TILES dinnerware.
EXPERT ENTERTAINING TIPS
YOUR TURN: How will you dress up the CORELLE®LIVINGWARE™ AQUA TILES pattern this summer? We'd love to see your inspiring tablescapes! Share a photo and tag #Corelle.