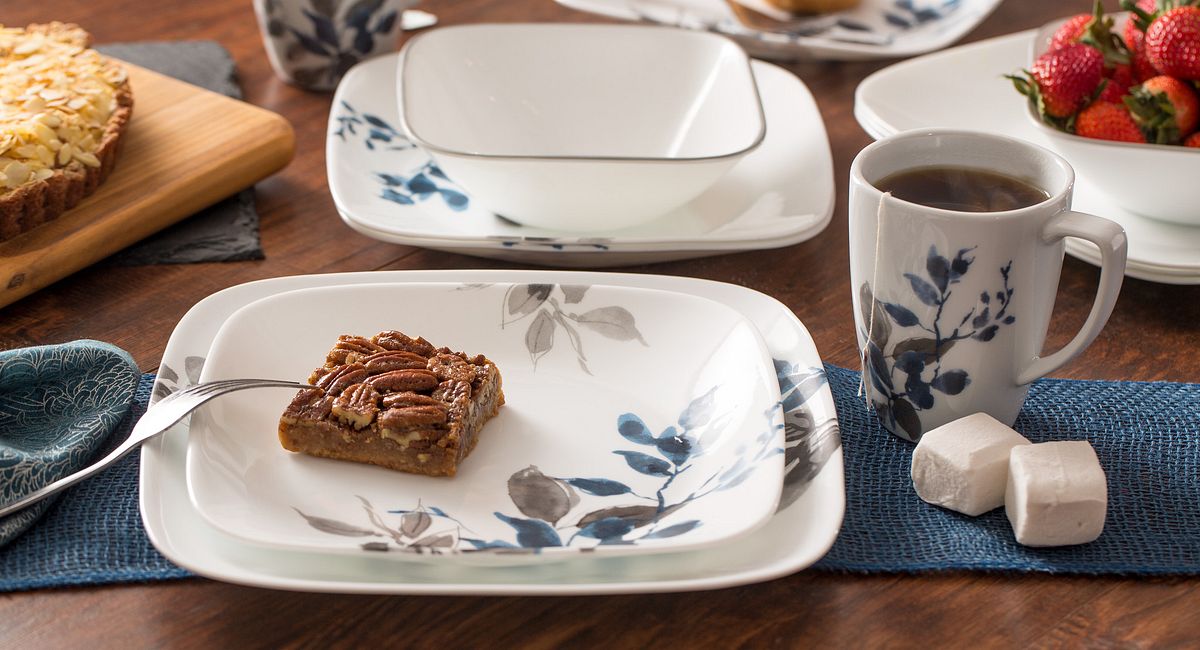 Pattern of the Month: Kyoto Night
Highlights
Celebrate the warm nights of summer with a moonlight dinner.
Share in a fun and active evening of shabu-shabu dining.
Host a low-key brunch featuring good-luck tokens.
Summer has arrived and so have soaring temps. In spite of the heat, we're keeping our cool with the shadowy blues and grays of the CORELLE® BOUTIQUE™ KYOTO NIGHT 16-PC DINNERWARE SET. The enchanting design of Kyoto Leaves is inspired by the textures of a Japanese garden, and though it looks beautiful in a kitchen all year-round, this pattern is particularly perfect for outdoor summer entertaining.
Here are three ways to set this chic set out for show:
MIDSUMMER BY MOONLIGHT
Warm summer nights make outdoor dining magical. Embrace the season and turn an evening with friends into a celebration of summer.
How to Decorate: Stage your setup under a canopy of trees laced with glowing Japanese lanterns. Top the table with pearl-colored linens and vases filled with cherry blossom stems. Set with Kyoto Night dinnerware, and accessorize with chopsticks and sake glasses.
What to Serve: When planning the menu, keep the fare light and fresh. A selection of small
plates that are shared and served in rounds will keep the table engaged throughout the evening. For tips on planning the perfect shareables, check out On Tapas or visit your local Asian grocery for simple finger foods like potstickers and wontons.
SUMMER OF SHABU
Add some sizzle this summer by hosting an evening of shabu-shabu. The Japanese meal is centered around a communal hot pot of steaming broth. While seated around the table, each guest can customize their meal by dipping a selection of fresh vegetables and meats into the steaming pot to cook them.
How to Decorate: When planning an evening of shabu sharing, keep your table décor to a minimum. A rustic wooden table set with Kyoto Night dishes and neutral linens looks beautiful with the colorful plates of vegetables on your menu.
What to Serve: Follow these tips from Tasting Table to get all the details just right. The fun and active dining style is the perfect way to share in the abundance and beauty of summer produce.
GOOD LUCK BRUNCH
Celebrate summer with a brunch filled with all the tokens of good luck—and a low-key gathering that everyone will enjoy.
How to Decorate: Set your patio table with a KYOTO NIGHT PLATES AND 22-OZ BOWLS. Glitter the table with golden candy coins, fortune cookies and paper fans. Create lucky centerpieces by creating Japanese-inspired terrariums from large mason jars. Fill with rocks, green moss and little Lucky Cat figurines, or glue green pom-poms to gray branches to create quirky, cartoon-like mini bonsai trees. These easy crafts can also serve as party favors for your guests to take home.
What to Serve: Keep the menu simple. Prepare a large pot of sticky rice and serve with julienned vegetables and seared fresh ahi. Invite guests to build their own sushi bowls. Don't forget to set out soy sauce, sesame seeds, edamame and other simple toppings, so guests can unleash their inner foodie.
With these ideas inspired by the Kyoto Night Collection, it's going to be a stylish summer. Elegant and enchanting, this pattern is as ideal for everyday meals as it is for outdoor entertaining.
EXPERT TIPS
YOUR TURN: What's your favorite way to dress up your summer table?
Highlights
Celebrate the warm nights of summer with a moonlight dinner.
Share in a fun and active evening of shabu-shabu dining.
Host a low-key brunch featuring good-luck tokens.
Recommended Products