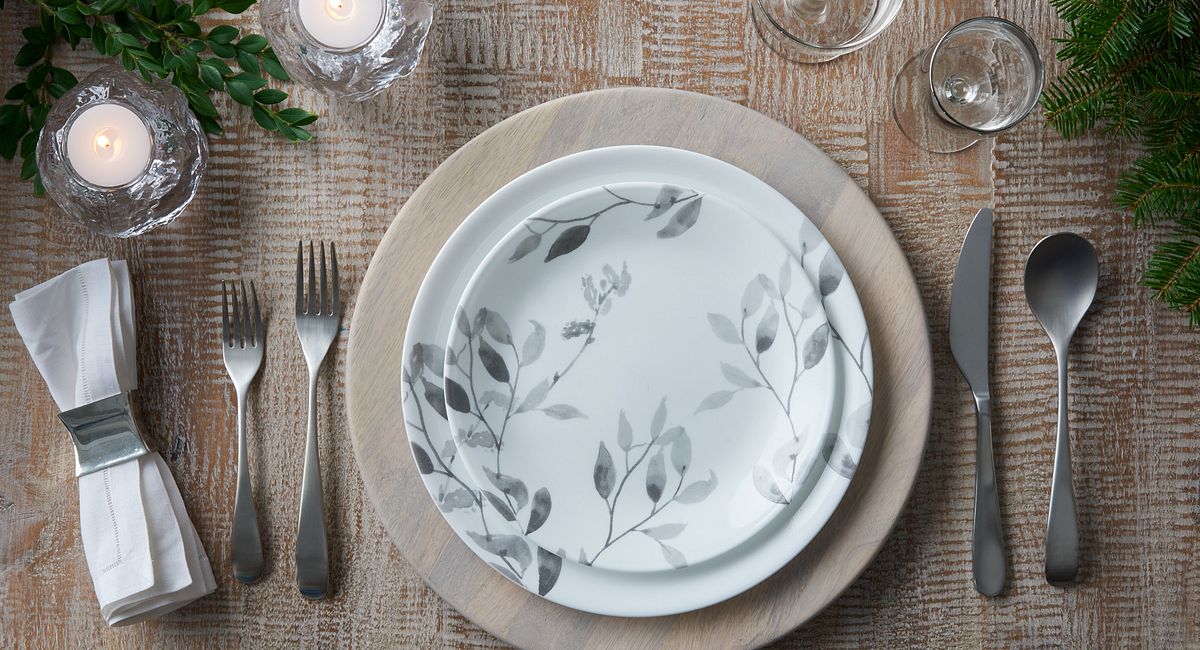 Pattern of the Month: Misty Leaves
Vibrant fall foliage will soon give way to the silvery frost of winter. To complement the transitioning of seasons, we've chosen our CORELLE® MISTY LEAVES PATTERN. From casual brunches to formal Thanksgiving celebrations, this versatile dinnerware adapts to the mood of the moment. Here are a few lovely ways to incorporate this look into autumn and winter entertaining:
FRENCH FARMHOUSE
A gray linen tablecloth and Misty Leaves dinnerware make a beautiful base for both casual and elegant gatherings. For finer affairs, set the table with crystal wineglasses and elegant silverware. Or dress down the look with mason jars, toile napkins and wooden utensils.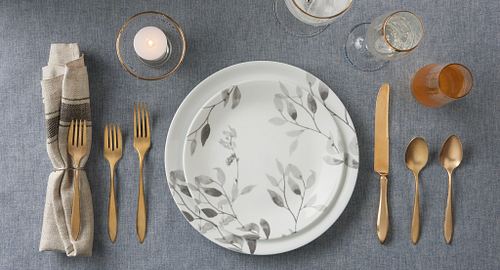 Add Some Color. Orange and pink pastels look beautiful with this palette. Set the table with white vases full of blush colored blossoms. Or spray-paint the inside of mason jars with pastel colors, then fill with white daisies for a simple centerpiece.
PLAYFUL MONOCHROME
Let the pattern of Misty Leaves inspire a uniquely playful table. With "gray" as your only theme, gather mismatched patterns and set a shabby-chic table with vintage flair. Gray striped tablecloth, gray polka-dotted place mats, gray paisley napkins. Combine a variety of large and small patterns for best results. Quick tip: A trip to the fabric store will likely be the fastest way to find monochromatic prints.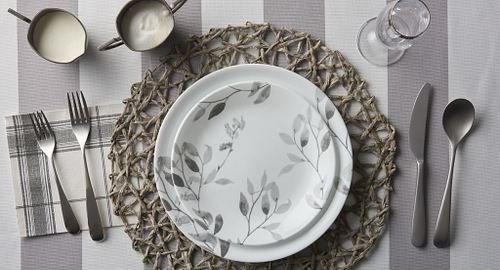 Simple Centerpieces. Hit the thrift store and look for tchotchkes. Arrange a random collection of silver items in the center of your table to finish off this fun look.
RUSTIC MINIMALISM
Warm up the crisp, cool colors of Misty Leaves dinnerware with a touch of warmth. A gray or white tablecloth, clear wineglasses and white linen napkins create a stunning canvas for real rustic touches. The stark contrast of wooden napkin rings, sprigs of real pine in bronze vases and white candles in golden candleholders create a welcoming table that is truly breathtaking because of its bold simplicity.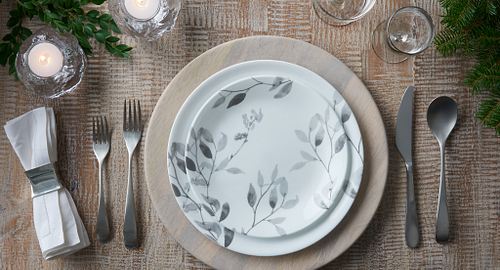 The Natural Touch. The key to this look is keeping it uncluttered. But placing a few pinecones or whole walnuts between the centerpieces makes for a beautiful finished look.
YOUR TURN: What would you match to the Misty Leaves pattern? #corelle