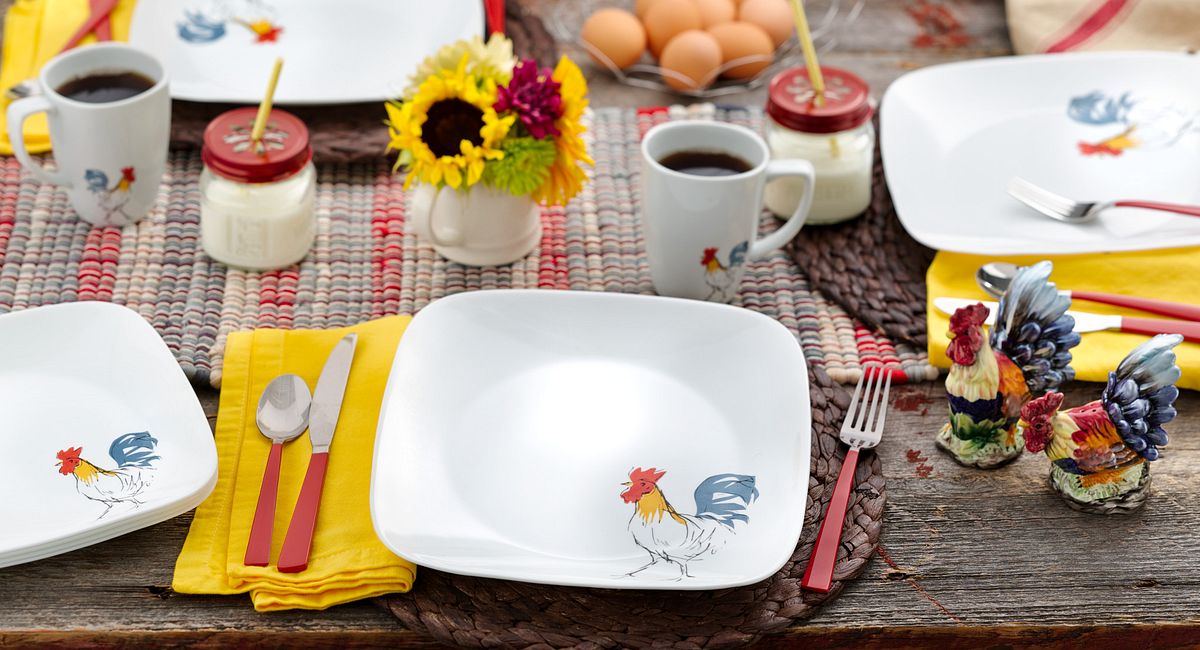 Rule Your Roost in Style
Retro yet contemporary: The combo might seem contradictory, but nonetheless, that's exactly the vibe evoked by Country Dawn, the newest design in the Corelle® Square™ dinnerware line. We like the way it confidently plants itself in both camps, which feels like a current design paradigm.
The fresh new pattern marries an old-fashioned kitchen icon, the rooster, with sleek, squared plates softened by rounded corners and flared rims. Done in classic pen and ink, the simple sketch brings a vintage flair to the modern kitchen. And, as always, you get all the features and benefits of Corelle dinnerware, including:
Thin and light construction that's incredibly strong, thanks to three layers of heat-strengthened, laminated glass
Chip-, scratch- and stain-resistance
A microwave- and dishwasher-safe finish
As for the rooster, this isn't the first time one has appeared on Corelle dinnerware. The original Country Morning pattern, featuring a charming hand-painted design, debuted in 2006, and a similar, slightly updated pattern was part of the now-retired Corelle Impressions™ dinnerware line.
PLUCKY AND LUCKY
A cherished fixture of kitchen décor, this flamboyant farmyard bird has been a symbol of good fortune for centuries. It's hard to pin down exactly why the rooster achieved rock-star status as a good-luck talisman, but according to folklore, the rooster is revered for a number of reasons:
As nature's alarm clock, the vigilant rooster is completely trustworthy as he awakens rural residents daily at dawn.
On a more profound and symbolic level, in the eternal battle between light (goodness) and dark (evil), the rooster—a beacon of hope—announces the victor every morning.
The rooster is a serious guardian that devoutly, bravely and loyally protects his flock.
Roosters are also regarded as a symbol of prosperity because they share food they find with their barnyard brethren.
A COLORFUL PAST FROM EAST TO WEST
As such, it's no wonder that roosters became such popular cultural symbols, dating as far back to the ancient Greeks, who considered the bird an emblem of the sun. Later, roosters were a universal solar symbol (do you see a "pattern" forming here?) in Eurasia and the Near and Middle East.
To this day, the rooster is the 10th of the 12 animal symbols in the Chinese zodiac. People born under this sign are supposedly practical, hardworking, resourceful, courageous, confident, loyal and honest, among other things. They're also charming and enjoy the spotlight, and can be rather boastful (no surprise there!). Fun fact: The next Year of the Rooster in the Chinese zodiac is 2017.
In the 15th century, the birds gained prominence in Italy when feisty roosters allegedly foiled an assassination attempt on the politically powerful Medici family. Legend has it that alarmed roosters began to crow frantically when they detected hired assassins sneaking into a Medici stronghold. Later, the Medicis gave local peasants ceramic wine pitchers decorated with roosters for good luck, perhaps starting the tradition of roosters appearing in kitchens.
The rooster also used to be the unofficial national symbol of France centuries ago, signifying vigilance and bravery. Roosters appeared on flags during the French Revolution and to this day, roosters still decorate church bells and watchtowers there.
So if you don't already have some good-luck roosters in your kitchen, perhaps it's time to join this longstanding tradition with the new Corelle® Square™ Country Dawn dinnerware collection. Country chic? Stylized rural? Contemporary retro? Whatever you'd like to call it, the farm-fresh pattern will give you something new to crow about in your kitchen.
YOUR TURN: Which rooster "attribute" do you most identify with?