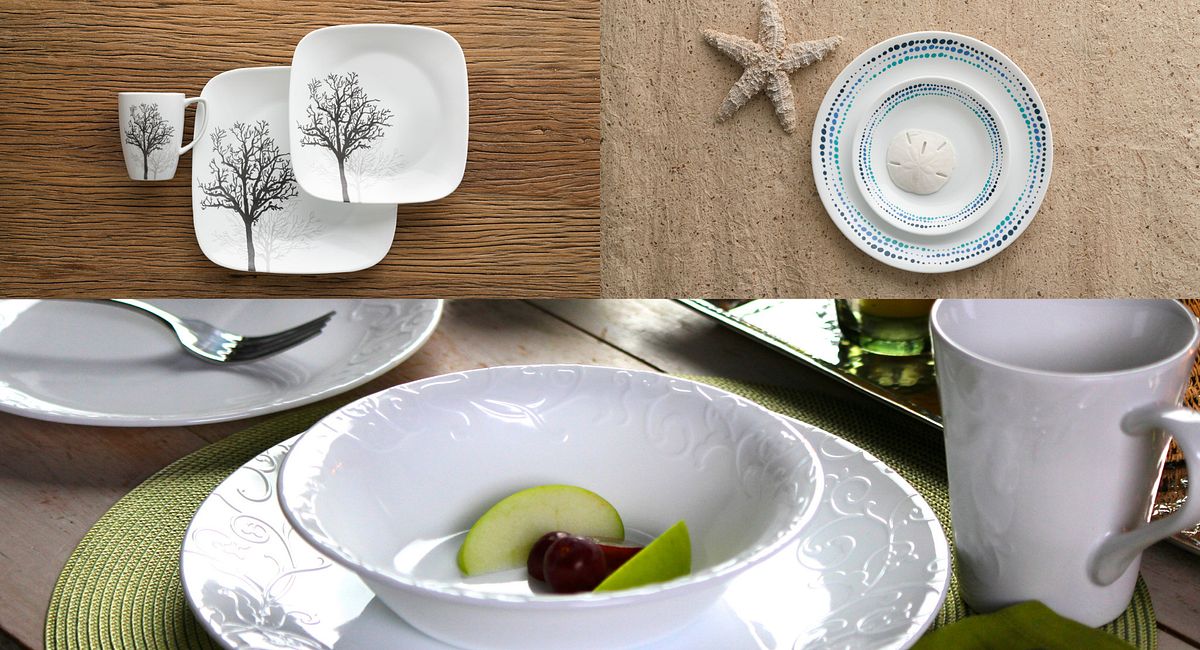 Table Trends: Outdoor Entertaining
As we drift into summer, longer days mean finding more opportunities for outdoor entertaining. Step out onto the patio or deck to soak up the sunshine, and carry on until after dark as you make the most of your seasonal extra room.
In the third of our tabletop trends series, we'll share simple DIY decorating tips, fun décor ideas and complementary Corelle dinnerware patterns to help you highlight summertime's bright, easygoing style.
PUT SUMMER ON DISPLAY
Plan a themed tablescape that emphasizes the best parts of the season. Once you've chosen your décor, choose a dinnerware pattern that complements your style.
GO COASTAL.
Nothing says summer like a relaxing day at the seashore (or lake). It's always hard to leave, so bring the beach home to your backyard. Start by placing sand and shells into an old lantern or vase to create an inspired centerpiece. Scatter bits of driftwood, and include
candles for evening get-togethers. Add a wash of extra color to your table with the vibrant
CORELLE® LIVINGWARE™ OCEAN BLUES 16 PC DINNERWARE SET
. Your guests will swear they can smell the ocean air!
CHANNEL RUSTIC CHARM.
Capture the organic beauty of summer by using natural decorations to dress up your table. Burlap makes a chic and easy table runner or a packet to hold your silverware. Make a simple centerpiece by using old bricks to create planters for succulents. Simply pop small plants into the pre-drilled holes. You can also use the holes to hold tea lights or votives for gatherings that go into the night. Then set your table with
CORELLE® EMBOSSED™ BELLA FAENZA DINNERWARE.
The delicate pattern of scrolls and leaves echo the abundance of summer foliage, and the all-white color scheme will complement your natural décor. Plus, it makes an ideal backdrop for displaying bright summer veggies.
CREATE COZINESS.
Even in June, it can get a bit chilly when the sun starts to go down. From old-school campfires to portable fire pits, gathering 'round the flames tends to lead to long conversations and comfortable lingering. Create a forest-inspired feel by starting with a simple checkered tablecloth or runner and then setting your table with the new
CORELLE® SQUARE™ TIMBER SHADOWS DINNERWARE SET
. Put together an easy (and delicious!) centerpiece by creating a s'mores stand with tiered serving trays, or arrange serving bowls filled with ingredients. Not having an actual campfire? Don't worry—you can bring the heat straight to the table. Just line a terra-cotta pot with foil, fill it with charcoal and light it up. You can roast marshmallows without leaving your seat!
BRIGHTEN UP THE MENU
Whether you spent your spring tending the garden or just enjoyed a leisurely trip to the farmers market, fresh seasonal veggies are a summertime hallmark. Show off your prized picks with a crisp Summer Bean & Pepper Salad or light and flavorful Summer Tomato Pie. Need even more inspiration? Check out our Vegetable Casseroles & Summer Side Dishes for fresh new ideas.
FAVOR FRESH HERBS
Setting your table for guests? Create party favors by planting herbs like oregano and basil in cute little pots. They make a great, organic addition to a summer tablescape, and your guests will love having a reminder of the day each time they enjoy fresh herbs in their own kitchen.
EXPERT TIPS
REEL IN YOUR ENTREE. If you're going with a nautical theme and you want to serve seafood, get tips on How To Fillet a Fish from the experts at CHICAGO CUTLERY®.
WARM UP YOUR NIGHT. Looking for more ways to keep guests cozy on a summer night? Check out these tips for a setting up a Campfire Cafe.
GET YOUR GRILL ON. Outdoor entertaining is ideal for food fresh off the grill. Brush up on the basics and learn Secrets Of Backyard Grilling right here! However you set your space, use your favorite parts of summer as inspiration. Whether you channel the sights, sounds, smells or tastes for summertime, you and your guests will enjoy spending time and making memories at your thoughtfully set table.
YOUR TURN: What summery symbols do you draw inspiration from when entertaining?