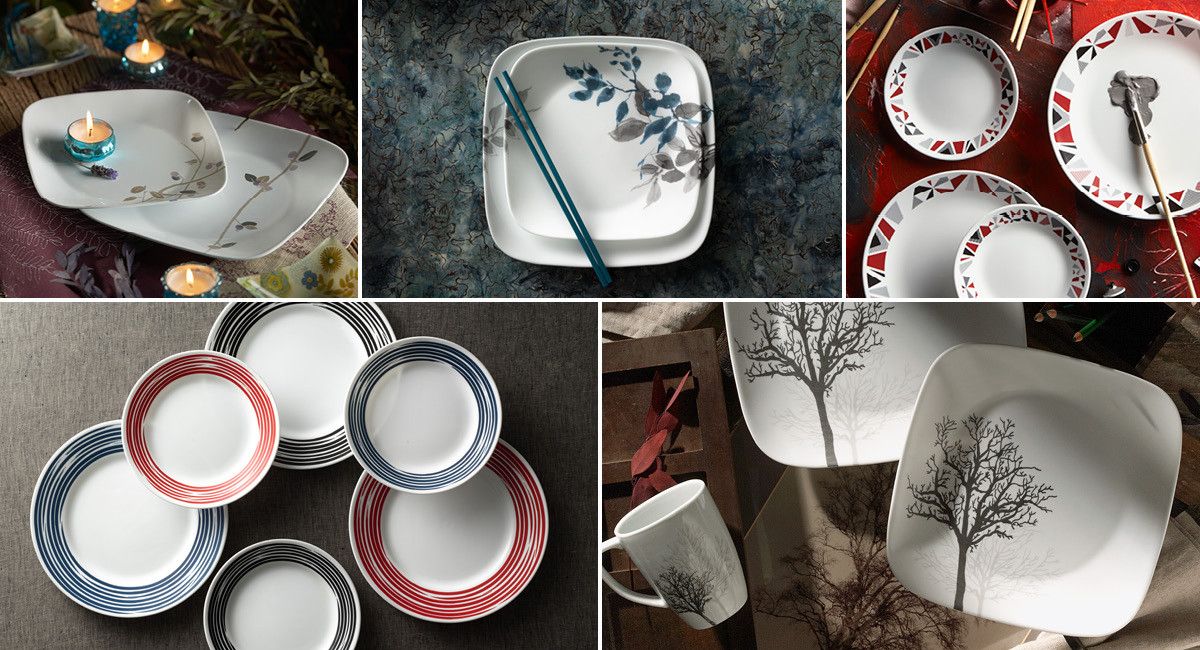 Table Trends for Autumn
Autumn is a time for change. The temps cool, a chill creeps into the air, leaves begin to turn and fall. When everything around you is changing, why not go with the flow and change along with it? Now is an ideal time to invite the season inside with a colorful dinnerware upgrade.
In this fourth edition of our Table Trends series, we've rounded up some of the hottest décor ideas of the year, designed to warm up your table on cool fall nights. Inspired by five Corelle® dinnerware patterns, these fresh concepts bring the deep, rich, hues of the season straight to your tabletop.
MAKE AUTUMN THE CENTER OF ATTENTION
Spice up your seasonal décor with DIY centerpieces. Autumn makes it so easy! Arrange large branches of colorful leaves in a vase. Place a row of red and yellow leaves down the center of your table, with gold and orange candles set on top. Or arrange seasonal squashes in a decorative bowl.
Step-by-Step Centerpiece. Need even more visual inspiration? Check out this great tutorial for rustic burlap luminaries from Oh So Lovely.
SET OUT THE SWEET STUFF
Here's a fun way to add fall color to your table: candy! Fill tall glass containers with layers of candy corn or harvest mix. Foil-wrapped chocolates or caramels also come in seasonal colors. Added bonus: When guests come visit, there's something for them to snack on!
Party Perfect. Throwing a dinner party? A DIY "party favor" at each place setting is a sweet way to make the night special. Wrap caramel apples in clear treat bags for a tasty take-home treat. Grab some great ideas for dipping gourmet apples here: Caramel Apples, From Simple to Showy.
MAKE-YOUR-OWN FARMERS MARKET MENU
Invite the cozy cuteness of the local harvest into your home with a bit of blackboard. Sheets of lightweight chalkboard can be purchased for less than $10 from most hardware retailers. Ask them to cut the sheets to the desired size in-store. Once home, just drill two holes into the top and hang it on your wall. Grab a piece of white chalk and write up an inviting, old-fashioned menu—just like they have at farmers market stands! Search for "chalkboard art" online to inspire your creation.
What's for Dinner? When hosting an autumn gathering, update your handwritten chalkboard with the evening's offerings. Not sure what to serve? Check out these Flavors for Fall Grilling. Don't forget to go for the big finish—read for ideas on what pies will go over best.
INVITE THE OUTDOORS INSIDE
Tuck away the colors of spring and summer, and bring out these beautiful autumn options instead. These five pretty patterns transform your kitchen table into a stylish fall tribute in no time at all.
Reminiscent of fresh-picked flavors, long walks through colorful orchards and the mellow comfort of the harvest, these dinnerware patterns are our fave picks for the season. What are yours? Visit the Corelle gallery to see our entire lineup of designs and find your own fall favorite.
EXPERT TIPS