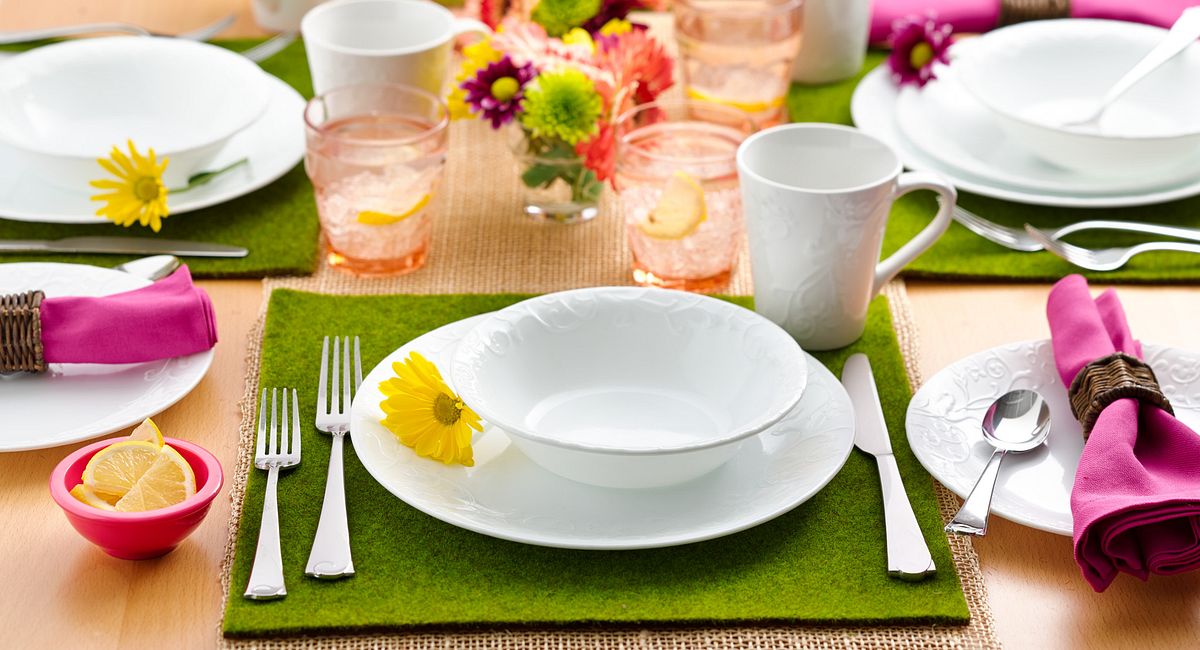 Table Trends for a Celebration of Spring
No matter what the groundhog said, we say it's time to wave good-bye to the winter blues and spring forward with the sunshine! We rotate our closets when the seasons shift, so why not do the same with our tabletops?
In the second of our tabletop trends series, we'll share simple tips and fun ideas for making your tablescape bloom with spring style. We've also chosen four seasonally inspired Corelle dinnerware patterns that will bring a light, fresh look to your kitchen and dining table.
GET CENTERED
Fresh flowers and foliage effortlessly highlight the essence of spring. Create lively centerpieces with an array of your favorites popped into fuss-free mason jars or interestingly shaped wine and vinegar bottles. We love ferns and other airy, leafy greens for a cool and casual vibe, and the energetic hues of tulips and gerbera daisies for brightening up the table, but feel free to use whatever flowers make you think spring. Or spruce up your tablescape with a gorgeous floating garden centerpiece. Collect an assortment of fresh fruit and flowers and place them in clear vases, then fill with water and float tea light candles over the arrangements.
FRESHEN UP THE MENU
Indulge your other senses as well! Find out which produce is in season again, then check out our selection of fresh spring sides for ideas on how to wake up those winter-weary taste buds.
DO THEM A FAVOR
Setting your table for guests? Coat tiny terra-cotta pots with chalkboard paint, write each guest's name on it and pop in a little plant. Using fresh herbs like rosemary or thyme will subtly scent your table, plus guests can take them home as party favors, then repot and enjoy the harvest all season long!
PUT SPRING ON DISPLAY
EXPERT TIPS
BRING IN THE IT SQUAD. Freshen up your look by incorporating one or more of the top colors for spring 2015. Add a splash of cool Aquamarine or liven up with Lucite Green, a bold mint. Other bright pastels to play with include creamy Custard, sweet Strawberry Ice and juicy Tangerine. Need your neutral? Sprinkle in some warmth with Toasted Almond.
THINK AU NATUREL. Keep décor simple and organic with on-trend burlap accents and easy centerpieces of lush green wheatgrass. For images and inspiration, check out Urban Comfort.
START 'EM YOUNG. Little ones, fresh produce and springtime go hand in hand in hand. Invite the kids to help with planting spring gardens, and use the harvest to bring new life to everything from dinner to décor.
Whether you're typically classic or eclectic, any tabletop can benefit from a fresh infusion of spring style.
YOUR TURN: How do you get in the spring spirit? Share your favorite ideas for a springtime tablescape!