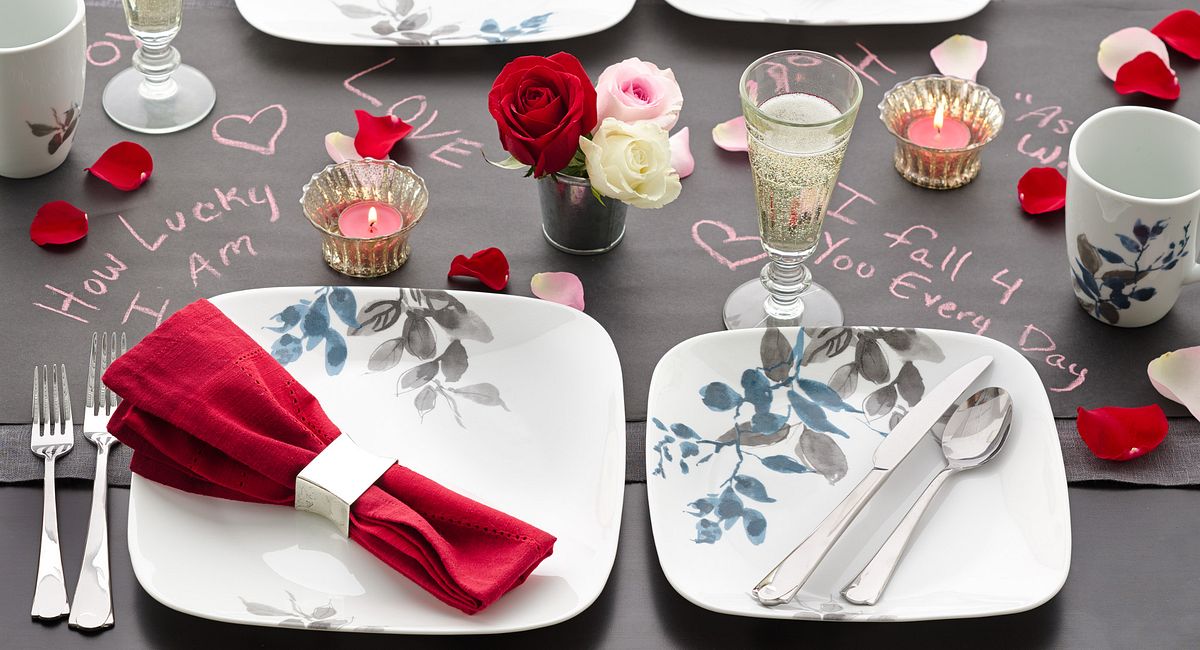 Table Trends for a Lovely Valentine's Day
On Valentine's Day, the big idea is that love is all around. From what we taste (Champagne? Chocolate? Pizza?) to the scents in the air (Candles? Perfume? A sizzling rib-eye?), we surround ourselves with everything that appeals to our senses—and hopefully, your sweetheart's or loved ones' senses, too!
If you're staying in to celebrate, give your dining table the same attention to detail. With the first feature in our new tabletop trends series, we'll show you how to set your space—and your mood—with love-inspired ideas. Create a tablescape that suits your personalities and your relationships using these sweet but simple on-trend tricks.
SAY IT YOUR WAY
A holiday made by the greeting card companies? Not on our watch! Make Valentine's Day your own by sending a message that's straight from your heart. Scribble your sentiments on a chalkboard table runner to say what you feel as only you can. To whip up a table runner, all you need is four (or more, depending on the size of your table) sheets of chalkboard scrapbook paper. Set them out so they're the right length and then stick 'em together by taping them on the backside. Now use chalk to write personalized notes to your significant other, family members or beloved guests! If you want to add embellishment to the emotion, use pretty additions like glitter tape, ribbon and decorative hearts to impart a little extra love to your tablescape. Looking for an even easier way to combine your decor and your desires? Grab a handful of Scrabble tiles and spell out the secrets of your heart.
PUT SWEET ON DISPLAY
Why not tease your dinner date or companions with a bit of sweet temptation and display dessert all throughout dinner? Simply turn wine glasses upside down and set a treat under each. Then, to make your centerpiece really shine, place a small pillar candle on the base of the upside-down glass. We recommend a grouping of several glasses, and placing them down the center of the table. What to show off? Personalized cupcakes frosted with hearts or a "you+me" message will hit anyone's sweet spot. (For easy tips, refer to HOW TO FROST A CUPCAKE.) Looking to send a message that's a bit more seductive? Our scrumptious BOOZY BROWNIE SHOTS are impossible to resist!
CALL IN A FAVOR
Whether it's just the two of you or you're entertaining a beloved bunch, include a thoughtful and fun DIY "party favor" at each place setting. Arrange heart-shaped chocolates or other candies in the shape of an arrow, or write a little love letter and display it in a picture frame or rolled up and fastened with a red ribbon. Include a copy of the dinner menu, either handwritten or designed and printed using a pretty font. Or if you're feeling adventurous, use this as an opportunity to set out the first clue to your very own romantic scavenger hunt.
SET UP YOUR INTENTIONS
Even your dinnerware pattern can highlight your heart's desire.
EXPERT TIPS
PARE UP. Looking for an easy last-minute decor idea? Make a few quick cuts and voilà: You've got an easy edible centerpiece of strawberry roses, perfect for the health-conscious, budget-conscious or kid-conscious! Find different tutorials and videos online.
TURN ON THE LOVE SONGS. Set the mood with special music, no matter who you're celebrating with. Create a playlist that'll add to the ambience, transport you to the early days or help you get your dance on.
BACK TO BASICS. If you're not quite sure what goes where, read HOW TO SET A TABLE: IDEAS FOR SETTING A BEAUTIFUL TABLE.
Whatever you do, stay true to your style. You can go all out or just add a few thoughtful touches, but when you set your dining space with love in mind, sweet happens.
YOUR TURN: How do you use your environment to sweet-talk your loved ones?