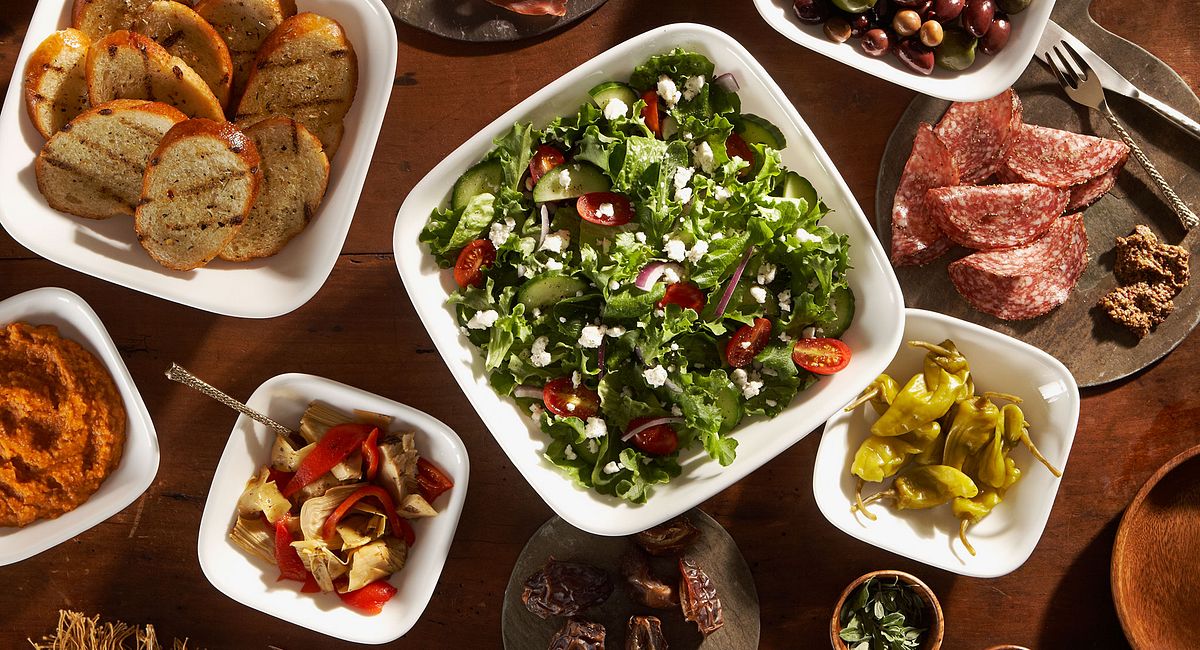 Thanksgiving Made Simple
Figuring out the details before hosting Thanksgiving dinner can lead to an endless loop in your head: Turkey and family and mashed potatoes and friends and pie and kids and vegetarians and gluten-free diets and where are you going to put everyone?
Just because Thanksgiving's the biggest meal of the year doesn't mean you need to stress! There are plenty of measures you can take to stay on top of things and ensure your turkey day dinner goes off without a hitch. Here, we count down 10 things you should consider in the days leading up to the feast.
10. WORK ON YOUR MATH SKILLS
Knowing how many mouths will be at your table is the single most important piece of information you'll need when planning your Thanksgiving. Do a head count so you know how much food to make, and find out if anyone attending has specific dietary needs that you'll need to accommodate.
9. SPREAD THE LOVE (AND THE COOKING)
Ask guests to bring an appetizer, side dish or dessert so that Thanksgiving dinner isn't all on you. It'll allow friends and family to share their favorite food traditions, and you won't be left making all of the many dishes. Chances are, your aunt might be looking for an excuse to make her specialty—and it could be this delicious sweet potato gratin with Gruyère.
8. DON'T SHOP ON WEDNESDAY!
Expect nothing but crowds and slim pickings if you shop the day before Thanksgiving. Instead, make several trips to the market ahead of time to make shopping more manageable and to factor into forgetting items. Make three lists: one for the turkey (if it's frozen), nonperishables and kitchen supplies to buy 2 weeks before Thanksgiving; another for core groceries to purchase the weekend before; and a third for remaining items that must be impeccably fresh, such as bread and the turkey (if it's fresh), to buy the Tuesday before.
7. SUPPLEMENT WITH A ROAST
Take the pressure off choosing the right size bird. Earlier in the week, pop a roast into the oven that cooks best low and slow and gets better with time—think pork shoulder or leg of lamb—then reheat it on Thanksgiving Day. It's guaranteed to add to your already-impressive food spread, and if you mess up the turkey or end up with additional or extra-hungry guests, you'll know there's something else to eat!
6. SET THE TABLE IN ADVANCE
It's easy to get carried away with making food, only to realize the table has been a total afterthought. Prevent this from happening by pulling out everything you need, like tablecloths, placemats and the CORELLE® BOUTIQUE™ CHERISH dinnerware collection, and setting the table in advance. Seasonal squash and colorful candles make stylish centerpieces. For an extra-special welcome, jot personal notes of welcome to each guest (or have the kids do it), roll up and tie with ribbon or twine and place on each plate.
5. PUT THE KIDS TO WORK
Bring your kids into the kitchen so Thanksgiving cooking doubles as family time. Get little ones involved with everything from voting on recipe options to washing fruits and vegetables. Easy-to-delegate tasks like snapping ends off green beans and rolling out pie crust can also foster accomplishment and mealtime excitement for kids.
4. DO LITTLE TASKS AHEAD OF TIME
Freezing ice cubes, emptying the dishwasher, ensuring you have an extra place setting: doing these smaller tasks won't feel like much when you do them ahead, but they'll no doubt make an impact on the day of the meal, when you're busy and crunched for time. When you remember you've already filled salt and pepper shakers or gathered containers for leftovers, you'll be elated.
3. COOK AS MUCH AS POSSIBLE THE DAY BEFORE
Cook in advance on Wednesday to save time and oven space on Thursday. Bake items that taste good at room temperature and don't need to be reheated—think roasted vegetables, our bacon cheddar chipotle cornbread, certain casseroles, pies—so they don't get stuck in the oven queue come Thanksgiving Day. The same goes for cold dips, sauces like our cranberry, pineapple and orange relish and salads (sans dressing) that don't require oven time.
2. GIVE YOURSELF TIME TO GET READY
To avoid answering the door in a turkey-stained T-shirt, add an extra hour when mapping out your day of cooking plan so that you have time to freshen up and change into something nice. Looking and feeling your best will boost your confidence in hosting Thanksgiving dinner.
1. DON'T SWEAT THE SMALL STUFF
…and really, it's all small stuff! Even if some details don't go as planned, remember what really matters: celebrating love and laughter with family and friends. If you run into a kitchen mishap, just think: It'll be something worth joking about next year!
EXPERT TIPS FOR A THANKSGIVING MADE SIMPLE
Welcome guests with upbeat music, then transition to mellower tunes during the seated meal.
For big parties, seat guests strategically, inviting them to sit down with stylish personalized place cards.
Err on the side of serving more food over less. Who doesn't love Thanksgiving leftovers?
Spreading out the work will help things go more smoothly on Thursday, so don't overplan and bite off more than you can chew, and don't procrastinate and end up in a panic. Remember that most of Thanksgiving prep can be done step by step and in moderation. (Although the latter doesn't necessarily apply to consuming the dinner!)
YOUR TURN: What are your best tips for being ahead of the curve on Thanksgiving?