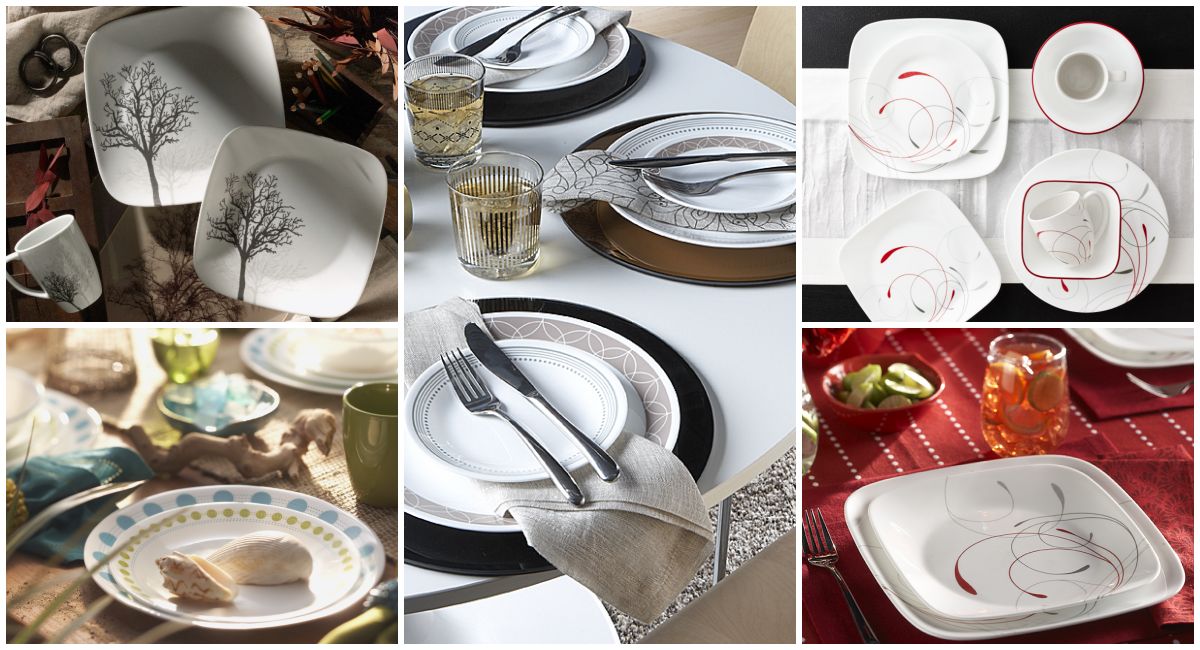 Trends in Décor for 2016
Usher in the end of 2015 with a fresh new look! Every year, we ask our Corelle® design team to hunt down the hottest upcoming trends in home décor. This year, they've walked the aisles of massive trade shows, considered new collections and analyzed patterns and styles. They've watched the runway, mowed through magazines and followed viral online fads. And now, with the New Year on the horizon, we've got the 4-1-1 with this décor trends forecast for 2016 that will help you get the latest looks.
From elegant metallics to eye-catching menswear prints to soft and soothing corals, here's what you'll be seeing in 2016:
THE YEAR OF GIFTING
Believe it or not, one of the biggest buzzwords of 2015 is "gifting" and we anticipate the trend growing even bigger into the coming year.
Whether it's a black-tie wedding or a casual dinner party, don't go to your next event empty-handed. Share a Corelle dinnerware set and your gifting is ready-to-go. Arrive in fashion with the classically
beautiful, yet modern CORELLE® SQUARE™ PURE WHITE 16-PC DINNERWARE SET gift set or share some bold energy by tying a bow on a CORELLE® COORDINATES® HAPPY DAYS 6-PC BOWL SET bowl set. These gorgeous giftables are sure to be the star of any party.
CONFIDENT COLLECTIONS
Being the same as everyone else is so 1999. Nowadays, we feel more confident than ever with our own personal styles, and several Corelle patterns reflect this trend.
Designers have pushed beyond typical buy-in-the-box coordinates, creating patterns that can be mixed and matched in a style all your own. From Scandinavian blues to bright geometrics and exotic botanicals, the Corelle dinnerware patterns invite you to pick, choose and personalize your own tabletop. Create your own story! Become an artist in your own home! Sounds like something you'd love to do? Start with any one of the 9 bright CORELLE® BOUTIQUE™ BRUSHED 16-PC DINNERWARE colors and go from there. These sets can easily mix-n-match as well, for dozens of totally original design combinations for a look that's uniquely you.
INSPIRED BY WALLPAPER
It's official! Wallpaper is back in a big way. This year we're seeing a huge uptick in patterns made with repetitive geometric patterns. Over the last few years, chevron patterns have been all the rage. Now the trend is extending to more intricate designs, both large and small. Some of these patterns have a "nostalgic" feel with a modern-day refresh, while others focus on a more real-life look, incorporating photography into the design.
Corelle designers have brilliantly transferred the wallpaper trend to tableware, so you can add a splash of mid-century modern to your décor without taking on a wallpaper redo. Love the look? Bring it into your kitchen easily with the striking lattice pattern on our CORELLE® IMPRESSIONS™ URBAN GRID 16-PC DINNERWARE SET.
MENSWEAR WINS THIS YEAR
This year the threaded, polished look of the Wall Street professional proves to be a huge inspiration for dialed-in décor. Based on intricate eye-catching patterns with geometric floral themes (think plaid and paisleys), this new trend offers an understated way to make a bold statement. Simple and traditional, with a touch of carefully crafted whimsy, re-create the look at home with dark linens, platinum silverware and the CORELLE® LIVINGWARE™ CITY BLOCK 16-PC DINNERWARE SET dinnerware.
BRILLIANT BOTANICALS
If the shabby chic trend of yesteryear has you avoiding frilly, Victorian florals, it's time to rethink the trend! Antique floral patterns are out and a whole new line of botanicals—from tropical to English rose—are actually front and center this year. A brilliant way to bring garden-inspired beauty inside with fresh and natural design elements, Corelle dinnerware offers an abundance of updated floral patterns, including the CORELLE® IMPRESSIONS™ BIRDS & BOUGHS 16-PC DINNERWARE collection that's perfect for holiday and year-round entertaining.
NOSTALGIA IS THE NEW NOW
Retro-inspired design is mainstream once again, and this time you'll see mid-century modern and Scandinavian influences scattered throughout the home. We're seeing lots of playful abstract patterns, full of good humor and bright colors, which recall the youth-inspired look of 1950s and '60s pop culture. Look for little birds, circles, teardrops and futuristic plays on stripes and lines. Love the look? Bring a modern twist and touch of playful frivolity to your table with the playful colors and modern polka-dot design on our CORELLE® LIVINGWARE™ SOUTH BEACH 16-PC DINNERWARE SET.
MODERN METALLICS
If you grew up in the 1980s, no doubt you heard that silver and gold should never be mixed. But this year the wisdom of yesteryear is being turned on its head. Metallics are the hottest new trend around. We're seeing gold, silver and copper gilding everything from lampstands to coffee cups. And two-toned metallics on tableware are a fresh new way to bring a touch of elegant style into your home, without looking like you've stolen a set of Grandma's outdated china. The CORELLE® LIVINGWARE™ MYSTIC GRAY 16-PC DINNERWARE SET is a great place to start. Elegantly classic, it looks stunning with any combination of mix-and-match metallic accessories, so you can create a sophisticated look that's all your own.
FROSTY IS FRESH
Turn your home into a winter wonderland! It doesn't matter what month it is, the frosty colors of winter are a hot new trend. We're seeing soft snow and mountain patterns, muted palettes and washy watercolor patterns. The CORELLE® SQUARE™ TIMBER SHADOWS 16-PC DINNERWARE SET line was inspired by this trend. Delicate silhouettes of leafless branches on pure white, rounded-edge plates set off a cool, earthy vibe for your kitchen.
LITTLE CRITTERS
Furry critters are popping up everywhere from fabric to wall hangings. Nordic-influenced foxes, botanical printed birds, adorable forest creatures and graphic pet designs are making their way into the home. We've put our own fun twist on this trend with our CORELLE® SQUARE™ COUNTRY DAWN 16-PC DINNERWARE SET. A sketched rooster steals the spotlight on square plates with rounded corners, this set adds a touch of whimsy to your table without overdoing the cute.
LAYERS OF DIMENSION
Love making a bold statement? The brand-new, uber-chic geometric trend is about to explode. We're starting to see designers play with dimension and movement, from wildly shaped vases to intersecting lines. The result is a clean, modern feel that lends a striking splash of contemporary, modern and rustic style. Channel this art-deco inspired look with CORELLE® LIVINGWARE™ MOSAIC RED 16-PC DINNERWARE SET. The eye-catching black and white geometric edges are accented with a splash of red, making for a dynamic dining set that shows off your artsy side.
BLUSHES AND CORALS
From the sun-bleached corals of the Caribbean to the clay-colored cliffs of Mesa Verde, muted, soft shades are popping up all over the design world. Bring these calming colors into your home by choosing accessories that range from soft pink to coral and pairing with earthy grey tones. Set your table with mauve CORELLE® LIVINGWARE™ SAND SKETCH 16-PC DINNERWARE SET and you'll have a beautiful taupe-toned look that can be easily coordinated with a whole palette of earth-toned accessories.
BRIGHT AND BOLD
Energetic color palettes are everywhere—a reflection of youthful optimism, humor and cheer. We're seeing bold collections for every room of the house. Mix electric yellow and candy pink accessories or pair neon green and orbit orange together. The combos are endless. To get this trend right in your home, don't go overboard with oversaturation—the key is to add little pops of color here and there for an unexpected lift. Set up a morning wake-up station with a vibrantly hued coffee tray and cups, or create open shelving with a color pop from CORELLE® SQUARE™ SPLENDOR 16-PC DINNERWARE SET. The free-flowing accents on these festive plates literally add a "splash" of color wherever they're placed.
Whether you're totally redecorating your home, or simply looking for a refresh, the hot trends of 2016 are a great place to start. From traditional to totally modern, Corelle dinnerware makes it easy to bring your favorite looks to life. Which style will you choose this year?