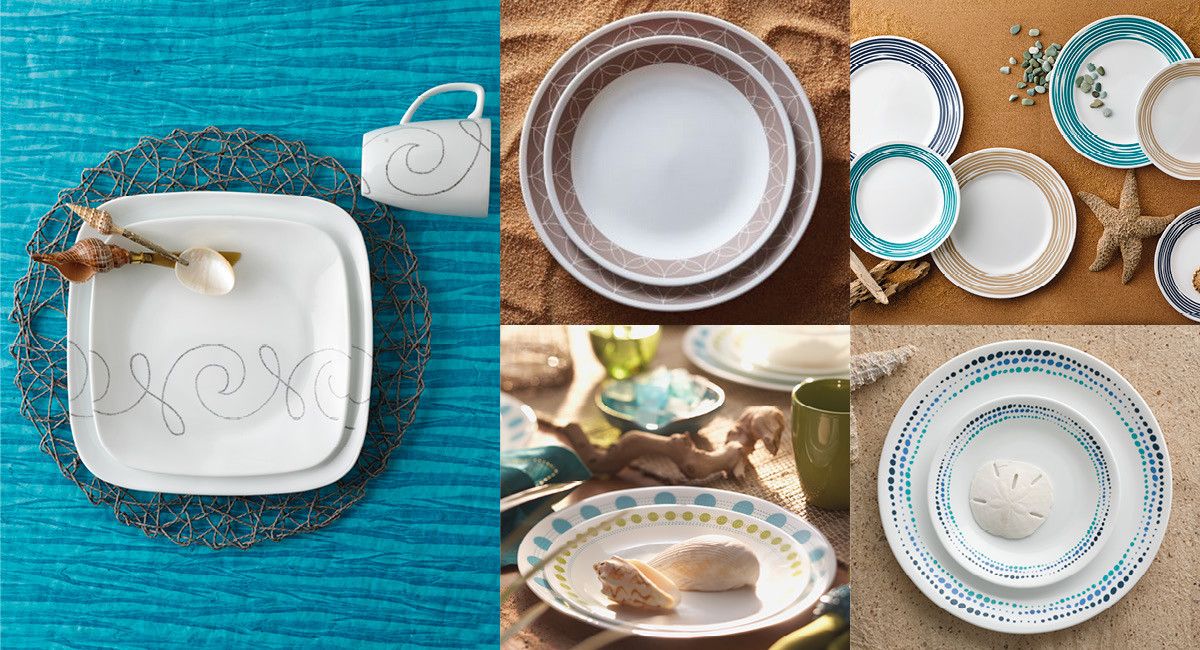 What's Your Style? Coastal Beach House
Do steamy summer days have you longing for a cool ocean breeze? If seasonal high temps and melty midnights have you wanting an instant beach house getaway, we have a few fresh kitchen looks to help. You'll be able to tune out the hum of the air conditioner as you transform your kitchen into a coastal paradise—all you need is enough time to unpack a box of dishware.
Nothing says "sit back, relax and enjoy life" like coastal and beach-inspired décor. From the lighthouses of Cape Cod to the sunny sandbars of SoCal, beach design combines classic colors and casual, carefree patterns. Blues reminiscent of the ocean, soft tans inspired by sand, a bright pop of color to break it all up like a beach umbrella in the sun. Whether you favor South Beach chic or Hang-Ten Hawaii, adding a touch of the coast to your kitchen lends a cool vibe no matter when you live. Contrary to what most landlubbers think, you don't have to relocate to beachside living to enjoy the relaxed style of sand and surf.
Here's how to prep for a redesign and bring beautiful beach style straight into your kitchen. Creating this new look is easier than you think!
MAKE ROOM FOR A MAKEOVER
Before buying new items, it's always smart to go through your current kitchenware and see what's begging for a refresh. Start by cleaning out your cupboards. De-cluttering is a quick way to make space for new style. Remove unmatching dinner plates, worn or chipped dishes and outdated patterns. You'll immediately feel refreshed with all the extra space.

GET BEACH INSPIRED!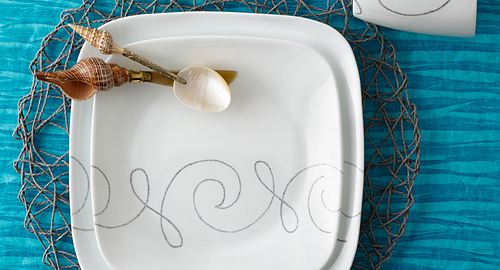 Now that you've made room for a redo, it's time to create your custom style. Start by picking a dinnerware pattern that reminds you of crisp, cool seaside colors. Corelle®Livingware™ has several dinnerware designs that complement any shoreline style. Check out these five designs to get started. Once you've picked your dishware pattern, add your own flair with coordinating napkins, utensils and glassware.
CORELLE® LIVINGWARE™ SAND SKETCH
A muted taupe border transforms your table with this spirited, yet sophisticated modern pattern. A simple, sand-inspired way to set your space.
CORELLE® LIVINGWARE™ OCEAN BLUES
Energetic droplets of bright blue roll across your table like crashing ocean waves. This lively pattern lends a youthful, vibrant ambience to any table setting. Surf's up!
CORELLE®LIVINGWARE™ SOUTH BEACH
Inspired by the bright colors and contemporary flair of South Beach, this pattern brings the look and feel of Miami to your table. It's especially ideal for fun and casual entertaining.
CORELLE®SQUARE™ ENDLESS THREAD
Set this playful, modern pattern horizontally on your table and you'll evoke a sense of movement reminiscent of the continuous rolling sea. Simple, yet sophisticated, this set adds a touch of elegance to any table.
CORELLE® BOUTIQUE™ BRUSHED BLUE
Bright, bold and versatile, this pattern can be easily accessorized to match any occasion. Mix and match complementary color tones (like sand and turquoise) to create a classic ocean color combo. Or re-create the palettes of other popular seaside destinations—red, yellow and blue for a New England look. Bright aqua and Key Lime green, reminiscent of South Beach. Or mix sky blue and teal to re-create the look of Catalina Island.