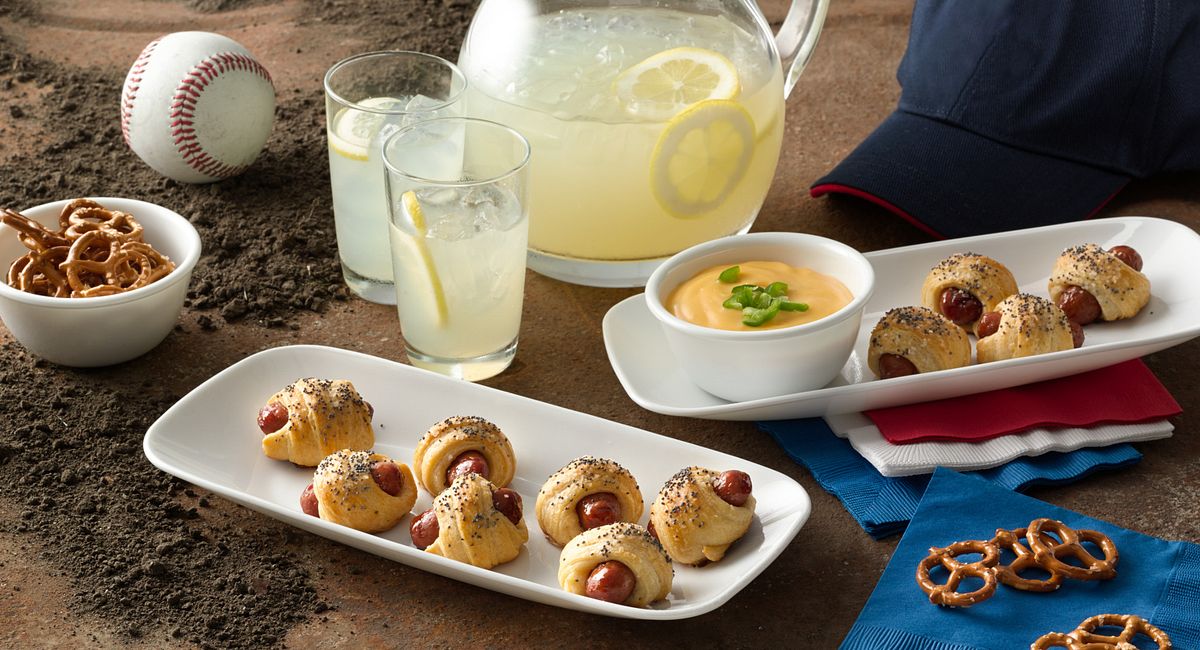 World Series Game-Time Apps
Batter up! Throwing a World Series celebration is no small feat, but with Corelle® dinnerware on your team, any game-day party is guaranteed to be a grand slam. From decorating tips to serving suggestions, we've got everything you'll need to hit this one out of the park.
Celebrate the World Series in style by throwing a party that's sure to please everyone from diehard fans to young enthusiasts. Here's how:
TAKE THEM OUT TO THE BALL GAME
Give guests the full ballpark experience by creating a first-class concession stand right at home. If you're rooting for the home team, create a tablescape that showcases team colors. If you'd rather not pick sides, stick with simple red and white decorations to represent America's favorite pastime.
Not sure what to serve at your stand? Give 'em some peanuts and Cracker Jacks! Nothing compares to the classics, so pour bags of these ballpark faves into CORELLE® LIVINGWARE™ SERVING BOWLS. You can even include sunflower seeds and bubble gum to bring back old-school ballpark memories.
STEP UP TO THE PLATE
Concession-style snacks are great, but guests can get awfully hungry by the seventh-inning stretch. Step up to the plate and serve some unforgettable finger foods that will get you into the host(ess) hall of fame. Prep a few simple appetizers ahead of time in the CORELLE® LIVINGWARE™ WINTER FROST WHITE 5-PC SNACK SET. The 2-quart bowl is perfect for holding party-sized treats. Plus, the set comes with four smaller 28-ounce bowls, so each guest can have their own sturdy dish. No floppy paper plates needed. Entertaining from the top of the first to the bottom of the ninth has never been so easy!
CRESCENT PRETZEL DOGS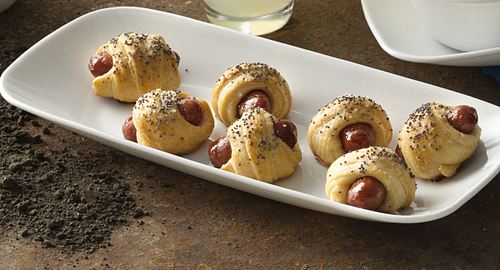 What would a baseball game be without hot dogs and pretzels? We've combined the two together in our party-perfect Crescent Pretzel Dogs. Easy to make because they use refrigerated crescent dough, you can prep a whole batch in less than 20 minutes and please all those game-day cravings at once.GET THE RECIPE
JALAPEÑO NACHO CHEESE DIP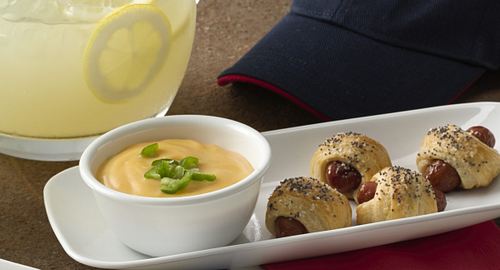 Once you've baked up your mini pretzel bites, serve them with this easy stovetop nacho sauce. Spiked with chopped fresh jalapeños, it's a combo so good, it may just win the World Series on its own!GET THE RECIPE
BRING 'EM HOME
Bottom of the ninth and you need to score! Bring your party home with show-stopping sweets so good, they'll have your guests cheering for more. Set them out on a sleek CORELLE® SQUARE™ PURE WHITE 10-1/2" APPETIZER TRAY, it's the perfect-sized platter for one-bite treats. Made with Corelle's® patented Vitrelle™ glass technology, you can safely set your party table with "nice dishes" knowing they're break- and chip-resistant.
Baseball is all about making memories. Give your guests an experience that will last a lifetime.
EXPERT TIPS
Centerpieces Worthy of Center Field. To help your guests get into the game, create cute baseball-themed centerpieces like this one from Catch My Party.
Keep It Close. Keep in mind that while your hall-of-fame-worthy finger foods will be the draw for some guests, others will be there to watch the game. Keep snacks, plates, napkins and utensils where guests don't have to risk missing that gold-glove-worthy catch.
No Grass Stains, No Glory. Keep your party kid-friendly by setting up a place outside where they can go to play catch. Or if you have the space, set up a whole field. The only thing better than watching baseball is getting to play.
YOUR TURN: What baseball-themed foods will you serve at your World Series Celebration?