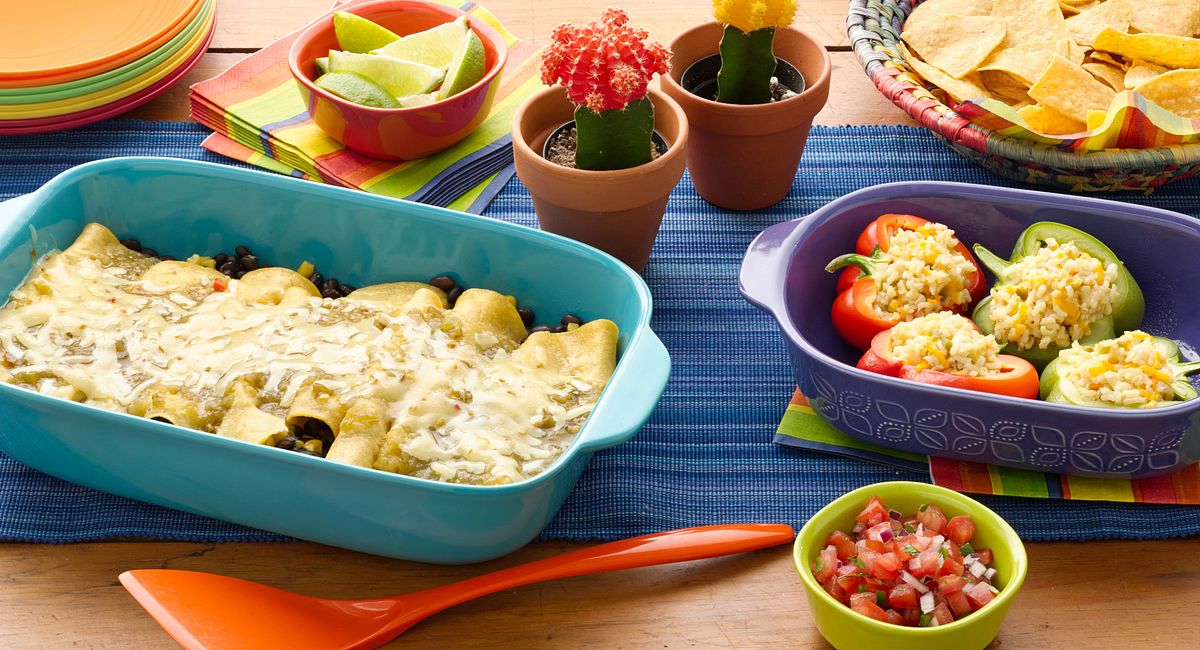 1-Hour Mexican Dinner Party (Olé!)
You checked your calendars and then rechecked them in surprise at your amazing discovery—there's actually a night when you and your friends have nothing scheduled! Don't just sit there…celebrate by throwing an easy, impromptu dinner party.
We happen to have an easy menu ready for just such a rare occurrence. Best thing about it? Our step-by-step timeline and recipes get you in and out of the kitchen in an hour! And add CW by CorningWare® bakeware to your invite list—you can bake and serve from the same dishes, and the fresh colors will add a visual pop of fun to your table.
MEET YOUR MEXICAN MENU
Black Bean and Corn Enchiladas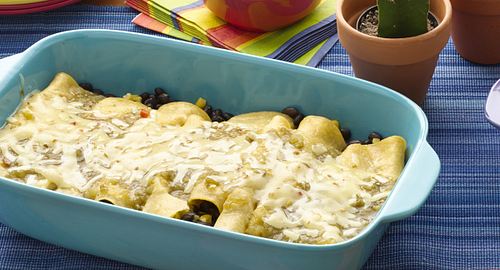 The Delish Main Dish: Black Bean and Corn Enchiladas, a festive vegetarian entree that calls for just 6 ingredients. GET THE RECIPE
CHEESY RICE-STUFFED PEPPERS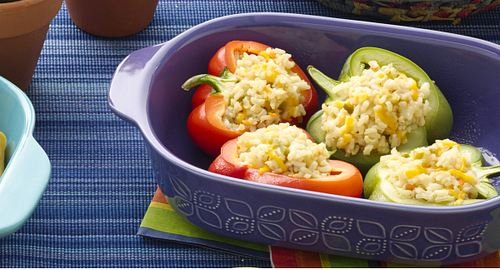 Colorful bell pepper halves stuffed with mixed veggies, creamy melted cheese and fluffy rice. Looks like a party, tastes like comfort, wins "good-for-you" ranking. An easy call! GET THE RECIPE
The Super-Speedy Salad:
Minute Mexicali Salad, a toss-together wonder that can be customized to taste.
The Easy Sweets:
Dessert Nachos, a light 'n flaky, cool 'n creamy, fresh 'n fruity end to your meal.
FOLLOW THE 10-STEP TIMELINE
Simply prepare the recipes as directed (which takes advantage of dovetailing tasks to save time) and like a well-orchestrated musical performance, a delicious medley of recipes comes together as a party-worthy dinner in one fantastico hour! We break it down for you step-by-step, so that whatever your level of cooking expertise, you'll pull this off with ease.
Heat the oven to 400°F.
Prep the Minute Mexicali Salad:
Open a bag of a prewashed lettuce into a large bowl and add a few Mexican-inspired salad ingredients. Think quick and ready-to-go, choosing options from your grocery store's salad bar, prepackaged items in the produce section or canned vegetables and condiments: diced avocado, whole kernel corn, chopped tomatoes, sliced green onions, sliced black or green olives, chopped bell pepper, diced jalapeños or green chiles. Toss the ingredients together (perhaps in a Pyrex®
Sculptured Mixing Bowl with a lid) and store in the fridge until later. (Hint: Don't add the dressing yet!)
Prep the Dessert Nachos:
Spray both sides of two 8-inch flour tortillas with cooking spray; cut each into 6 wedges with a pizza cutter. Mix 1/2 cup sugar with 1/2 teaspoon cinnamon in a large resealable bag. Place half of the tortilla wedges in the bag; seal and shake until evenly coated. Space them out on a large cookie sheet (covered with foil for easy cleanup). Repeat with remaining tortilla wedges. Bake 3 to 6 minutes or until wedges are partially crisp (they will continue to crisp while cooling). Place wedges on cooling rack; set aside.
Reduce oven temp to 350°F. Cook the rice and microwave the bell peppers for the Cheesy-Rice Stuffed Peppers as directed in recipe.
While rice is cooking, prepare enchiladas using a CW by CorningWare® 1.5 qt. baker; set aside.
Finish preparing the stuffed peppers (use another CW by CorningWare® 1.5 qt. baker).
Bake both the enchiladas and stuffed peppers on center rack in oven, leaving 1 inch of space around and between both dishes.
While the enchiladas bake, cut up fresh strawberries and mango for Dessert Nachos; set aside.
Just before the dishes in the oven are finished, toss the salad with ranch dressing and sprinkle with packaged tortilla strips.
Pull up a chair, sit down and enjoy the salad, enchiladas and stuffed peppers—and your company! After dinner is finished, serve Dessert Nachos. Simply arrange 3 cinnamon-sugar tortilla wedges on each dessert plate, then top with a scoop of ice cream or sorbet and the cut-up fruit.
EXPERT TIPS
Make your impromptu party even more fun with these quick and easy decor and entertaining ideas:
Swing past the party supply store and pick up some Mexican-inspired paper plates and napkins to enhance the theme of the evening and make cleanup a breeze!
South-of-the-border spreads are always colorful. You're already ahead of the tablescape game by using CW by CorningWare® colorful bakers. Now you can add to the theme with souvenirs from your Mexican vacations. A blanket, poncho or woven wall hanging can make a great table runner for other items such as clay pots, dolls and candles from your trip. Never been there? Ask to borrow items from a well-traveled friend!
Mix up a batch of fruity margaritas. Whirl a blender-full of premade margarita mix, a handful or more of ice cubes and half a can of frozen pineapple-orange-strawberry juice concentrate (keep it frozen to help keep your drinks cold). Taste and add additional juice concentrate if desired. Serve in glasses rimmed with colorful sugar.
Whip up our Quick and Easy Queso Dip and serve with chips and salsa for pre-dinner nibbling.
Add to the ambience by streaming mariachi music or tuning into a Mexican radio station, keeping it turned low to let conversations flow.
These open nights might not come along very often, but now you'll be ready to make the most of them with a relaxed "come on over!" that'll replace the panicked "let's go out!"
YOUR TURN: What's the first thing you'd do to get ready for a last-minute dinner party?