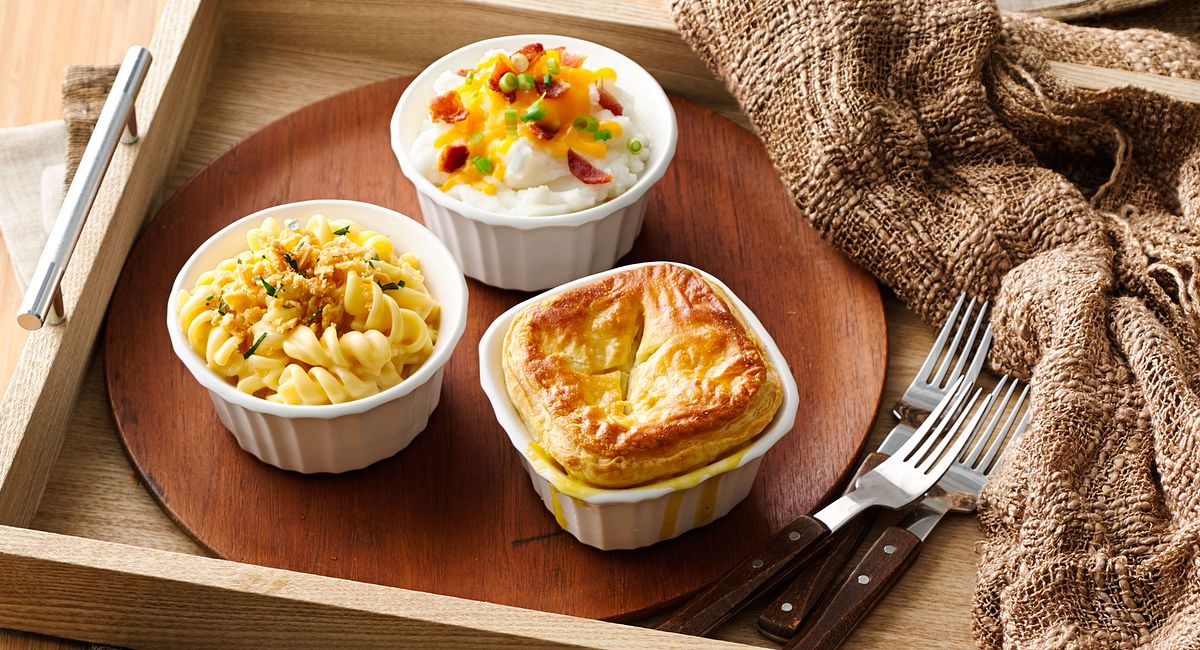 8 Unexpected Ways to Cook in Ramekins
If you only use ramekins when making crème brûlée and soufflés, it's time to dust off those tiny dishes! There are dozens of delicious ways to bake in a ramekin. Perk up your next party! Bake up brilliant breakfasts! Make single-serving eats so good, everyone will raise their ramekins in celebration. With these 8 creative recipes, you can easily make the most of this essential dish.
1. MINI MACS
Gussie up your favorite mac 'n' cheese recipe by dishing it out single-serving style. Spoon into CW BY CORNINGWARE™ 6-OZ RAMEKINS and bake until warm. Need a place to start? Try our Baked Cheddar Mac and Cheese on for size.
2. PINT-SIZE POT PIES
Pot pies are the ultimate comfort food, but when you're cooking for one, this dish can leave you eating leftovers for days. Keep dinner fresh by separating your recipe into single servings, baking mini
pies in CORNINGWARE® FRENCH WHITE® SQUARE 7-OZ RAMEKINS. The ramekins are sturdy enough for the freezer, so you can prep your recipe right in them, then freeze until ready to bake.
3. EASY EGGS
How do you like your eggs? There are lots of options for whipping up easy eggs in these handy little dishes. Scrambled, poached, baked—they're all delicious. Looking for some inspiration? Check out the ideas in Get Cracking! Hot New Ways to Cook with Eggs.
4. SMALLER SPUDS
There are so many ways to spin your spuds! Why not give them all a whirl? Whether you prefer your potatoes mashed, smashed, twice-baked or cheesy hash-brown style, dishing them out in CORNINGWARE® FRENCH WHITE® 4-OZ RAMEKINS will make 'em look like a million bucks—and these 4-oz ramekins are just the right size for sides.
5. PORTIONED PIZZAS
Just one more slice…it can be hard to keep proportions in perspective when it comes to pizza. Keep your cravings under control by planning out smaller portions. A CORNINGWARE® FRENCH WHITE® 7-OZ ROUND RAMEKIN is just right for making personal-size pizzas. Learn how to create a delish deep dish and get fun flavor combos from Michelle at Honest and Truly.
6. LITTLE LASAGNAS
Love comes in layers…of pasta. Show your guests how much you care by folding tonight's lasagna into a special, just-for-them CorningWare® French White® Square 7-oz Ramekin. Want to share something extra yummy? Make a mini version of our Creamy Chicken-Spinach Lasagna or Chicken-Black Bean Enchilada Lasagna.
7. DAINTY DESSERTS
With the New Year, we see renewed interest in healthy eating. But that doesn't mean you have to cut out desserts completely. Keep your resolutions—and your waistline—in check with bite-size desserts. These Mini No-Bake Carrot Cake Cheesecakes are a prime example of how you can cut back without cutting out your favorite flavors.
8. FUN-SIZE FUDGE
There's nothing like a quick chocolate fix to soothe your sweet tooth. CW by CorningWare™ 6-oz Ramekins are microwave safe, so they're perfect for whipping up a batch of this Small Batch Fudge from Love Bakes Good Cakes.
Whether you're looking for a way to make your dinner ideas adorable, or you want a practical way to practice portion control, downsizing your dishware is the way to go! Ramekins from CorningWare bakeware have all the benefits of larger dishes, but in itty-bitty sizes that make single servings an easy option.