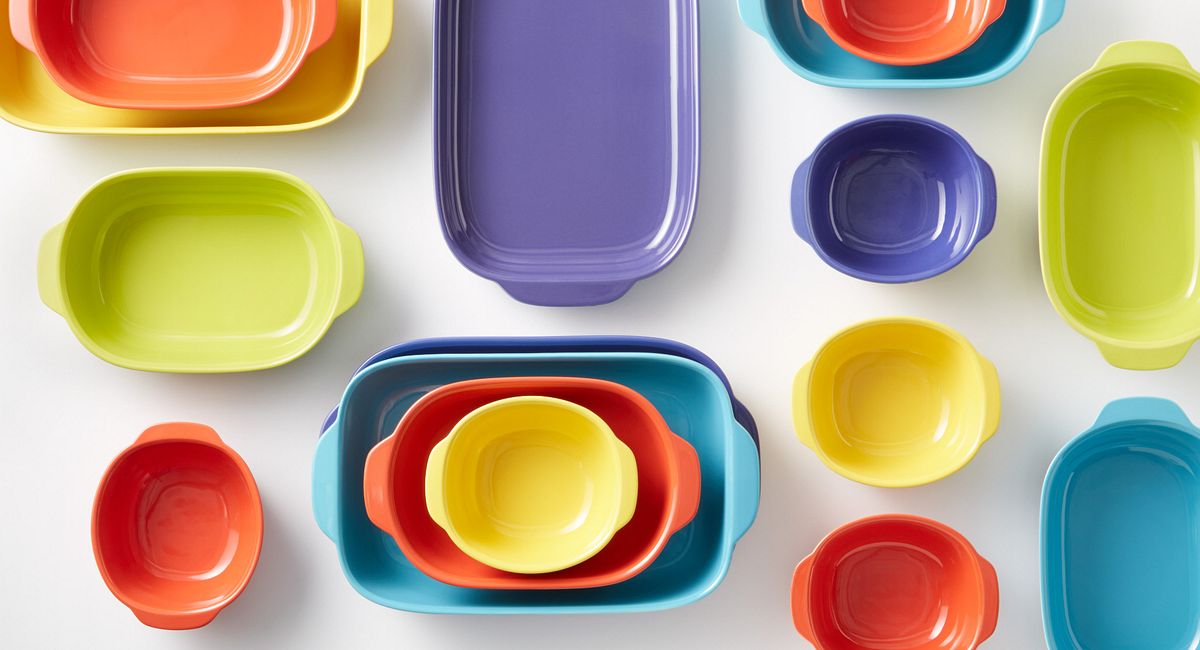 CW by CorningWare® - A Colorful New Style to Express Yourself
We get to reflect our personal style in our shoes (wedges or flip-flops), cars (eco-happy hybrid or sport-savvy crossover) and even how we protect our smartphones (bring-on-the-bling or disaster-proof armor).
In the kitchen, we're much less bold. We tend to accessorize with cute towels or cool gadgets, but when it comes to bakeware…it is usually neutral and utilitarian.
Throw that stereotype out the kitchen window. It's time for a makeover!
We asked ourselves: What if CorningWare® brand rocked some right-now colors and eye-catching shapes that reflect a whole new style in the kitchen?
The answer: A vibrant and stylish new line of bakeware called CW by CorningWare®. Our new product line is designed to complement the way you cook and entertain, plus add a whole new layer of versatility to your kitchen and entertaining style. In other words, this is not your mom's CorningWare! But, she's welcome to spice up her kitchen style, too.
We infused our pieces with trend-forward colors and an element of modern style, and kept the attributes that make our iconic CorningWare® French White® line an enduring kitchen must-have:
• Major durability
• Safe to use in dishwashers, ovens and microwaves
COLOR PLAY
CW by CorningWare comes in five on-trend hues, created by a product-development team on a style mission. Great for mixing and matching, or adding an unexpected pop of color, go with the ones that make you happy in our new color line:
• Sprout: a freshly picked green
• Pool: an in-the-moment aqua
• Twilight: a ripe and luscious purple
• Vermilion: a sassy, snappy red
• Curry: a rich and spicy yellow
You'll think they're so hot, you'll be looking to change the style of your kitchen around this fresh, new color palette.
SPOT-ON SIZES
Consumer demand (you!) determined our four core sizes, and we have more in the works. Their smooth, contemporary styling means you'll grab them both everyday use in the kitchen and casual entertaining.
• Small Baker: At 20 ounces, this little one can take on solo endeavors and sweet treats.
• Medium Baker: A midsize 1.5-quart capacity makes this well suited for every day and anything.
• Shallow Baker: Your 1.9-quart party piece, this one will host any treat or appetizer you dream up.
• Big Baker: With a roomy 3 quarts, it'll handle double batches with ease.
LET'S MINGLE
Each piece is solid on its own, but versatility has always been our thing. Sizes conveniently nest together to reduce the storage footprint, and pieces are designed to be mixed, matched and used together. For example, you can:
• Pair the medium and small bakers to create a chip-and-dip server.
• Put ice cubes in the big baker, then nest the shallow baker on top (super easy, thanks to the rounded bottom edges on these two pieces) to create a cold server, great for a caprese salad or shrimp cocktail.
Hot, cool or monochromatic…you can show off your one-of-a-kind style with your own pairings and color combos. CW by CorningWare keeps CorningWare brand's classic durability and versatility, but kicked things up a notch with modern smooth curves and contemporary color choices.
Cooking and entertaining just got a fresh infusion of style thanks to CW by CorningWare.