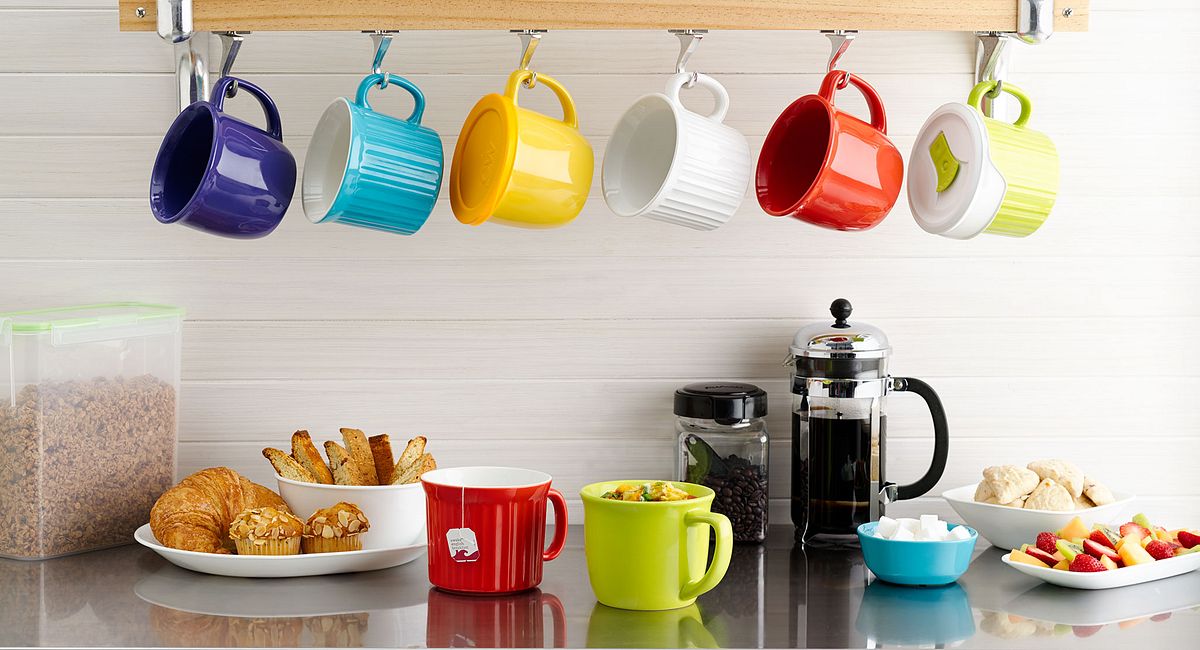 Barista Bar Brunch
Offer a fresh take on the usual holiday party by inviting friends, family and neighbors over for a coffee bar-inspired brunch. We'll show you how to celebrate in style by enticing your guests with a range of coffee and espresso drinks, baked goods and wintry accessories.
START WITH GOOD COFFEE
Delicious coffee starts with top-notch ingredients. Buy quality arabica coffee beans that have recently been roasted, and don't break your coffee seal until you're ready to use the beans. To ensure the best flavor, grind the beans right before using them. For a well-balanced cup of java, aim for a ratio of 2 tablespoons for every 6 ounces of good-tasting, filtered water.
BE SURE TO INCLUDE THE ESPRESSO DRINKS!
To truly create a café vibe, don't overlook specialty coffee drinks. You don't need to own pricey coffee gadgets—you can serve just about everything with an inexpensive espresso machine, if you know the ratios for cappuccinos (30 ml espresso, 30 ml steamed milk, 30 ml foam), mochas (60 ml espresso, 60 ml chocolate, 30 ml steamed milk) and lattes (30 ml espresso, filled to the top with steamed milk, with ½ inch of foam on top). To make steamed milk and foam, vigorously shake milk in a tightly sealed microwave-safe jar for 30 seconds, then microwave for another 30 seconds. Pour the milk into your coffee using a spoon to hold back the foam, and scoop the foam on top if necessary.
BLOW OUT THE BAKED GOODS
Nothing pairs better with the nutty, slightly bitter quality of coffee than sweet baked treats. For a homemade touch, offer zucchini banana bread or cinnamon-walnut tres leches muffins.
Even if you don't have time to make everything from scratch, it's easy to welcome guests with a baked goods basket. Layer your favorite colorful dish, like the CW by CorningWare™ Baker or Corelle® serveware with a kitchen towel, then pile it high with biscotti, scones and madeleines from a local bakery.
OFFER A SAMPLING OF SAVORY DISHES
To contrast the pastries and dessert breads, add a few savory recipes to your brunch repertoire. Toss a bunch of jumbo bacon-spinach muffins or savory breakfast muffins into your bread basket, and you'll be sure to spark some food conversation.
To avoid an oven jam, do as Daisy Bun of Full-Thyme Student , and microwave individual-sized quiche servings in colorful CORNINGWARE® POP-INS® for a quick (and customizable) main dish option that can go from microwave to tabletop in minutes.
GILD THE LILY WITH WINTRY ADD-ONS
In addition to basic cream and sugar, include varieties like peppermint, vanilla bean, chocolate, hazelnut and toasted almond. You can even combine creamer flavors, like peppermint and chocolate, for an especially sweet seasonal treat.
Give your entire coffee bar a customizable feel by offering plenty of provisions to dress up any beverage. Include sprinkle-ons like ground cinnamon, nutmeg, cardamom, powdered cocoa and white chocolate shavings. Lay out cinnamon sticks and spoons that have been dipped in layers of milk or dark chocolate. Offer caramel and chocolate syrup for drizzling…and don't forget the whipped cream!
EXPERT TIPS FOR A HOSTING A BARISTA BAR BRUNCH
Keep decaf coffee options and tea options for those who avoid regular coffee.
Make sure to accommodate everyone by putting out dairy-free options, like almond milk and soymilk, as well as sugar alternatives such as stevia.
Get your guests involved (and lessen your cooking burden) by asking your guests to each bring their favorite breakfast goods.
YOUR TURN: Have you ever hosted a barista bar brunch?