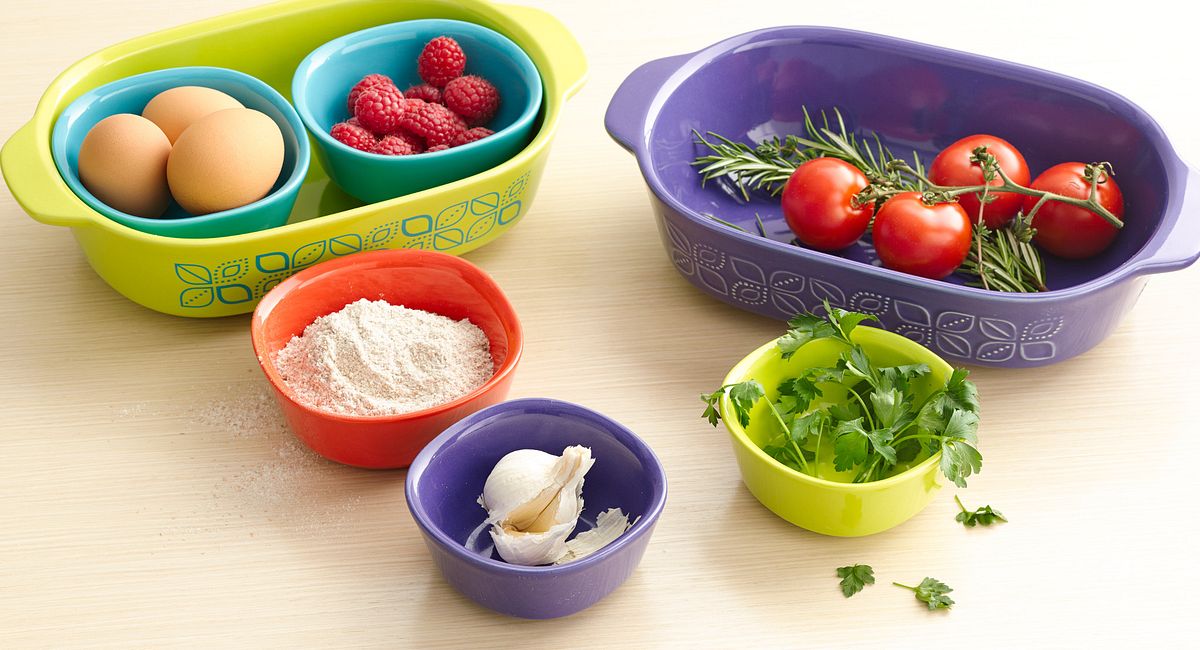 Create Your Own Cook-It List
Fill in the blank: "I've always wanted to…". Skydive? Learn to play the guitar? Ride an elephant? Some people have a few wishful ideas, some have an official "bucket list." And there are yet others, those who love the kitchen and its food-related activities, who daydream about a "cook-it list."
Are there certain culinary tasks you've always wanted to try? Don't let another year go by without giving them a shot. Here's a handful of fun food-related challenges to inspire you or get you started.
ALL IN THE FAMILY
Cooking together is a sweet way to pass down family traditions. Make it your mission to share some of your favorite family recipes with the next generation.
Great-grandma's legendary cookies can ease young kids into a love affair with baking.
Teach older offspring some of the more complex recipes that you learned from your mom, and share essential bonding time along with your heritage. Whip up home-cooked casseroles and breakfast bakes using the CORNINGWARE® CW BY CORNINGWARE™ 4 PIECE CASSEROLE SET.
Aging parents not as apt to cook their special dishes anymore? Head on over to Mom and Dad's with ingredients in hand, and take the lead on re-creating one of their go-tos from the good old days. Be sure to ask for advice and tips along the way!
GROW THE GOODS
Fresh produce is a must for getting the most out of a delish dish, but growing your own goods can add an extra sense of accomplishment. Gardening takes you a step beyond cooking from scratch and lets you really see your meals through from start to finish. Don't have a green thumb or space? Start small, with an herb garden or a couple of containers on the patio. Not only will they make big difference to your taste buds, but the act of growing, tending and harvesting your own ingredients can actually ease stress and improve your mood.
CAN-DO ATTITUDE
Once you've invested all that time and love into growing your own food, having it go to waste is the last thing you want. Learning how to can your own fruits or veggies or make pickles or jam can help you get the most out of your homegrown goodies. More importantly, it will let you enjoy those fresh flavors all year-round. The taste of garden-fresh spaghetti sauce in January? 'Nuff said! Keep in mind, canning is a bit of a process and becoming a lost art, so make sure you plan accordingly. Whether you're just starting out or you're a seasoned pro, Canning Granny has tips, tricks and tasty recipes for everyone.
IMITATION AT ITS BEST
Do you have a favorite dish you always order when you eat out? Or maybe you just love the way a certain restaurant makes it. They probably aren't going to share their secret recipe, but no one can stop you from trying to figure it out. Pay close attention to the ingredients and flavors, then do your best to imitate it. And do a little research online—you might find your favorite has already been decoded by another fan. Once you've got it just right, share the dish you love with the people you love! Throw a dinner party and show off all your hard work, but make it easier by using the versatile pieces in the CORNINGWARE® FRENCH WHITE® BAKEWARE COLLECTION to help you bake, serve and store.
EXPERT TIPS
RESPECT TRADITION. Over time, those special family recipes can get lost in translation—or just plain lost! Our Hand-Me-Down Recipes feature offers tips on how to carefully preserve them.
CULTIVATE SAFELY. Gardening isn't exactly rocket science, but it is science. From tackling pests to encouraging a successful harvest, fertilizers and other additives or deterrents can be dangerous to your plants and your family if they aren't used properly. Check out natural options first, and be sure to read the labels carefully before you take chemicals into the garden.
TEAM UP. Your list could get long and daunting, so invite a friend or family member to join you as you work your way through. Whether you choose the same person for each "challenge," or pick a new partner every time, the encouragement and camaraderie will make the accomplishments even more satisfying.
Once you've mastered items on your cook-it list, find a way to share your skills and pass on what you've learned. Pay it forward by mentoring a younger cook, starting a recipe club for exchanging ideas with other kitchen-savvy souls or sharing your experience online via a blog. Put it out there and it's likely you'll discover even more things to add to your cook-it list.
YOUR TURN: What would be #1 on your cook-it list?