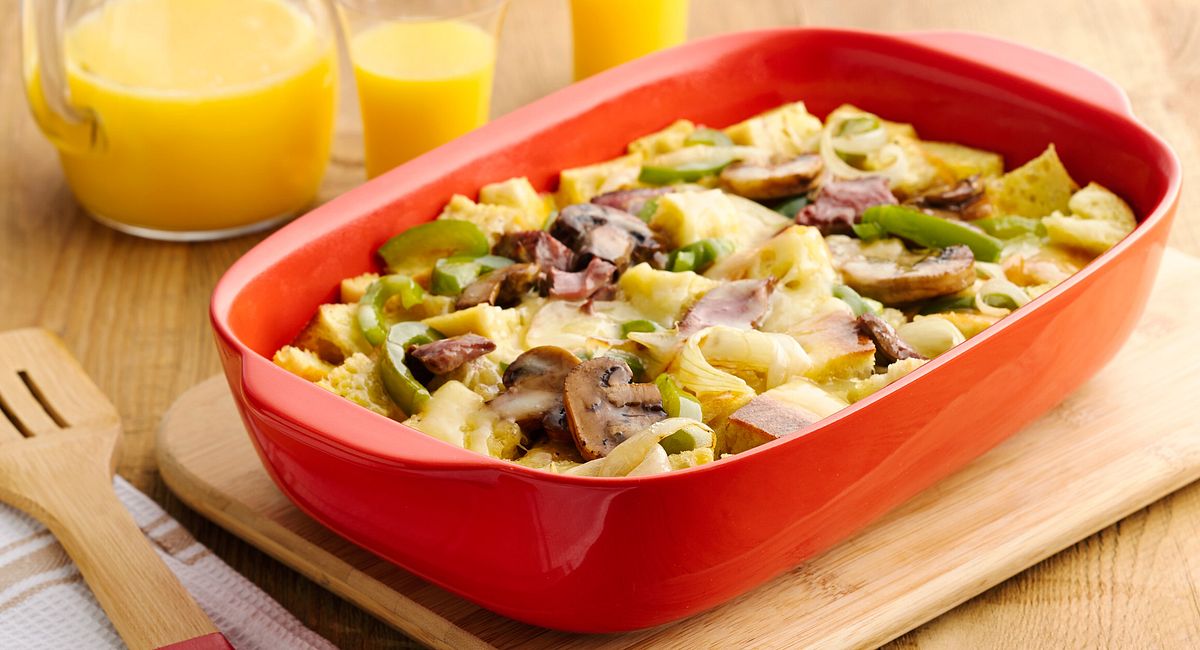 Five Fab Weekend Egg Bakes
It's Saturday morning and you're looking for an easy breakfast idea that'll feed the whole family. The requirements? No flipping, no short order, no giant mess. And NO trips to the grocery store.
All you have to do is open up the fridge for inspiration. Did you make a tad too much taco meat? Serve up a surplus of smoked salmon? Peel too many potatoes? Leftovers, meet the egg bake. Egg bake, get ready for some company. Turn what's left of last night's dinner into an easy one-dish breakfast. Simply start with a basic egg bake recipe and then rely on the week's extras for Saturday's flavor. The fun part is in the freedom, so use as much or as little as you like.
BASIC EGG BAKE RECIPE
(Pictured Above)
Gather bread (6 slices or half a baguette) + eggs (8-10) + milk (1-2 cups) + shredded or crumbled cheese (1-2 cups) + salt and pepper to taste. Cut bread into cubes and place in the bottom of a lightly buttered or greased 2.5- or 3-quart sized CW BY CORNINGWARE™ BAKER. Beat eggs and milk together and pour over bread cubes. Top with cheese. Season with salt and pepper. Bake at 350°F for 45-50 minutes or until top is lightly browned.
Now check out our five flavor themes and then add, omit, mod or flex as desired. It's that easy!
1. TEX-MEX NEXT
Mix-in leftovers: taco or fajita meat
Saturday morning additions: black beans, corn, sharp Cheddar or creamy queso fresco
Optional toppings: diced avocado and fresh cilantro
Flexible fine print: Try a layer of tortillas instead of bread.
2. PHILLY GOOD
Mix-in leftover: steak
Saturday morning additions: onions, mushrooms, American or provolone cheese
Optional toppings: sweet or hot peppers
Flexible fine print: Hash browns make it even heartier!
3. DIVINE DO-OVER
Mix-in leftovers: gyros (Greek-seasoned lamb, beef or turkey)
Saturday morning additions: diced tomato, fresh spinach, feta
Optional toppings: chopped black or kalamata olives
Flexible fine print: Use pita triangles as your base.
4. SPUD LOVE
Mix-in leftovers: potatoes (baked, boiled, even fried)
Saturday morning additions: bacon (cooked and crumbled), scallions, Cheddar cheese
Optional toppings: sour cream and chives
Flexible fine print: If potatoes are baked, slice into thin rounds. If boiled or fried, dice them.
5. SURF'S UP
Mix-in leftovers: smoked salmon, shrimp cocktail or crab legs (unlikely but possible!)
Saturday morning additions: asparagus, artichoke hearts, roasted red peppers, cream cheese
Optional toppings: capers and freshly snipped dill
Flexible fine print: Choose seafood with substance; if it's too light or flaky, it'll get lost in the mix.
Trying to lighten up? You can always add more veggies and omit the meat. Or check out our vibrant Sun-Dried Tomato and Kale Egg Bake.
EXPERT TIPS
RED LIGHT, GREEN LIGHT: Too much salsa? Add it to the basic recipe for an easy flavor boost. Do the same with extra pesto. But maybe not together…
SLEEP ON IT: Another beautiful thing about the egg bake? If you've got a busy morning or need some extra zzzs, it's the perfect do-ahead dish to assemble and refrigerate the night before, then bake in the morning.
CUSTOM FIT: Yes, the point was one easy meal, but if tastes vary too much (or if you have a lot of different leftovers to use up), just grab a few CORNINGWARE® COLOURS® POP-INS® 20 OUNCE MUGS. You can still use the same base recipe, but then let everyone personalize their favorite additions and toppings.
An easy way to make the most of your leftovers and whip together a quick and yummy breakfast for a group, an egg bake is a versatile and frugal way to kick off any weekend.