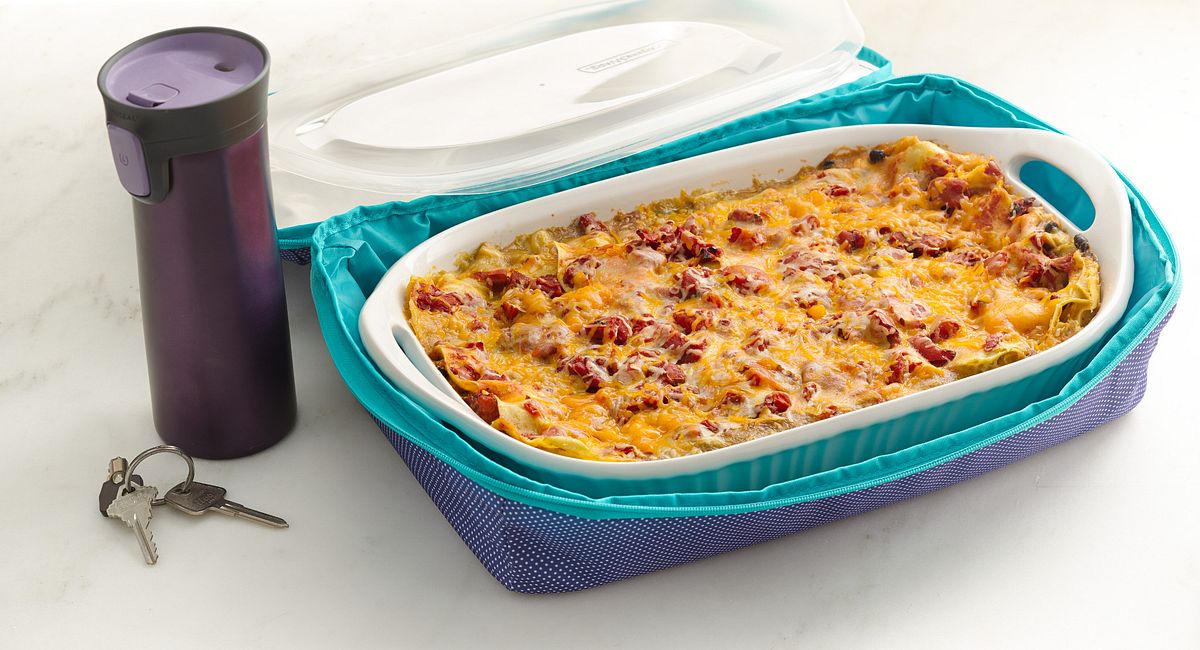 Great Ideas for Food on the Go!
And you're off! From the Monday morning rush to a Saturday night party to a Sunday afternoon family gathering, you've got places to be…and most likely, mouths to feed (even if it's just your own).
Whether you're making a dish to pass, a quick dinner or just trying to get a little fuel for a hectic morning, being able to make and take your meals with ease will save time and hassle. We'll give you tips and ideas for how to keep on-the-go food both simple and delicious.
GO IT ALONE. Stopping for a much-needed meal or snack can seem like too much trouble some days. Make eating solo easy for the car, the train or your desk, and fill a CORNINGWARE® POP-INS® 20 OUNCE MUG W/ VENTED LID with a single-serving portion.
BRING ON BREAKFAST: No time to sit? Cruise out the door with your breakfast in a cup! Whether you're looking for something light like a fresh fruit and creamy yogurt parfait, or something more substantial like a satisfying serving of hearty oatmeal, grab a mug and make it the night before. Bonus: The lid will keep contents inside and at the right temp.
MUNCH THROUGH LUNCH: Trying to grab a quick bite between meetings or working straight through? Making your midday meal into an eat-anywhere affair and fill your mug with a savory soup [LINK: link to CR-JAN-Soup's On Part II feature] or pasta, or layer in a salad.
AFTERNOON PICK-ME-UPS: Fill the bottom of your mug with a dip like hummus or nut butter and stand your veggie sticks up in the mug. When you're ready to snack, they'll be predipped.
ALL TOGETHER NOW. Feeding multiple mouths can be just as easy. With the new CORNINGWARE® FRENCH WHITE® 3 QUART PORTABLE, you can prepare, bake, transport and serve, all from the same casserole. Whether you're headed to a Super Bowl party, neighborhood potluck or girls' weekend, pick your favorite recipe and roll! Ready to introduce a hot new dish? Here's one that'll hit the spot at any event!
CHICKEN-BLACK BEAN ENCHILADA LASAGNA
Blending the best of both worlds from two casserole classics, our zippy Chicken-Black Bean Enchilada Lasagna layers fiesta-worthy flavors between tender lasagna noodles. And we made up just the word to go with it: Ciao-olé!
GET THE RECIPE
SWEET TREATS EN ROUTE
To the victors go the spoils, but also include the runners-up and the ones who say "pretty please!" In the mood for gooey bars? Fruit cobbler? A deep-dish monster cookie? (Yep, you read that right.) Whichever temptation you choose, bring dessert in style with CORNINGWARE® FRENCH WHITE® 3 QUART PORTABLE.
TIPS FROM THE EXPERTS
GIVE ME A PRE! Get prepped quick with precut fruits and veggies that make snack and salad assembly a snap. Find cubed cheeses and cooked meats already sliced into strips, ready to pop into a casserole or toss with pasta.
WRAP IT UP. Make most salads or sandwiches super portable by tucking them into a wrap. Whole grain and gluten-free choices help you stick to your personal health requirements.
GOOD TO GO. Any time you're bringing food to serve and eat somewhere else, remember to include essentials like napkins, cutlery, serving utensils and condiments. Even if it's a party where someone else is providing these items, it's always good idea to have extra.
As much as we'd all love to find that 25th hour, the secret to successfully managing a busy life is to make the most of all the convenience products on the market, and share new and efficient ideas with each other. So pass it on!
YOUR TURN: How do you make on-the-go meals work for you?