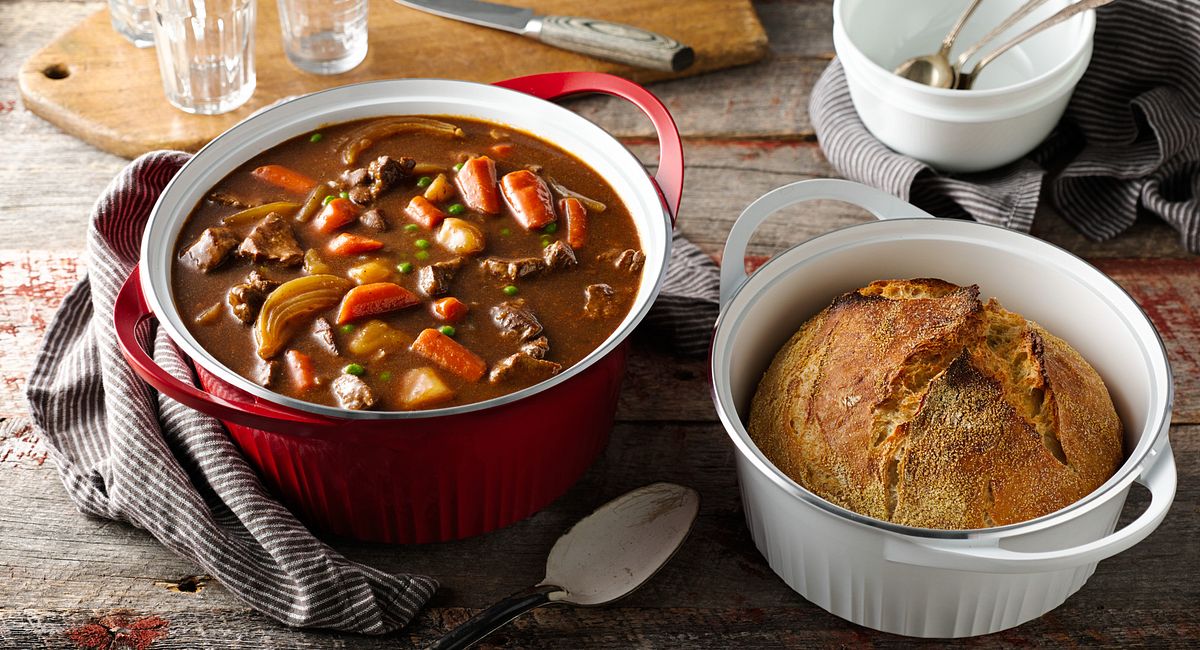 Lovin' the Dutch Oven
For busy nights and big meals, the Dutch oven, a deep and thick-walled cooking pot, is a lifesaver. However, if you automatically associate this heavy-duty vessel with cool-weather casseroles only, you're missing out on its amazing versatility. Venture out and explore its other capabilities, and you'll never cast it as a one-trick pony again.
If you don't have one of your own, CorningWare® bakeware has launched a new FRENCH WHITE CAST ALUMINUM™ COLLECTION, which, as luck would have it, includes a 3.5 QT DUTCH OVEN AND A 5.5 QT DUTCH OVEN. Both sizes are available in bright tomato red and classic French White. Lighter to handle than traditional cast iron, the cast aluminum core still promotes fast, even heating, and the ceramic nonstick interior makes it easy to clean. The iconic French White design complements all of your other CorningWare bakeware, and like all CorningWare bakeware, the pieces in the new line go from oven or stovetop to tabletop with style and ease.
ONE AND DONE
The one word—streamline. The one pot—Dutch oven. This is what to use for simmering your soups and stews and baking those creamy casseroles. But it's not just for chili or chipped beef; check out One-Pot Wonderful for recipe ideas and inspiration. For help on how to cut veggies and prep meat, refer to our Chop Chop, One Pot article.
BRAISE OF GLORY
Fan of the classics? This is your old-school slow cooker. The inherent heat retention of cast aluminum makes it the ultimate vessel for the necessary low 'n slow, giving meats a falling-apart-tender consistency.

TIP: Quickly sear chops and roasts right in the Dutch oven on your stove top. Remove from heat to cool, then pop into the oven for the long braise.
DIVERSI-FRY
Try turning your Dutch oven into a deep fryer. The shape and depth of your pot will allow for a healthy amount of oil, and it contains the splatter better for less mess. The cast aluminum core keeps heat even, preventing scary flare-ups.
POACH APPROACH
Moving to the other end of the spectrum, just add water to perfectly poach chicken, fish and eggs. It's quick, easy and super healthy, making this method a good one for, well, anyone!
RISE AND SHINE
Use your Dutch oven for baking and you'll be amazed at the consistency of your goods. Try it with Jim Lahey's famous—and super easy—no-knead bread recipe. As it bakes, the bread will steam, resulting in a moist, tender center and crisply browned exterior. Or make a big family-style dessert, like a giant cookie or brownie. Simply mix up the dough or batter and press into a lightly greased Dutch oven. Bake until done (usually about 30 minutes). Serve warm and top with ice cream. Save on dishes by spooning it out en masse. Could wrapping up a meal be any better?
EXPERT TIPS
NO NUKES: Although Dutch ovens are ultra-convenient for all kinds of cooking methods, please stop short of putting one in your microwave! The metal core makes this a no-go zone.
TOOL BOX: Stick with silicone, wood or heat-resistant plastic. Metal utensils will scratch ceramic or enamel finishes.
HANDS ON: Soak and wash in hot, soapy water—a softer scrubbing utensil will take care of any food residue. The ceramic coating on the CORNINGWARE® FRENCH WHITE CAST ALUMINUM™ DUTCH OVEN will make it even easier to wipe clean. (But always let your pot cool before coming in contact with water.)
Easy to use, easy to clean—what more could you want from a kitchen workhorse? Break yours out (or go get one!) and find out what the no-fuss is all about.