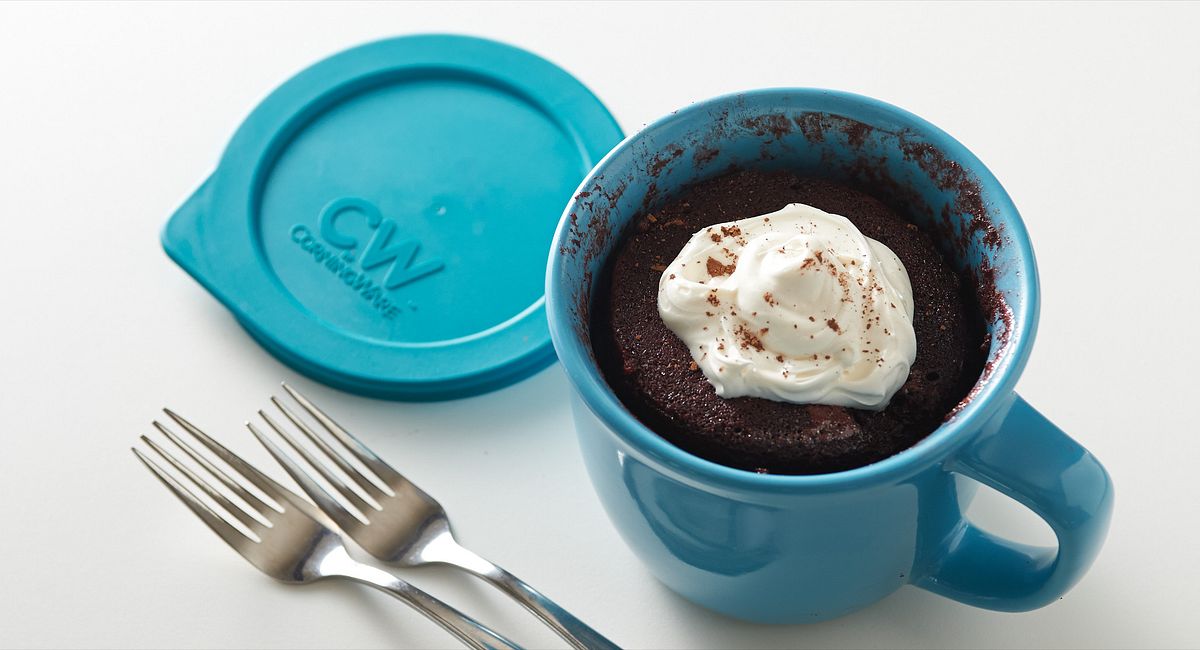 Mug Shots: Valentine's Day Cakes
Nothing says "I love you" OR satisfies a sweet tooth quite like a rich, delicious piece of cake. But what happens when you don't have time to break out your cake pans, gather ingredients and patiently whip up a three-layer treat, especially with Valentine's Day right around the corner?
Relax—we have you covered with a trio of easy mug cake recipes that you can make in just moments in the microwave! These sweet, special desserts are sized for two and fit perfectly in a CorningWare® Colours™ Pop-ins® 20 Ounce Mug. Scrumptious and simple, you'll want to make them for your loved ones not only on February 14, but any day, all year long.
A CUP OF COFFEE CAKE

Starting the day with coffee and cake will have your special someone smiling for sure! You won't want to confine this confection to breakfast, though. This mug cake's subtle blend of cinnamon and spices and its crumbly streusel topping will turn into a popular dessert, too. Want to make it really special? Add a drizzle of caramel sauce or a dollop of whipped cream.
S'MORES CAKE IN A MUG
If you and your valentine love the outdoors, this is the mug cake you'll want to make. It's full of campfire-ready flavor with its crispy graham cracker crust, decadent chocolate cake interior and melted marshmallows on top. For a fun twist, try adding a dollop of peanut butter to the cake batter before you microwave it.
GLUTEN-FREE RED VELVET-HONEY MUG CAKE
Sweet as a Southern drawl, this quick take on the traditional treat also happens to be gluten free! Keep it classic with rich cream cheese frosting, go for romantic decadence and dress it up with maraschino cherries, candied nuts and a generous drizzle of chocolate, or stay (relatively) light and top with fresh berries.
GET THE RECIPE


EXPERT TIPS
Using baking powder and all-purpose flour are the keys to creating the perfect microwave mug cake. The added leavening ingredients are what make the cakes light and fluffy when cooking.
Individualize your cake by adding mix-ins or toppings like chocolate chips, chopped nuts or dried fruit.
All microwaves are different and vary in power. Each microwave can yield different results, so watch your cakes carefully as they cook.
Microwave in 10-second increments when adjusting a recipe. Be sure to check the texture of the cake as you're baking, as it will cook quickly.
Make sure to have some whipped cream or ice cream to scoop on top of your cakes for an added cool texture once they're done!