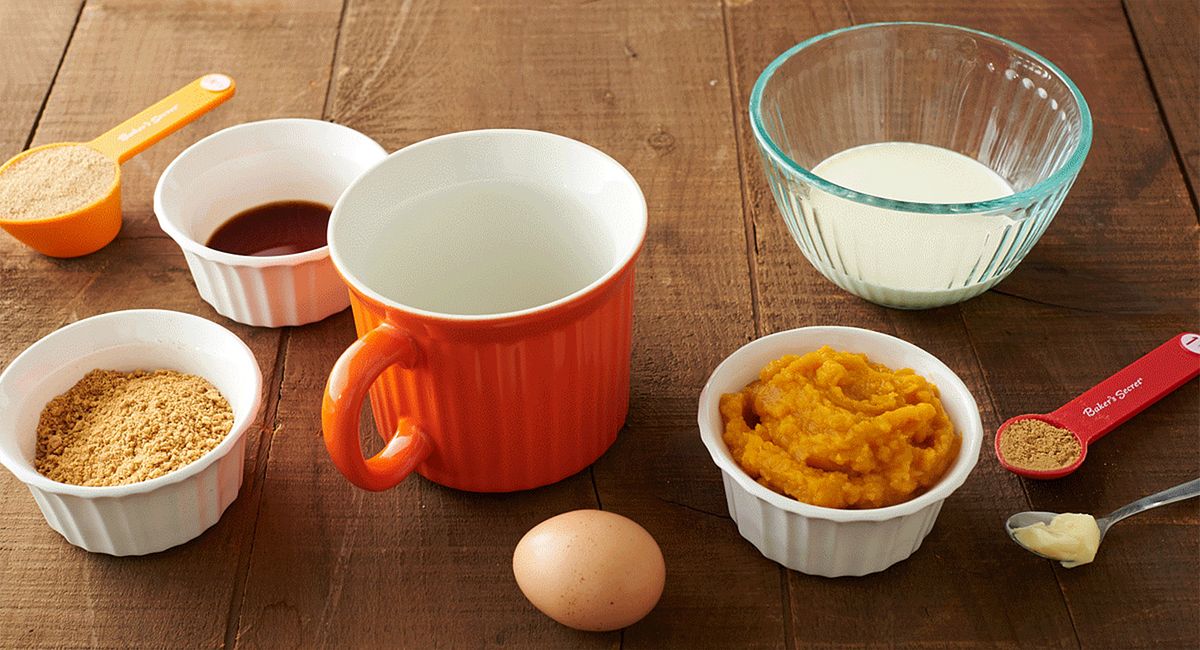 Mug Shots: Pumpkin Pie in a Mug
Delicious autumn! Crisp air, falling leaves, cozy sweaters and—best of all— those famous fall flavors you've been waiting for all year long. Whether you're passionate about pumpkin season or are more of an apple enthusiast, we've turned those tempting autumn tastes into two totally original mini desserts.
Big flavor doesn't have to mean big portions. With these clever recipes, you can whip up a single serving of your favorite desserts in a CORNINGWARE® POP-IN® 20 OUNCE MUG. Quick cakes and personal-size pies, baked to golden perfection in mugs with color names as delicious as the baked goodies inside. CARROT, SUNFLOWER, TOMATO, and VERMILLION mugs don't just offer a fun twist on seasonal baking, they're also a perfect way to bring the bright pop of autumn to your tabletop.
Grab a few and fill them with our Pumpkin Spice Ginger Mug Cake or our Crumbly French Apple Pie in a Mug. Then grab a fork and enjoy a sweet feast that looks as good as it tastes.
PUMPKIN SPICE-GINGER MUG CAKE
Spice up dessert with this sweet pumpkin- and ginger-flavored treat. Mixed in the CORNINGWARE® COLOURS® POP-INS® CARROT 20 OUNCE MUG W/ VENTED COVER and made in the microwave, it's sure to become an instant classic. Dressed up with whipped topping and a sprinkle of cinnamon, this recipe is a fantastic way to enjoy serious fall flavor…fast!
GET THE RECIPE
Make Pumpkin the Main Attraction. Elevate your pumpkin prowess by serving a patch-inspired main dish before diving into this delish dessert. Check out our creative ideas for STUFFED PUMPKIN DINNERS.
CRUMBLY FRENCH APPLE PIE IN A MUG
This streusel-topped sweet apple pie brings that fresh-from-the-orchard taste right to your table—full of cinnamon and fresh apples, and finished off with an irresistible brown sugar crumble. It may look small, but there's more than enough goodness to go around. Make it in the seasonally stylish CORNINGWARE® COLOURS® POP-INS® TOMATO 20 OUNCE MUG W/ VENTED COVER, then share with a friend or pop on the handy lid and slide leftovers into the fridge for later.
GET THE RECIPE
Post-Orchard Extravaganza. Whether you're bringing your haul home from the grocery store, or you grow your own apples, it's possible you have more fruit than you know what to do with. Use up an entire bushel with these Fun Ideas for Caramel Apples. They make great gifts or party favors for a festive fall get-together.
With these easy recipes and our colorful CORNINGWARE® POP-IN® 20 OUNCE MUGS, this year's harvest will be the sweetest yet.
EXPERT TIPS