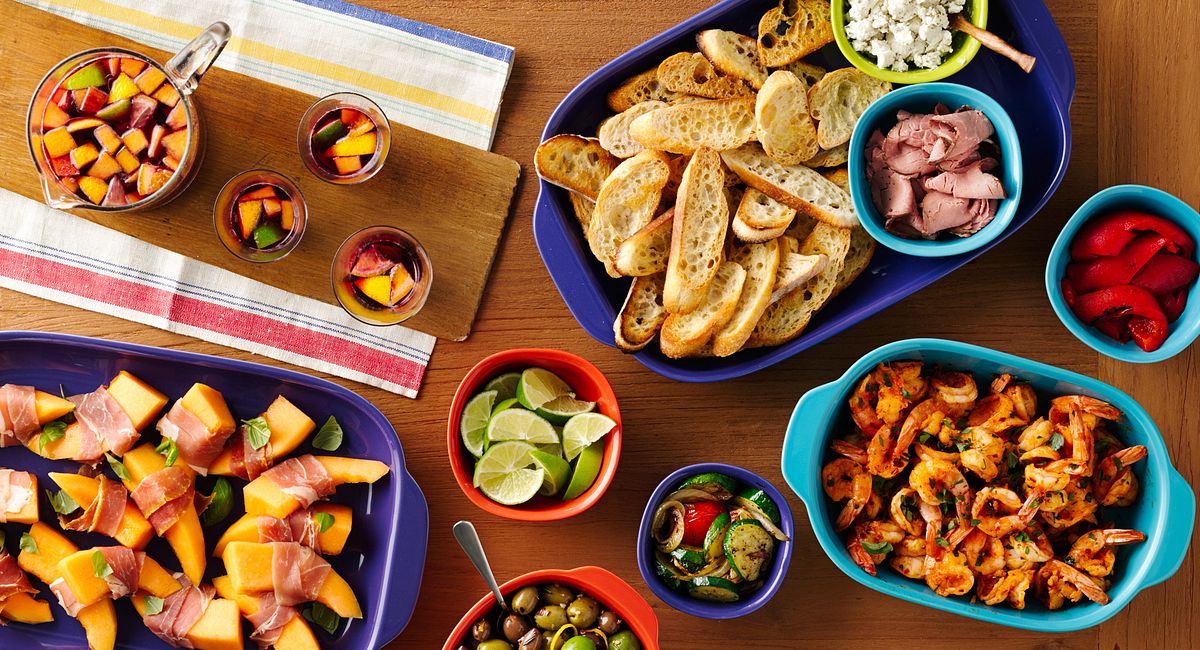 On Tapas
Good friends, good laughs and good food—the simple requirements for happy hours everywhere. Having the next one at your place? Chances are, two of the three come easily, but pulling together an inspired menu can give any host pause.
Before you bite off more than you can chew, turn to tapas! Savory snacks that are small in size but big in flavor, they're the ultimate versatile party food, ready for any occasion.
THE INSIDE SCOOP
So what exactly are tapas? First and foremost, size is a given: They are small. Aside from that, tapas can pretty much be anything you can make into a single-serving nibble to nosh on. In Spain, where they originated and are still hugely popular, traditional tapas include Serrano ham, dressed-up anchovy fillets, mini omelets, stuffed olives, spiced meatballs and kebabs. Generally served alongside a round of drinks at almost every bar in Spain, they are the bar hopper's best friends.
THE UPSIDE TO DOWNSIZING
Throwing a tapas party is undoubtedly easier on a host than a traditional dinner party. Many tapas are served cold, so cooking can be kept to a minimum. Tapas are meant to be set out and snatched up,
which means less time serving guests and more time socializing with them. And tapas can be served in rounds, which keeps everyone happily satiated instead of stuffed and sleepy.
SERVE WITH STYLE
Elevate even the simplest tapas by adding a touch of visual flair. If the colors or shapes don't pop on their own, be sure to place them on pretty platters to feed the eyes. The CW by Corningware bakeware collection comes in fresh, on-trend hues and multiple sizes that stack or nest for convenience. And do go for the garnish, but keep it simple with a bit of arugula, a few sprigs of rosemary or slices of citrus.
A SIMPLE SAMPLE SPREAD
If it's your first time taking on tapas, keep the menu basic. Plan on no more than six dishes and try to keep the majority of them simple. Here are a few ideas:
Roasted olives: Toss mixed olives with olive oil, chopped fresh rosemary, minced garlic, grated orange peel and crushed red pepper flakes. Place in a Corningware® CW by Corningware™ 20 Ounce Vermillion Baker and roast at 425° for about 15 minutes until hot and sizzling. If you like, add some cubed feta before serving.
Serrano ham-wrapped melon: Cut a cantaloupe or honeydew melon into bite-size cubes. Wrap with a thin piece of Serrano ham and secure with a decorative toothpick. Drizzle the bottom of your serving platter, such as the Corningware® French White® 9-1/2" x 14 Platter with Bamboo Insert, with a bit of balsamic vinegar and good olive oil, then arrange tapas in a single layer.
Garlic shrimp: Toss uncooked, peeled, deveined shrimp with olive oil, salt, minced garlic and crushed red pepper flakes. Place in a Corningware® CW by Corningware™ 1/5 Quart Pool Blue Oblong Casserole dish and bake at 500° for 5 to 10 minutes or until shrimp turn pink. Garnish with chopped parsley and serve with crusty bread.
Crostini: Brush baguette slices with olive oil and season with salt and pepper. Bake at 350° for about 15 minutes or until golden brown. Once cool, slather with creamy herbed goat cheese and top with a slice of tender roast beef and strips of sautéed or roasted bell pepper.
EXPERT TIPS
EASY DOES IT. Don't make tapas too hard (or messy) to eat. Space single servings on a platter with enough room between each for easy pickup.
BY THE NUMBERS. If hosting a short happy hour, plan on 6 to 8 tapas servings per guest. If you're planning to go into the night, better make it closer to 12 to 15 tapas per hungry partygoer.
WINE AND DINE. Channeling a traditional Spanish vibe? Serve wines to match, like a bubbly Cava, a fresh rosé or a spicy Rioja, or mix up a homemade batch of sangria. And if you're feeling particularly authentic, a rich sherry is a must!
Easy-prep bites with fresh, minimal ingredients, a tapas party can be both casually elegant and affordable. And spontaneous, which is often the most fun kind of party.