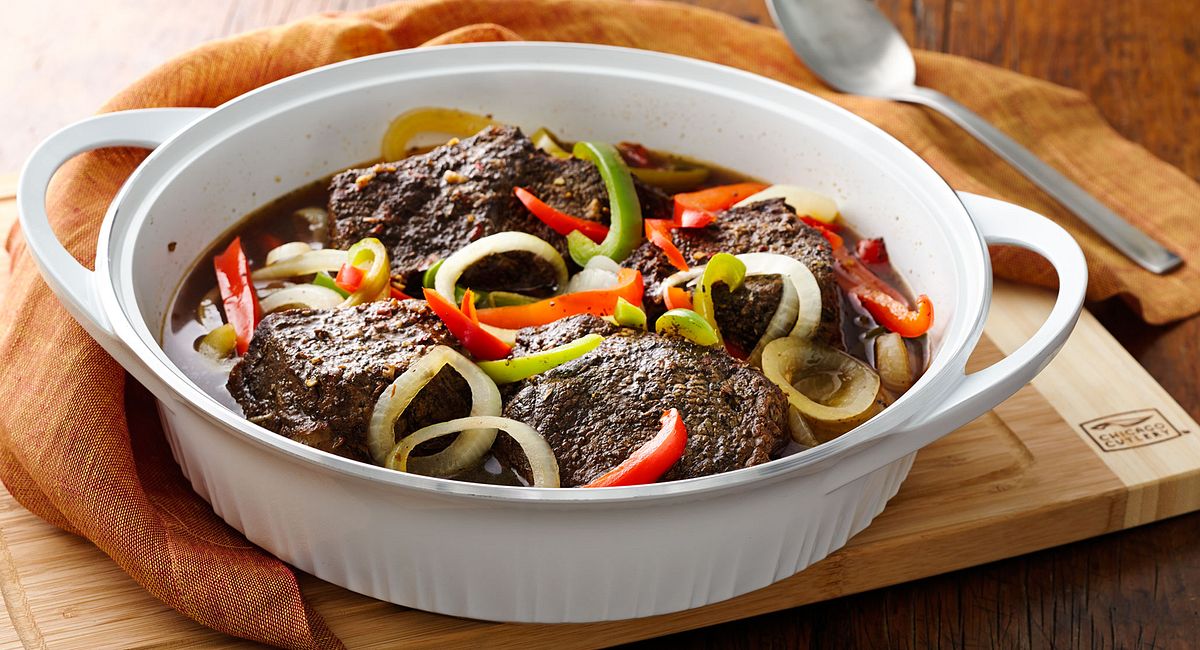 Braised Balsamic Herbed Beef and Vegetables
Recipe Details
SKILL LEVEL: Intermediate
YIELD: 8-12 servings
PREP TIME: 30 minutes
TOTAL TIME: 3 hours 45 minutes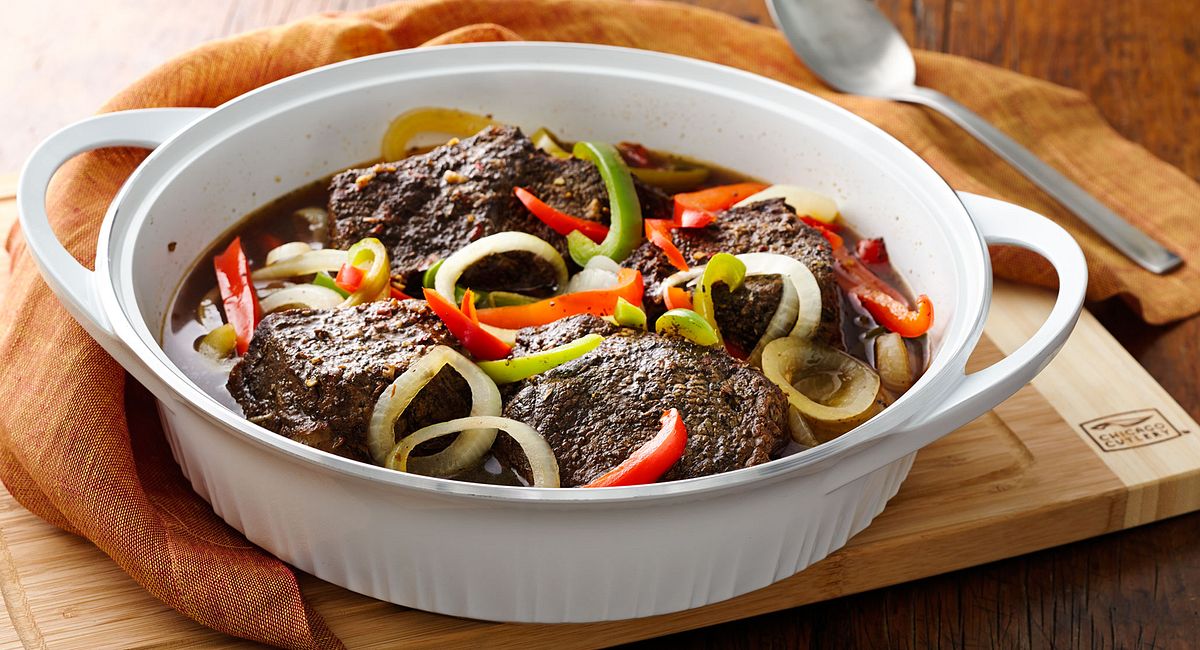 Ingredients
Rub
2 large cloves garlic, finely chopped
2 teaspoons Italian seasoning
1 teaspoon kosher salt
1 teaspoon coarsely ground pepper
1/2 teaspoon crushed red pepper flakes
Beef
1 boneless beef chuck arm roast (about 3 lb)
3/4 cup balsamic vinegar
1/4 cup maple syrup
2 tablespoons Worcestershire sauce
2 medium onions, sliced
1 medium green bell pepper, sliced
1 medium red bell pepper, sliced
Instructions
BRAISED BALSAMIC HERBED BEEF AND VEGETABLES
In small bowl, mix rub ingredients. Cut beef into 4 pieces; sprinkle rub over meat and rub into meat. In CORNINGWARE® FRENCH WHITE® CAST ALUMINUM™ 4 QUART ROUND BRAISER W/ GLASS COVER, cook beef over medium heat until brown on all sides. Reduce heat to low.
In medium bowl, mix vinegar, syrup and Worcestershire sauce with whisk; pour over beef. Heat to boiling; reduce heat. Cover and simmer 2 hours 30 minutes.
Add onions and bell peppers to Braiser. Cover and simmer about 45 minutes or until beef and vegetables are tender.
Remove vegetables with slotted spoon to bowl; set aside. Place beef on cutting board; thinly slice.
Make-Ahead Directions: Recipe can be made up to 2 days in advance. Cover and refrigerate sliced beef and vegetables separately.
Slow-Cooker Directions: Omit browning beef. Spray 4- to 5-quart slow cooker with cooking spray. Place beef in slow cooker. Prepare balsamic mixture as directed; toss with onions and bell peppers. Spoon vegetables over beef; pour remaining balsamic mixture over vegetables. Cover; cook on Low heat setting 7 to 8 hours or until beef is tender.
Recipe Reviews