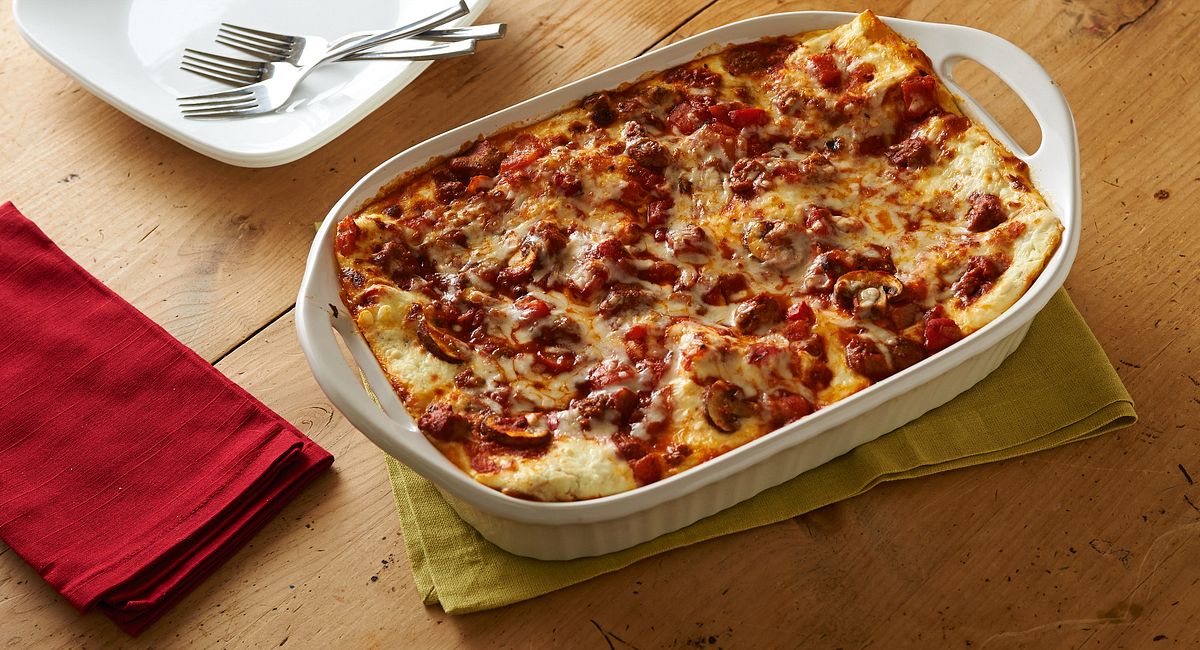 Roasted Bell Pepper and Turkey Lasagna
Recipe Details
SKILL LEVEL: Intermediate
YIELD: 8 servings
PREP TIME: 20 minutes
TOTAL TIME: 1 hour 45 minutes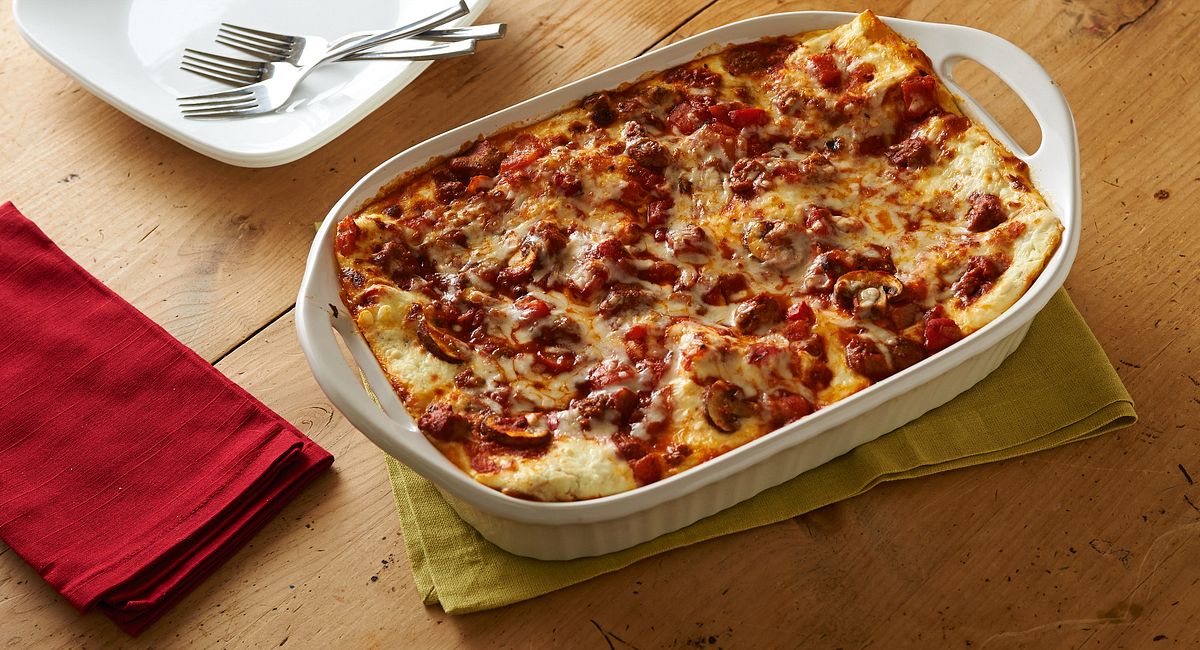 Ingredients
2 red bell peppers
1 lb ground turkey
1 large onion, chopped
1 cup sliced fresh mushrooms
4 cups marinara sauce
2 cups cottage cheese
1 container (15 oz) ricotta cheese
1/4 cup grated Parmesan cheese
2 eggs
1 package (16 oz) no-boil lasagna noodles
2 cups (8 oz) shredded mozzarella cheese
Instructions
ROASTED BELL PEPPER AND TURKEY LASAGNA
Roast bell peppers under broiler or over an open flame until skin is blistered and charred on all sides. Place in a bowl. Cover with plastic wrap; let stand for 15 minutes. Peel peppers; cut in half. Remove and discard seeds. Dice peppers; set aside.
In large skillet, cook turkey over medium-high heat about 5 minutes, stirring occasionally, until no longer pink. Add onion and mushrooms; cook until onion is tender. Stir in marinara sauce and diced roasted peppers; heat through.
In medium bowl, stir together cottage cheese, ricotta, Parmesan and eggs.
Spread a thin layer of meat sauce in a CORNINGWARE® FRENCH WHITE® 3 QUART OBLONG CASSEROLE. Layer with one-third of the uncooked noodles, one-third of the cheese mixture, 1/2 cup of the mozzarella cheese and one-third of the remaining meat sauce. Repeat layers twice. If not baking immediately, cover pan with lid or foil and refrigerate up to 24 hours.
Heat oven to 350°F. Cover pan with foil; bake 45 minutes. Uncover; sprinkle with remaining 1/2 cup mozzarella cheese. Bake 15 minutes longer or until bubbly around edges and cheese is melted. Let stand 10 minutes before cutting.
Recipe Reviews