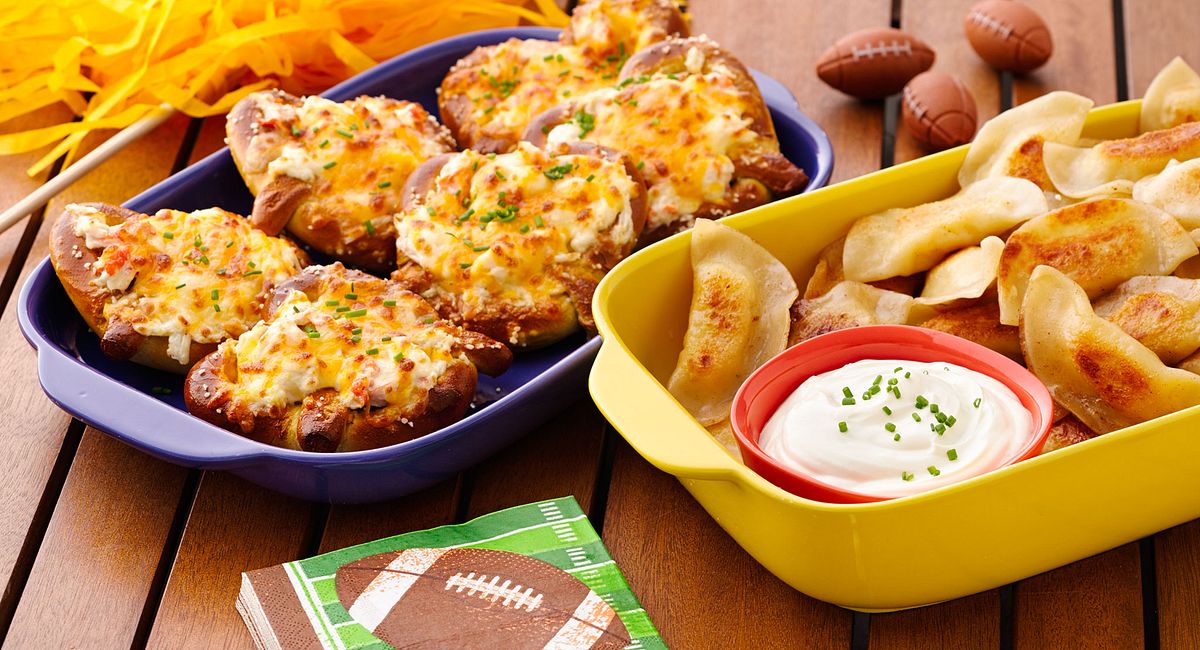 Show Your Team Colors
Whether you're wearing a Cheesehead or a cowboy hat, there's one thing every good football fan has in common—favorite football-watching eats! (Well, that and a few quirky traditions.) So if you've ever wondered how fans in other towns show their team spirit with game-day grub, you're about to be enlightened, and slightly amused.
We've explored tailgating parties from the top five towns for NFL fans, according to Forbes Travel Guide editors, and we're sharing some inspiring ideas on how you can use your CorningWare® bakeware to create your own colorful and spirited dishes. Let's get ready for some football!
YEE-HAW!
One trip to Dallas, Texas, and you'll quickly see that not only is everything bigger, it's bluer, too. When it comes to team spirit, Cowboys fans take their colors seriously, mixing up batches of margaritas made with blue curacao and silver tequila. But every cowboy knows it's not smart to drink on an empty stomach, so you can ride in with a Cowboy Casserole and save the day. Try this yummy tater tot bake from Easy Home Ideas, and keep it team-themed by using your CW BY CORNINGWARE™ 3 QT POOL BLUE OBLONG CASSEROLE.
SAY CHEESE!
When you enter Packer Country in Green Bay, Wisconsin, come hungry for cheese and thirsty for beer—and bring a big puffy jacket. These die-hard fans don't bat an eye at a foot of snow on the ground. (Hey, at least it keeps the beer cold!) Not ready to brave the Wisconsin winter? It's okay to stay home and entertain, too. You can still show your Packer pride with "The Perfect Beer Dip" from Beauty and Bedlam —especially when you serve up the cheesy golden dip in the CW BY CORNINGWARE™ 1.5 QUART SPROUT GREEN CASSEROLE to create the ultimate green and gold pair.
DA BEARS, DA DOGS AND DA PIZZA
Blue and orange aren't the easiest colors to sport when it comes to delicious tailgate food. Our advice is to leave the blueberries and oranges at home and indulge in something a little more Chicago-style. Say yes to hot dogs, complete with mustard, sweet relish, tomato slices, sport peppers, diced onions, pickle spears and celery salt. CW by CorningWare bakers can double as serving dishes for all the fixings, and make easy work of transporting supplies to and from the tailgate.
Or serve up a traditional Chicago deep-dish pizza using this recipe from Taste of Home. Use orange-hued cheeses and put the whole thing together in your CW BY CORNINGWARE™ 3 QT POOL BLUE OBLONG CASSEROLE, so you can simply cover it and tote it to the game.
POLKA PARTY POWER
The last thing you might expect at a football tailgate is polka dancing and pierogies, but that's how the Pittsburgh Steelers party in the parking lot. This is a Polish tradition worth partaking in, but pierogies aren't the kind of thing you should prepare on site. Instead, you can follow this step-by-step recipe from Smitten Kitchen at home and transport them in your best gold dishware, such as the CW BY CORNINGWARE™ 20 OZ and 3 QT CURRY YELLOW CASSEROLES. Grab some disposable black dishware and napkins from a party supply store, and you're all set!
PURPLE REIGN
It's acceptable to put Old Bay seasoning on just about anything when you're in Maryland—especially if that something is blue crabs. (Hmmmm, maybe Old Bay is the secret to the Ravens' success…) If it's football comfort food you and your fellow Ravens fans are after, check out these smothered crab pretzels (with, yes, Old Bay seasoning) from Food Republic. Fill up a CW BY CORNINGWARE™ 1.9 QT TWILIGHT SHALLOW BAKER with a batch of those, and you'll be the most popular partygoer wearing purple.
THE PLAYBOOK FOR SHOWING YOUR TEAM COLORS
Pairing tasty foods and vibrant bakeware to show off your team colors is a fun way to show team spirit, although some teams are more challenging than others. The aforementioned Ravens and the Minnesota Vikings, for example, with team colors of purple and gold, may have a limited selection of foods to choose from; whereas New England Patriots fans, with red, white and blue as a color palette, have a little more variety (pretty much any Fourth of July recipe will do). Fortunately, there are plenty of creative options out there, and if the food you're hungry for isn't in the shade of choice, chances are the CW by CorningWare bakeware collection has something in the color you're looking for—check out the different shapes and sizes in brilliant purple, blue, yellow, green or red. Mix with the classic CORNINGWARE® FRENCH WHITE® bakers and ramekins and an array of colorful Pop-In Mugs to round out your team color palette. Use the bakeware with the foods and beverages below as inspiration for your own spirited creations:
Blue/Purple: Blue corn chips, blueberries, purple grapes, purple potatoes, grape juice/wine
Yellow/Gold: Cheese, yellow bell peppers, tortilla chips, yellow tomatoes, mustard, pineapple, lemonade, beer
Orange: Orange bell peppers, carrots, oranges, orange juice, cheese-flavored chips, BBQ chips
Red: Tomatoes, red bell peppers, strawberries, raspberries, salsa, ketchup, hot sauce, Bloody Marys
Green: Cilantro, broccoli, celery, limes, green peppers, jalapeños, cucumbers, pistachios, green salsa
Brown/Black: Bacon, hot dogs, burgers, buns, potato skins, wings, chocolate, hot cocoa, coffee, stout
White: Onions, mushrooms, potatoes, mayonnaise, ranch salad dressing, cream cheese, whipped cream
EXPERT TAILGATING TIPS
Don't forget the essentials: Bring trash/recycling bags, utensils, cups, plates, napkins, plenty of water, ice and chairs.
If you're grilling, be sure to pack utensils such as tongs and foil to keep food warm or covered.
No matter what the weatherman says, be prepared for whatever is typical to your region. If your region is often cold and rainy, that means ponchos and warm coats. Bring extra hats and gloves for your friends. If it's warm where you are, freeze bottles of water so by the time you're ready to drink them, the water will be chilled—and don't forget the sunscreen.
Save money on gas and parking by carpooling with your fellow fans. If you're regulars, you can take turns driving each week (and always have a designated driver!).
No matter which team you cheer for, it's always more fun when you go all out. So color-coordinate the chow, don your jersey and gather your crew for game-day fun. (A word to the face-painters: Proceed with caution; results are occasionally impressive, but more often regrettably messy.)
YOUR TURN: How do you use your spread or go-to dish to show your team spirit? Please share!