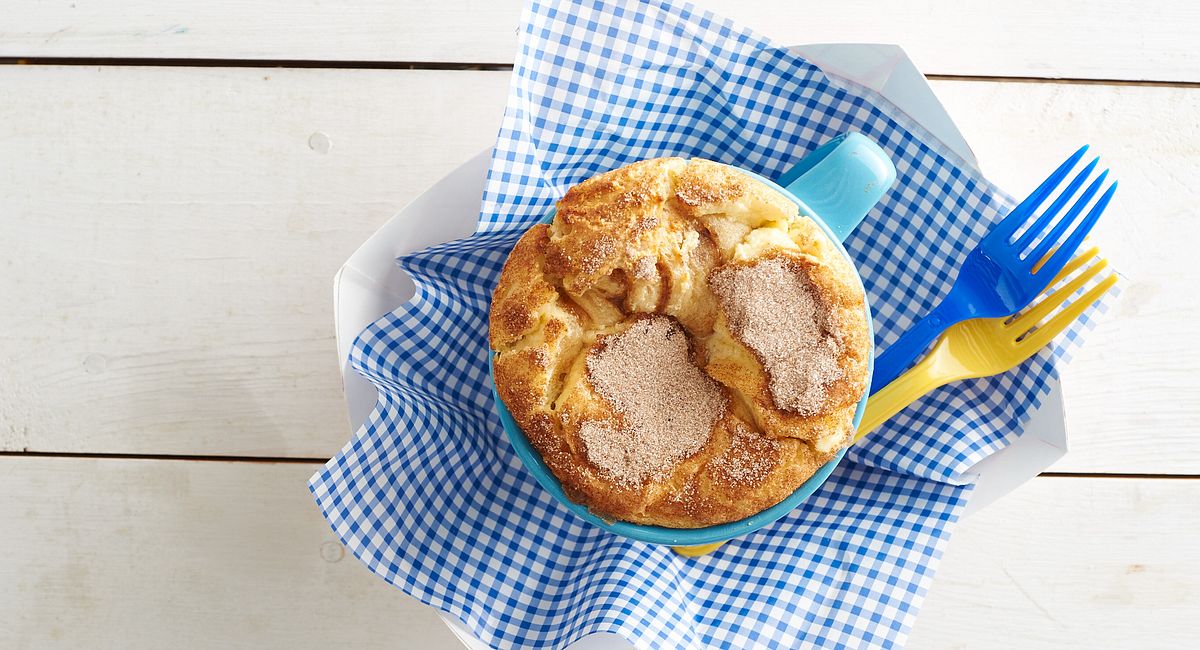 State Fair Foods Fit for a Mug
There's only one thing better than the State Fair—and that's State Fair food! From award-winning preserves and blue-ribbon pies to salty foods on a stick, summertime simply isn't the same without these scrumptious bites.
Inspired by State Fair classics, we've put a really fun riff on two fair favorites—turning corn dogs and churros into single-serving mug treats.
Most mug recipes are messy, microwaved until overflowing from tiny coffee cups. So we made the cooking process simpler, cleaner and more stylish than ever with the oversized CW BY CORNINGWARE™ 20 OUNCE STONEWARE MUGS.
Made with durable stoneware, the mugs are created to withstand cold and heat,so you don't need to dirty a dozen dishes while making one little treat. Simply stir our tasty batters together, then pop them straight into the oven in these handy mugs. Their tight-fitting lids keep food fresh in the fridge until ready to serve, and can even be used in microwave to reheat leftovers.
Available in five brilliant colors with playful names that offer a wink and nod to summertime delights (Sprout, Pool, Twilight, Curry, Vermillion), these mugs are a great way to bring the fun and flavors of summer right into your own kitchen.
Grab yourself a set of these mugs and scroll below for our recipe remakes. We think you'll find these delightful dishes are even better than a ticket to the fair.
CORN DOG OFF A STICK
Make your own homemade corn dogs with this quick-and-easy recipe for corn dog casserole in a mug—no wooden sticks required! Mildly sweet cornbread batter is mixed with sliced hot dogs, then baked until golden brown. You won't believe how easy it is to mix up a dish that makes you feel like a kid again.
PARTY PERK: Host a carnival-themed party! Bake several batches of this dish in bright red CW BY CORNINGWARE™ 20 OUNCE STONEWARE VERMILLION MUGS and serve alongside bags of popcorn and peanuts. Such a simple way to pull together a themed party table in minutes!
CHEESECAKE CHURRO IN A MUG
This delish dish combines two State Fair faves—rich, creamy cheesecake and sweet, flaky churros. Buttery crescent rolls and a Greek yogurt cheesecake mix are baked under layers of cinnamon-sugar for an irresistibly sweet treat.
PARTY PALETTE: Set any party scene by baking several batches of this dessert in colorful CW BY CORNINGWARE™ 20 OUNCE STONEWARE MUGS. Vermillion, Sprout and Curry are perfect for fiesta-themed events. Or combine the Twilight and Pool mugs to re-create the beachside fun of Coney Island.
More Ways to Use Your Mugs
There are so many recipes you can make in your CW BY CORNINGWARE™ 20 OUNCE STONEWARE MUG. From breakfast bakes to gooey chocolate cake, get even more mug food ideas with these easy-to-make favorites:
Chocolate Cake, Ready in Minutes. These three Chocolate Mug Cake Recipes make it easy to whip up a single serving of coffee cake, s'mores cake or ruby red velvet cake in less time than it takes to drive to the corner bakery.
Big Breakfast, Smaller Sizes. Make a breakfast fit for a king with these quick and delicious Breakfast Mug Classics.
Eating Right, Made Easy. Mug cooking isn't just for decadent dinners and over-the-top desserts. Try these Healthy Fuel Favorites for some brain-happy noshing.