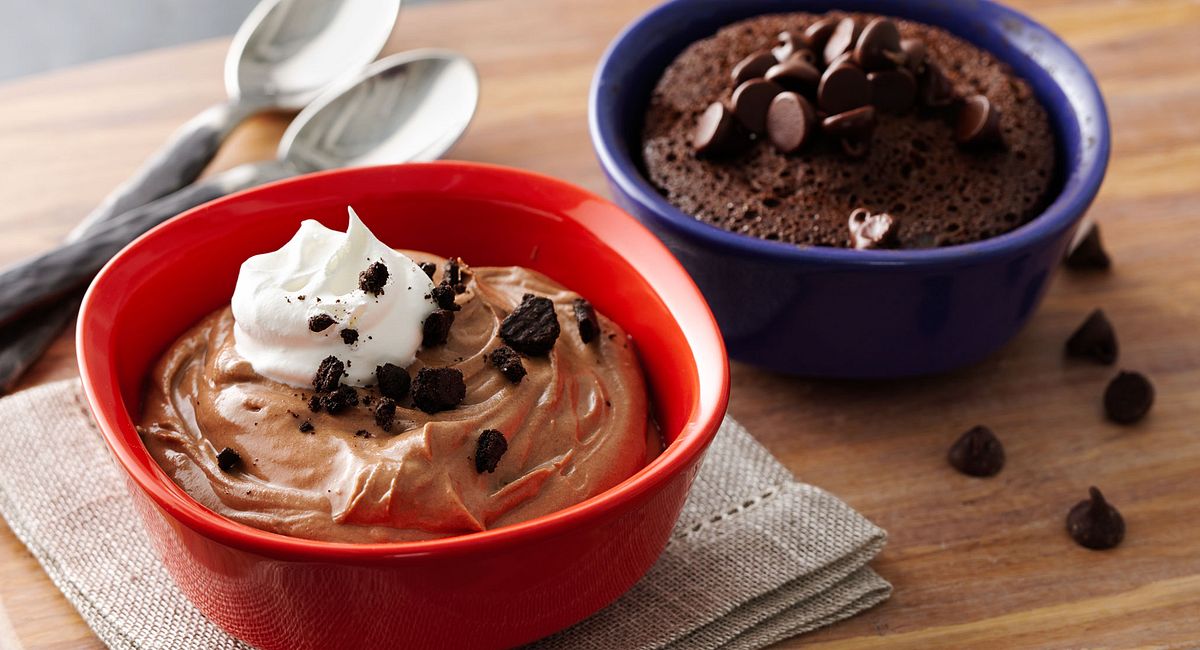 4 Valentine's Treats You Can Make with Just 3 Ingredients
Valentine's Day is the perfect time to embrace your love affair with chocolate. And we've found some 3-ingredient treats so easy to make, you won't have to wait on Cupid! Whether you're satisfying your sweet tooth or sharing with your sweetheart, these surprisingly simple ideas make every day a day to love!
3-INGREDIENT CHOCOLATE FLUFF
This quick dip will quickly become the object of your affection! Cream cheese and marshmallow creme blend together in dreamy clouds kissed with a hint of chocolate. Heavenly on its own, you can enjoy this recipe with a spoon, or serve with strawberries and shortbread cookies for dipping.
What you'll need:
1 package (8 oz) cream cheese, softened
1 jar (7 oz) marshmallow creme
1 to 2 tablespoons unsweetened baking cocoa
How to make:
In a mixing bowl, beat cream cheese and marshmallow creme with a hand mixer until whipped and fluffy. Add cocoa; beat 30 seconds longer until well blended. Transfer to a CORNINGWARE® FRENCH WHITE® 16-OZ ROUND BAKER WITH LID, snap on the lid; chill 1 hour before serving.
2-INGREDIENT CHOCOLATE MOUSSE
If rich, silky chocolate is what your heart desires, this recipe holds the key. Though the ingredient list may sound odd, this combo creates an intense, velvety dessert that will woo your taste buds.
What you'll need:
8 oz high-quality chocolate
3/4 cup water
How to make:
Fill a large heatproof bowl with ice cubes; set aside. In a small saucepan, heat chocolate and water over medium-low heat until smooth. Remove from heat; set saucepan in bowl of ice. Blend with a hand mixer until light and fluffy. Spoon into some colorful CW BY CORNINGWARE™ RAMEKINS which have been generously greased with cooking spray. Refrigerate until ready to serve. Garnish with whipped cream and fresh berries, if desired.
3-INGREDIENT CHOCOLATE PB BARS
Chocolate and peanut butter is the ultimate heartthrob combo. Paired together in this easy recipe, you can enjoy the duo anytime you please!
What you'll need:
2 bags chocolate chips
1-1/2 cups creamy peanut butter
1/2 cup powdered sugar
How to make:
Line a CORNINGWARE® FRENCH WHITE® 8″ SQUARE BAKING DISH with cooking parchment paper. In microwavable bowl, microwave 1 bag of chocolate chips uncovered on High in 30-second increments, stirring after each, until melted; stir until smooth. Pour melted chocolate into baking dish. Let stand at room temperature until firm. In medium bowl, stir peanut butter and powdered sugar until blended. Spread mixture over chocolate layer. Melt remaining chocolate chips; spread over peanut butter layer. Let stand at room temperature until set. Cut into bars.
3-INGREDIENT CHOCOLATE LAVA CAKE
Sometimes sweet tooths need to be satisfied, stat! This cake cooks in 1 minute, so you won't have to wait long for gooey indulgence. Make one batch for yourself—or two to share!
What you'll need:
1 egg
1/4 cup powdered sugar
2 tablespoons unsweetened baking cocoa
How to make:
In small bowl, beat egg, powdered sugar and cocoa with whisk until smooth. Pour into a well-greased CW BY CORNINGWARE™ 8-OZ RED RAMEKIN. Microwave on High for 50-60 seconds until cake is set in center. Top hot cake with a handful of milk chocolate chips, hot fudge, whipped cream or ice cream, if desired. Enjoy immediately!
Would you have ever guessed there were so many 3-ingredient chocolate recipes? Whip up one or all of these easy treats and make this Valentine's Day your most decadent ever.
TRY THESE OTHER EASY CHOCOLATE RECIPE FAVORITES