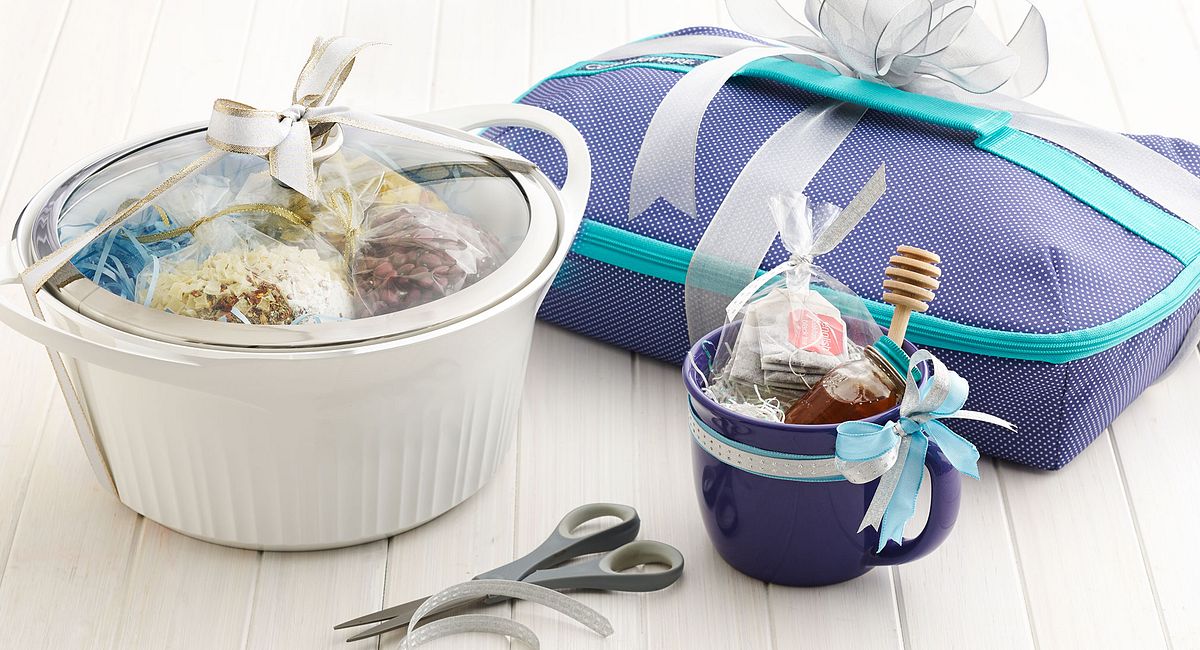 Mix & Match Bakeware III: Gift Ideas
The holidays can bring out the best in us, but they can also bring out the stress in us. This year give something everyone can appreciate: the gift of time. Whether your friends and family are wrapped up with kids' sporting events or dealing with deadlines at work, the busy holiday season so often puts a crimp on everyone's schedule.
Instead of letting the hustle and bustle keep you from seeing each other, make it easy to spend quality time together by whipping up some creative, on-trend gift baskets for family and friends.
We've pulled together some simple presents that package up the precious gift of time. A few basic ingredients and some of our favorite CorningWare® pieces come together to create simple, shareable memories. Once the initial gift has been opened, recipients will be left with classic bakeware that looks beautiful in any kitchen. Whether each of them ends up in the same home, or you spread the gifts (and the love) to multiple friends, there's no doubt these heartfelt baskets will be well received.
FOR THE WORK-FOCUSED FRIEND
We all have that friend who's ambitious, career focused and exceptionally successful in everything they do—and we're extremely proud of them. The only problem is, we rarely get to see them. So why not make it easy for them to host an instant soiree? This idea makes entertaining so easy, they'll be able to work it into their busy schedule. After all, efficiency is the name of their game!
Share a CORNINGWARE® FRENCH WHITE® 3 QUART OBLONG BAKER W/ BLUE PORTABLE SET filled of everything needed to host an intimate Tapas Night. The extra-large French White® baker is big enough to hold a variety of crackers, cheeses and chutneys; and the insulated blue micro-dot bag makes it easy to tote the party anywhere—even a coworker's cubicle!
FOR THE FAMILY ON THE GO
For busy parents, a sit-down dinner can be hard to nail down. Help them make it happen. Whip up a One-Pot Dinner gift basket featuring the CORNINGWARE® FRENCH WHITE® CAST ALUMINUM™ 5.5 QUART WHITE ROUND DUTCH OVEN W/ GLASS COVER. The snow-white cookware makes an ideal holiday offering. Not to mention it can be used again and again, with hundreds of super-quick one-pot recipes busy families will love.
For now, pick any one of these Three Tasty One-Pot Recipes and arrange all of the ingredients inside your cast aluminum "gift basket." Don't forget to include the recipe card so they can whip up a quick-and-easy dinner the whole family will enjoy.
FOR YOUR BOOKISH BUDDIES
If you've been chatting with your pals about starting a book club, now's the time. Use this holiday season to bring your best friends together with a lit-inspired party pack.
Choose a book that suits your circle, and wrap copies with CORNINGWARE® CW BY CORNINGWARE™ 20 OUNCE STONEWARE MUGS, which have been stuffed with relaxing reading goodies. Packets of tea, biscuits and other tiny snackables that entice them to take a time-out will be truly appreciated. Create a matching set of gifts or personalize your presents, pairing any of the five different mug options with your friends' favorite colors.
Plan a time to get everyone together and chat about your read with these easy ideas for Book Club Bites.
Who says you can't give everyone what they really want this year? Forget the gizmos and gadgets and share something simple instead—an excuse to spend some quality time with friends and family. These gift baskets are a great place to start. Here's to a holiday season full of slow, sweet moments and lots of time to savor together!
TIPS FOR STRESS-FREE GIFT-GIVING
MORE MUG LOVE. If you'll be mailing gifts to faraway friends or college kids with limited space, consider these fun ideas for giving Gifts in a Mug or, put together a crave-worthy, Dorm-Sweet-Home College Care Package to help them make the most of their space.
HAPPY HOSTESS GIFTS. Want to prep a pretty package for your holiday party host? Read 7 Ways to Give Thanks for host/hostess gift ideas that show your appreciation for all of their hard work.
GIFT TOGETHER. Check off two to-dos from your holiday list by spending time with people you love while wrapping up your gift-giving. Host a Cookie-Making Marathon and everyone will have plates of homemade goodies to share with neighbors and coworkers.