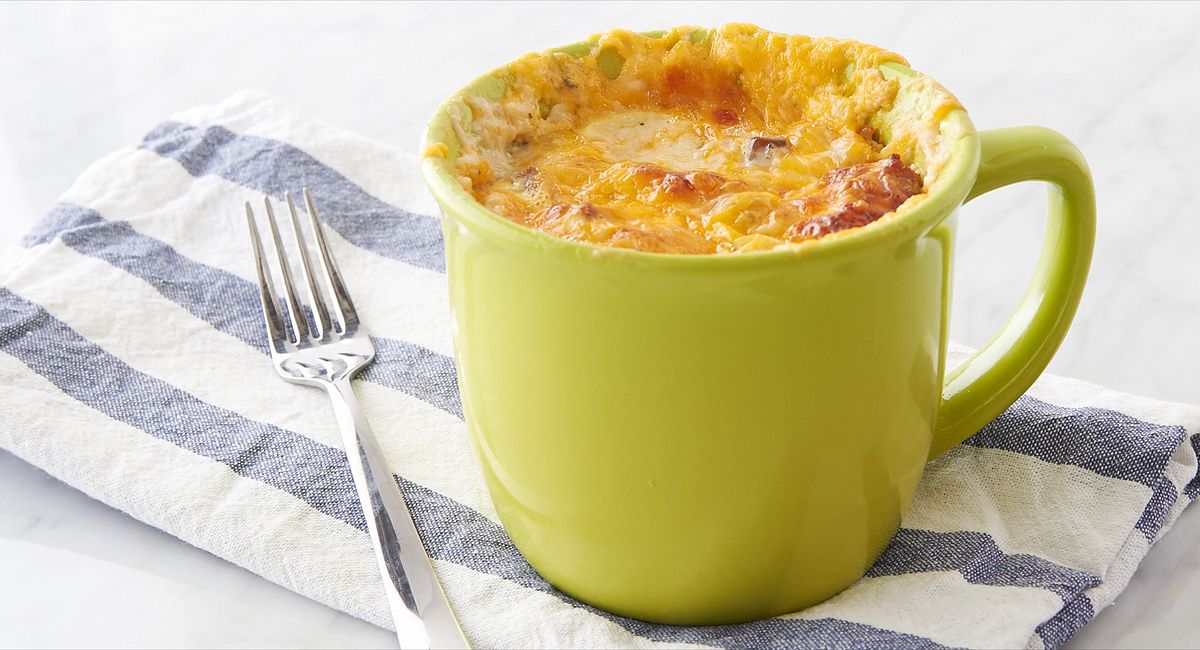 Mug Shots: Big Breakfast Flavor in Smaller Sizes
Even on leisurely weekends, indulging in the most important meal of the day can sometimes be too much work! Want to enjoy your big breakfast faves without having to cook for a crowd? Whether you're on your own, a small family just starting out or adjusting to life as an empty nester, we've got just the thing to make your mornings brighter with the same great flavors in smaller portions.
With our quick and easy mug recipes, you can enjoy the tastes of your favorite breakfast dishes without all the cleanup and wasted leftovers. We used CorningWare® Pop-ins® 20-oz. Mugs, which happen to be just the right size for serving two. TIP: Flavors still mingle best when you whip these together the night before, and pop in the oven the next morning.
WAKE 'N' MAKE BREAKFAST BAKE
A big breakfast bake usually means a special occasion, but this size will fit your lazy Sunday morning to a T! With a golden brown topping, savory sausage in the middle and seasoned crouton crunch on the bottom, you won't mind crawling out from under the covers for this one.
GET THE RECIPE
CHEESY BAKED BREAKFAST BROWNS
br>
Ooey-gooey cheesy hash browns. Need we say more? Add the corn flake topping and you have just the right bit of crunch to go with all that smooth deliciousness. Presenting your golden (brown) opportunity to enjoy a sit-down breakfast without all the fuss.
GET THE RECIPE
Need an option that'll make your sweet tooth smile? With its crumbly streusel topping, our cinnamon-spiced Cup of Coffee Cake is custom-made for such requests. Or try our simple and super quick French Toast in a Mug on its own or to complement your other breakfast items.
EXPERT TIPS
LITTLE LEFTOVERS: If you don't finish your portion, simply pop the top on and slide the mug into the fridge. Have more than one? They also stack easily to take up less space.
DON'T FORGET THE SIDEKICK: Breakfast purists know that no egg dish is complete without a slice or two of toast, lightly buttered, or with a smear of your fave jelly, jam or preserves.
MAIN SQUEEZE: Freshly squeezed juice is an eye-opening treat, but it does take a little time and effort. These days you'll find several super-fresh options in the produce section—simply pour and enjoy, no gadgets necessary.We called out the weekend, but these recipes work wonders on weekday-weary souls, too. Swap out your usual grab 'n' go morning meal for a mugful when you need a heartier start!
YOUR TURN: What big breakfast dish would you most like to see go mug-sized?