All-American Classics with Snapware
How much more all-American can you get than summer celebrations and picnics in the great outdoors? Sure, some people think fighting Mother Nature, the flying party crashers and an uneven picnic table take some of the fun out of it. But withmade-in-America Snapware® containers, the food side of summer celebrations and picnics are both covered and simply a snap.
To take the sweat out of potluck and picnic prep, here are all-American alfresco classics you'll want to have on your hit list, so you don't have to scramble to get ready for that next picnic or potluck. And we've paired each summer dish with a Snapware transportable container to get it there without a drip, drop or mess.
SALUTE TO THE CUPCAKE
Let's start with dessert first. That's the fun of outdoor eating—there are no rules. And with this all-American finale, there isn't any recipe to worry about either. It's all in the presentation of colors. Simply make your favorite box cake mix into two-dozen cupcakes in any flavor you desire. Top with white frosting, homemade or store bought. How's that for simple? Then, place the frosted cupcakes into the two layers of a SNAPWARE® SNAP 'N STACK® COOKIE & CUPCAKE CARRIER side by side. Decorate with blueberries and raspberries, making the flag design shown in the photo above. Oohs and aahs are guaranteed to follow!
Transport Tip: Using SNAPWARE® SNAP 'N STACK® COOKIE & CUPCAKE CARRIER is ideal for creating a simple and amazing dessert presentation that takes seconds to set up when on the road. Just stack and snap on the way out. When you arrive at your cookout, reverse. Snap and unstack, placing side by side in the same order. Kapow! That's an easy no-fuss stars-and-stripes dessert.
KANSAS CITY-STYLE BEAN CHILI
This mind-blowing, Kansas City-Style Bean Chili recipe from the foodies at Saveur is not too fussy, so it's ideal for large crowds. It's the perfect way to celebrate all things American with a hearty, Midwestern appeal that will satisfy hungry appetites and bring back classic memories!
Transport Tip: SNAPWARE® TOTAL SOLUTION™ FOOD STORAGE CONTAINERS are perfect transport totes for big and small loads. For a large-yield recipe like this, go big with the 8-plus cup square plastic storage container, part of the glass and plastic collection . The other containers in this set are perfect for keeping additional garnishes and a side of cornbread to "wow" all your friends and family!
NORTH CAROLINA BARBECUE
How about this North Carolina Barbecue recipe from Epicurious. The recipe calls for a pork shoulder, cooked low and slow, which makes the cooking easy enough for anyone! Guests can assemble their barbecue sandwiches and choose from a selection of condiments, all neatly arranged in Snapware food-storage products.
Transport Tip: This 4 CUP PYREX GLASS FOOD STORAGE CONTAINER WITH SNAPWARE LID seems made to order for carrying pulled pork to any picnic. For larger quantities, you can opt for a bigger-sized Snapware container. Store your favorite coleslaw and buns in separate containers of various sizes from the SNAPWARE® TOTAL SOLUTION™ FOOD-STORAGE CONTAINERS COLLECTION, keeping everything fresh and delicious until suppertime assembly.
SPICY PINEAPPLE RIBLETS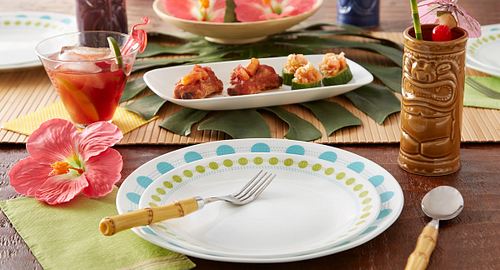 Finger-licking Spicy Pineapple Riblets will have guests coming back to the buffet table for a second (maybe even a third!) serving. Tender rib meat roasted in spicy pineapple sauce is sweet and savory—the best combination to please a hungry crowd!
Transport Tip: Every guest likes to sauce their ribs to varying degrees. We say take extra sauce for the ribs in a separate container from the meat so those who prefer to load it on can do just that. The SNAPWARE® 4.4 CUP SMALL PLASTIC SQUARE CANISTER is sauce ready and a take-along companion. SNAPWARE® TOTAL SOLUTION™ 6 PIECE GLASS AND PLASTIC VALUE PACK WITH LOCKING LIDS is a great combo pack with a variety of sizes that would work well for transporting meat and extra sauce separately.
SUMMER BEAN AND PEPPER SALAD
Summer isn't complete without a classic summer salad. The Summer Bean and Pepper Salad is a great farm-to-table influenced option, pairing fresh-from-the-garden green and wax beans with a light feta dressing. GET THE RECIPE
Transport Tip: Keep the salad super fresh, transporting it in SNAPWARE® 4-PC FRUIT AND VEGGIE-TAINER. Then, pop the lid and serve from it too. Farm-to-table goodness delivered!
EVERYTHING BUT THE KITCHEN SINK COOKIES
Finish off a great picnic with melt-in-your-mouth Everything But The Kitchen Sink Cookies. They are deliciously sweet and a can't-miss crowd-pleaser. After all, they have everything but the kitchen sink! GET THE RECIPE
Transport Tip: Take your cookies on the road with SNAPWARE® SNAP 'N STACK® COOKIE & CUPCAKE CARRIER. Pack, stack and off you go!
Keeping your salads, barbecue meats and desserts fresh and ready to serve with SNAPWARE® TOTAL SOLUTION™ food storage is a cinch. Pack 'em tight, then pop off the lids and serve in style!
Snapware food storage is practical and smart for transportation, but it also makes the setup of your picnic or covered-dish events attractive, showing off your gorgeous food in the clear containers. Use colorful plaid picnic blankets or tablecloths, and decorate your table or picnic area with fresh-cut flowers in glass mason jars to add an extra touch of glamour and complement your alfresco affair.
EXPERT TIPS:
When transporting Snapware containers filled with your delicious food, there's no need to invest in that expensive wicker picnic basket. Carry them in practical reusable grocery bags that are easier to tote.
Plan ahead and transport picnic blankets, cups, plates and utensils in their own separate bags, food in another. Snapware products also fit neatly inside coolers!
Bring extra, empty Snapware Total Solution containers to have ready and available in case friends or family members want to take home some leftovers. Or, condense the leftovers so you can pop them right from cooler to fridge when you get home.