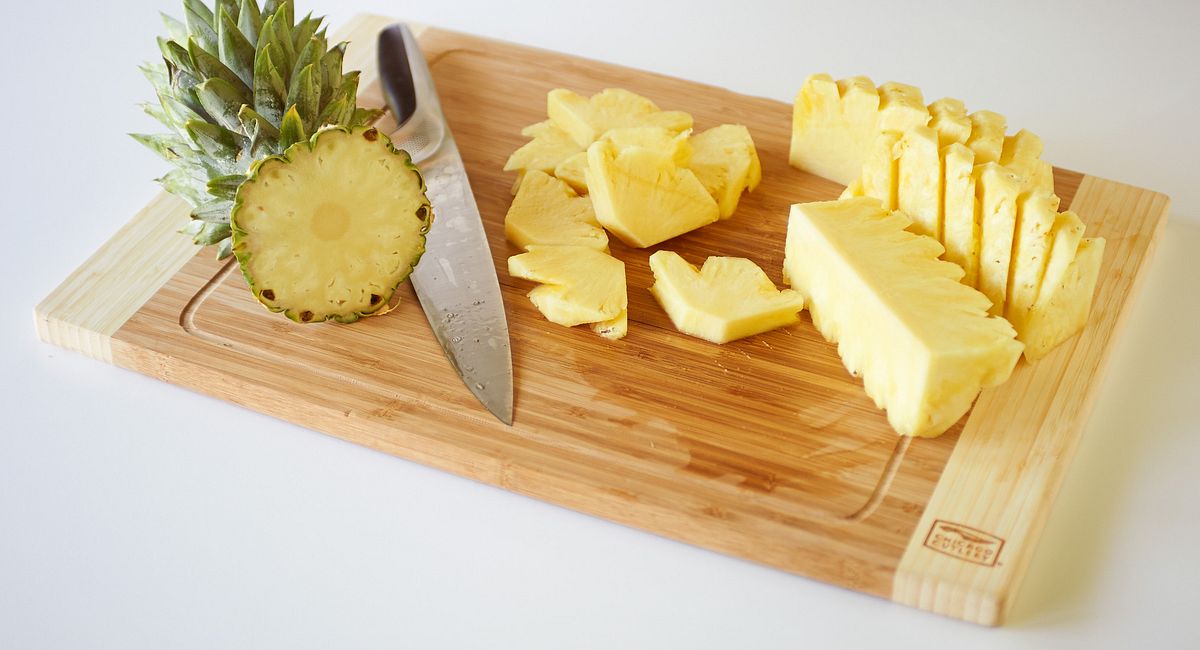 Cutting Class No. 1: How to Cut a Pineapple
You say "fresh pineapple?" We hear "summer!" loud and clear. Whether you serve it grilled, in a salad or as a cocktail garnish, savoring this tropical delight is like nibbling on a ray of sunshine. Figuring out how to slice up a pineapple, however, is a little bit daunting. Like a wired toddler or tired teenager, pineapples can be a bit prickly to handle. So here's a quick primer on how to gently deal with the tough exterior to coax out the sweet stuff on the inside.
MAKE A NATURAL SELECTION
Before we begin, though, a few words about how to select a pineapple that makes the, ahem, cut. Contrary to popular belief, color is not a good indicator of freshness, as pineapples stop ripening after they're picked. So instead, use your nose and fingers to single out a winner. Smell the stem end; a fresh pineapple should emit a fragrant pineapple aroma. Then press the skin; a ripe pineapple should yield gently to slight pressure.
Sweet Tip: Because the stem end of the fruit contains the highest sugar content, some chefs suggest placing a pineapple upside down in the refrigerator for 30 minutes prior to cutting. (This may help distribute the sugar more evenly.)
CUT WITH CONFIDENCE
Be sure to use well-sharpened knives—we recommend a large chef's knife and a paring knife. The CHICAGO CUTLERY® VIVID™ 3-PIECE KNIFE SET has both, plus a handy utility knife, and comes in bright, fun colors with soft handles that offer comfort and control.
Cut off the leafy top with the chef's knife, including about a half inch of pineapple. (Try using the leaves as a decorative fruit salad garnish.)

Slice off about 1/2 inch of the bottom.
Carefully trim off thin strips of the spiny rind by standing the pineapple on its bottom, then following the contours of the fruit, slicing top to bottom. The outer part of the flesh is the sweetest, so remove as little fruit as possible.
Next, use the tip of your paring knife to remove the remaining little brown "eyes."

Use the chef's knife to slice the upright pineapple in half from top to bottom. Then lay the halves flat and slice each one lengthwise in half, leaving four quarter sections.
Remove the core from each quarter with a lengthwise angle slice.
For grilling, slice the quarter sections lengthwise. For pineapple chunks, line up the lengthwise strips and crosscut them.
To make pineapple rings, follow the first four steps above, then set the pineapple on its side and cut off roundish slices. Use the tip of a paring knife to cut out the middle of each slice, or use a small, circular cookie cutter.
START COOKING WITH SUNSHINE
For a quick and tasty patio-party dessert, check out Skinny Taste for this yummy (and healthy!) recipe for grilled pineapple slices with cinnamon, honey and lime juice.
Combine your fresh pineapple chunks with crunchy cucumber and sweet red onion for a light salad from The Reluctant Entertainer.
Or make like a resort chef and use the whole fruit. Sues from We Are Not Martha cut her pineapple in half to make fun serving dishes for a flavorful Chili Mango Shrimp Pineapple Fried Rice.
Now that you've learned all the right moves, be sure to choose whole, fresh pineapple (instead of precut or canned), and style your summer menu with more of this sweet 'n' sunny fruit.
YOUR TURN: How do you punch up recipes with fresh pineapple?