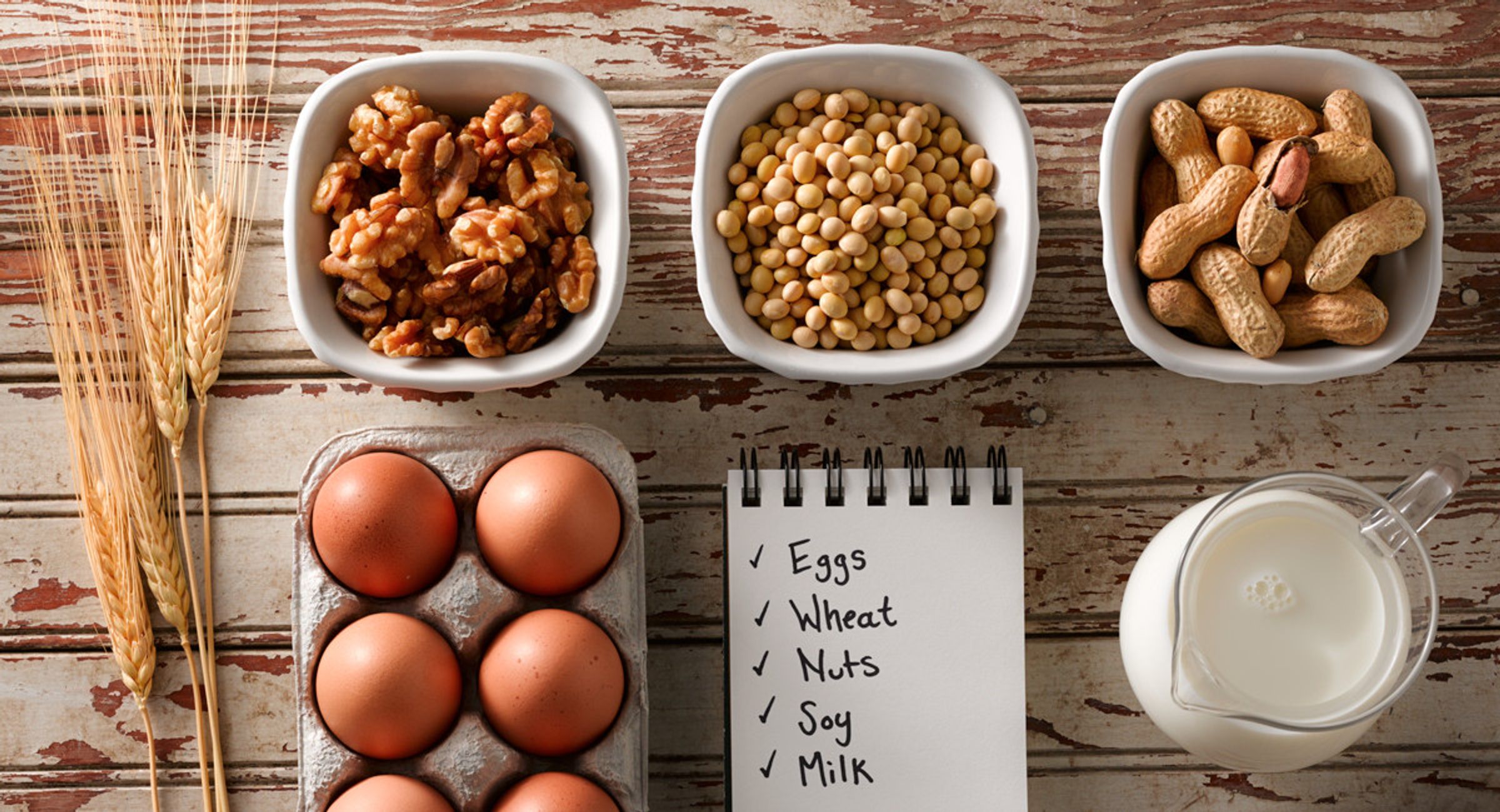 How to Handle Common Food Allergies
Eating right at any age is challenging, but when you or someone in your family has a food allergy, figuring out meals and snacks can be downright complicated. And although they are still rare compared to environmental allergies, food allergies are on the rise. Since these allergies can strike or subside at any age, it's important to learn how to navigate the ever-changing nutrition scene, especially for parents. From carefully reading food labels to experimenting with safe alternative ingredients for cooking and baking, knowledge is key.
ALLERGIC REACTION IN A NUTSHELL
An allergic reaction to food occurs when the body's immune system (its natural defense system) detects a certain food (that was eaten or touched) and overreacts, thinking it's an infection or other dangerous element. The reaction can cause tingling or swelling in the mouth, numbness of the limbs, abdominal distress and a rash or hives. A serious whole-body reaction, known as anaphylaxis, also interferes with swallowing and breathing, among other essential functions.
MEET THE COMMON CULPRITS
While nearly any food can cause an allergy, the most widespread are proteins in cow's milk (such as casein and whey—which can also be found as a protein supplement in foods other than dairy), eggs, soy, wheat, peanuts, tree nuts and shellfish.
INCORPORATE EVERYDAY CHANGES
So how do you deal with this situation? It's more than dietary. Lifestyle changes are in order and planning is essential. You'll almost certainly be doing more baking and cooking, so dishes and recipes that can do double-duty or freeze well are winners. Make bigger batches of dinners or desserts in bakeware pieces from the CORNINGWARE® FRENCH WHITE® BAKEWARE SET, and save time by baking, serving and storing (in fridge or freezer) all in one dish. Or try portioning out individual servings into CORNINGWARE COLOURSTM POP-INS® MUGS WITH LIDS —they come in a rainbow of colors, so you can assign a hue to each family member. You could even designate a particular color to be always dairy-free or peanut-free for the safety of the one with the allergy. And above all, you'll stay on top of the latest news, such as new allergen-free products and "clean" production lines.
ASSESS YOUR ALTERNATIVES
Some allergens, like nuts and shellfish, are easier to avoid, but others are so prevalent in recipes (and packaged foods as well) that they require smart and safe substitutions for cooking and baking. Be aware that recipe times and temps may have to change, too!
INSTEAD OF DAIRY: Try soy, almond rice or oat milk. (Cheese and chocolate substitutes are also widely available.)
SWAP FOR SOY: If dairy is also off-limits, experiment with coconut milk and oil.
EXCHANGE FOR EGG: For binding, use banana, applesauce or a blend of gelatin and water. For leavening, mix up a combination of baking powder, oil and water.
GO GLUTEN-FREE: Flour is the tricky part, but more and more options have been discovered, including rice flour and potato or tapioca starch. (For more gluten-free tips, check out Baking for a Gluten-Free Diet).
MAKE OVER YOUR MUNCHIES
Thumbs-up options (for most) include popcorn, potato chips, rice puffs and crackers, but here are a few other slightly more yummy treats that can be adjusted depending on the allergy:
Grab a handful or three of these sweet 'n' crunchy gluten-free Muddy Buddies from Courtney at Sweet CS Designs. They're not only highly addictive, but also adaptable to be peanut- and/or dairy-free!
This easy nut- and gluten-free candy bar recipe from Elena's Pantry pays sweet homage to a chocolate and coconut classic.
A chewy, not "cakey," texture is a strict requirement for awesome Snickerdoodles, says The Urban Poser. (And they're egg-, gluten-, and dairy-free, too!)
ESTABLISH SAFETY GUIDELINES FOR KIDS
If you're the one with the food allergy, you're most likely learning how to cope and even thrive, thanks to more and more available sources of helpful information. But if you're the parent of a child with a food allergy, extra-vigilant is your middle name. Whether they've just been diagnosed or you're working through it as they grow, here are a few basic safety tips:
Make sure your child knows exactly what they are allergic to and teach them how to recognize that ingredient on a food label.
Set a firm rule that younger children only eat what's approved by a parent. As they get older, adapt this rule so that when they do eat, they should always have an auto epinephrine injector on them.
Pack safe snack alternatives for your children and teach them to always carry one with them. Help them plan ahead by thinking about what they can eat when away from home.
Food allergies are more common than ever. Whether it's someone in your family or in your child's classroom (which is more and more likely), being prepared, planning ahead, and finding acceptable substitutions for baking and cooking (and snacking!) will help everyone breathe easier. YOUR TURN: How do you make things easier when dealing with a family member's (or friend's) food allergies?