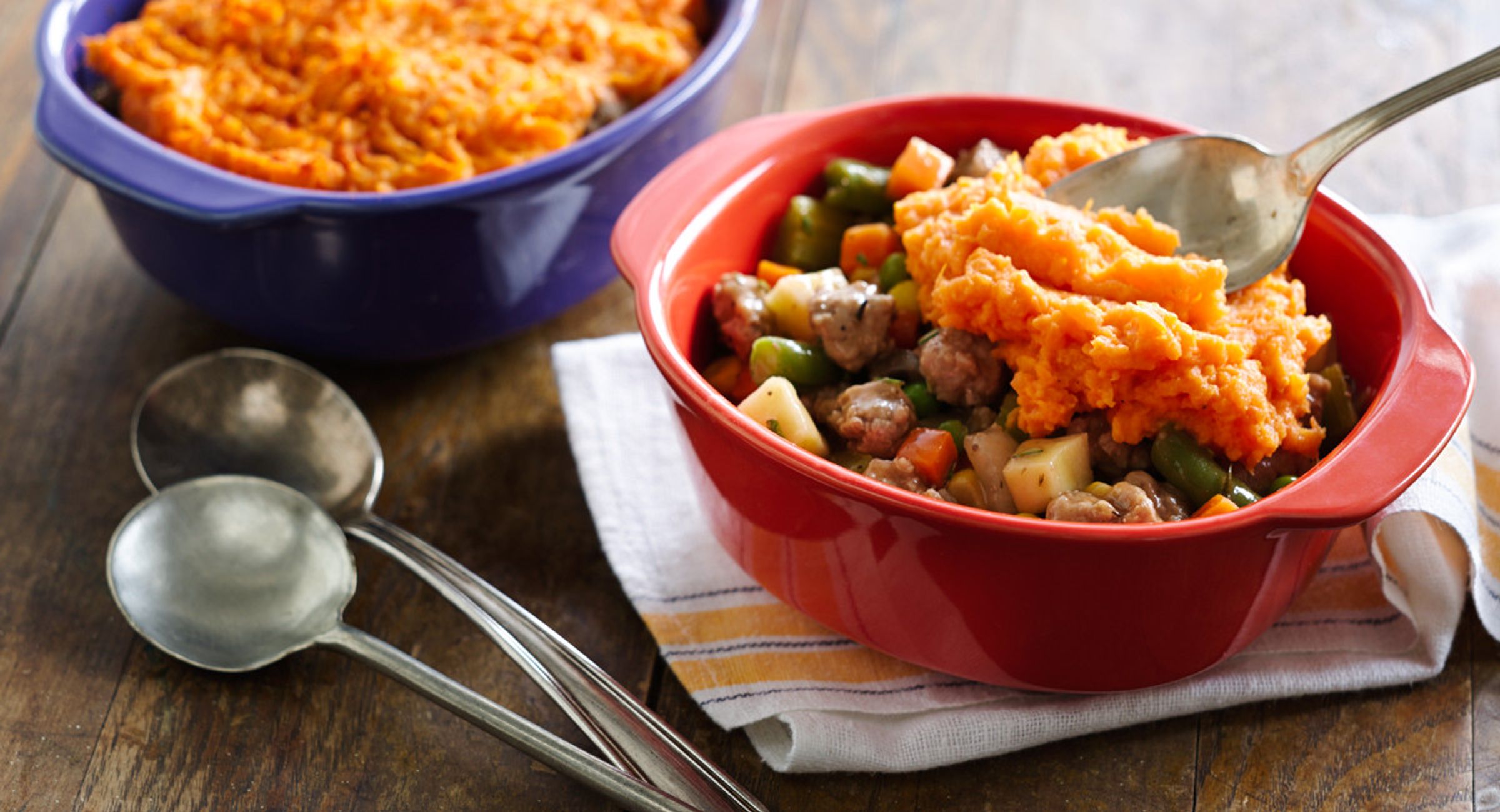 Better-for-You Fall Comfort Foods
Gooey grilled cheese, hearty shepherd's pie, hot bubbling lasagna…sound like diet busters, right? Not with a few must-know tricks and substitutions for healthier cooking. Check out these three hot and delicious entrees that cater to your cool-weather cravings, and learn how to turn your guilty pleasures into meals you can feel good about. We'll show you how to make over your favorites in the most delicious, healthful ways possible.
SLIMMED-DOWN SHEPHERD'S PIE
For meat-and-potato lovers, this is one tempting dish. The good news is that a few basic ingredient switches can shave off a substantial amount of fat and sodium and cut the calories nearly in half. Shepherd's pie is essentially a meat pie with a buttery mashed potato crust. For a more nutritious version (including a boost in vitamins A and C), use sweet potatoes seasoned with fat-free chicken broth, garlic, low-fat milk and low-fat sour cream. For the filling, using lean ground turkey instead of beef drastically cuts down on saturated fat without a detectable difference in flavor. Then you can load your pie with a variety of your favorite vegetables and fresh herbs, and use condiments such as Worcestershire sauce to impart a savory, lip-smacking flavor. Try these tricks on your own, or check out this recipe for Sweet Potato Turkey Shepherd's Pie from Skinny Taste (along with tips for a gluten-free version) from food blogger and photographer Gina Homolka. Prepare, serve and enjoy in the bright colors of CW by CORNINGWARE® 20 OUNCE CASSEROLE DISHES.
LIGHTENED-UP LASAGNA
Layers of tender pasta, zesty sauce, savory meat and cheese, glorious cheese—don't even try to resist this classic comfort dish. Instead, make it over! Slash unnecessary fat and calories by making smart and simple substitutions. Start by using lean ground beef or turkey. Choose low-fat cheeses like ricotta, cottage cheese or part-skim mozzarella, and add your favorite veggies to the sauce. And here's a cool twist: Instead of using pasta, try layering your lasagna into two or more baked spaghetti squash halves. The rich, sweet flesh of this squash mimics strands of spaghetti with every forkful. Check out this lightened-up recipe for Lasagna Stuffed Spaghetti Squash from Ari's Menu.
GRILLED CHEESE REPRISE
An ooey-gooey grilled cheese just screams guilty pleasure, but there's no reason you should regret indulging in this all-time favorite. Just health it up with a few tasty twists. Start by using whole-grain bread instead of white. (You might actually prefer the hearty, nuttier flavor!) No more smearing butter on the bread—opt for a tiny bit of olive or coconut oil or light mayo instead. When it comes to cheese, use one with a strong taste such as pepper Jack or extra-sharp Cheddar. You can get away with using less if the flavor is bold. Then add bulk by filling your grilled cheese with sautéed veggies, caramelized onions or fresh tomatoes. And if you're truly ready to wow your taste buds, do what food blogger Kim Rosenberger does: Stuff your sammie with ripe avocado, which adds even more rich, creamy texture. (You can find her recipe for Avocado Grilled Cheese at Kim's Healthy Eats.) With these simple switches, you can happily indulge in your cravings for fall comfort-food faves any night of the week. And you'll be able to stay awake for that after-dinner walk, no problem! YOUR TURN: What's your ultimate comfort food and how would you make it more healthful?