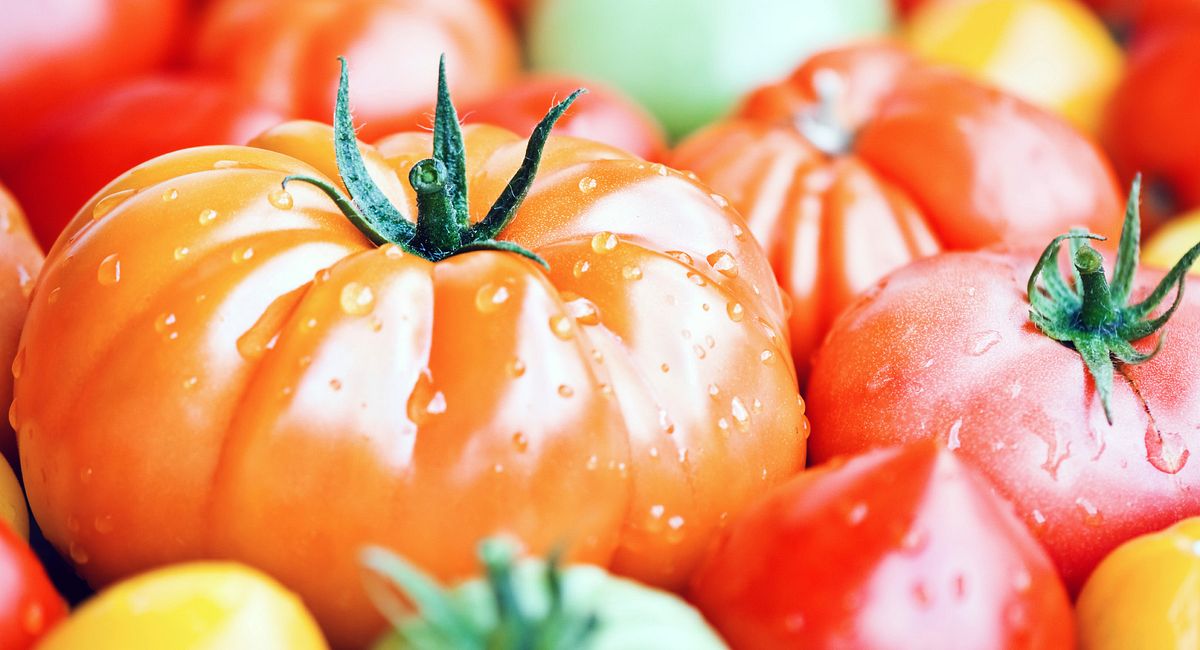 Top Tomato Tips
Tomatoes are the darlings of the summer garden. Sweet, juicy and available in almost any color (except blue), they're a top pick with those who like to cook—or just pick and eat! Bursting with good-for-you gifts like vitamins A and C, potassium, fiber and lycopene, they're a nutritional powerhouse, too. Lucky for us, hundreds of tomato varieties abound. Experiment with a few by growing some yourself or shop your local farmers market. Tomatoes come in a dizzying array of sizes, textures and flavors, which help dictate their use in the kitchen. So how do you know which one is right for you? From behemoth beefsteaks to cheery cherries, this quick-hit guide can help.
A TOMATO FOR EVERY TASTE
Beefsteak – Think big, red, broad and meaty (hence, their name). Some weigh in at 3 pounds and are the size of a dinner plate! Mild with a touch of sweetness, they boast a classic tomato flavor and can hold their own when sliced and sprinkled with a little salt and pepper. Yum! Best for: BLTs, sliced as a side, topping sandwiches and burgers, stuffing. Bush Tomatoes – These high-yielding, bushy plants produce fruits that are uniformly round and the size of a tennis ball. Some bush tomatoes, such as Early Girl, are bred to produce fruit weeks earlier than most varieties. Best for: Caprese salads, cut into wedges for green salads, cut into slices for topping sandwiches and burgers. Mini – We're talking the cherry, grape, pear and currant kind. These varieties may be small, but they pack a sugary punch. If you're trying to get your kiddos into gardening, this is a great tomato to start with. They grow like gangbusters and are available in red, orange, yellow and purple hues. Best for: snacking, tossing into pasta or green salads, shish kabobs. Heirloom – Heirloom varieties have been passed down through generations of farmers and gardeners. Most people agree these uncontested stars of the tomato family taste the best. When growing them, your plants will likely produce more quality than quantity. Also, the fruits won't look as picture-perfect as what you might be used to. Some heirlooms are downright funky looking, but the flavor is unforgettable. Best for: eating plain, Caprese and other salads, topping sandwiches and burgers. Paste – The most common are Roma tomatoes (also called plum tomatoes), which are less watery and have thicker flesh than their tomato brothers and sisters. San Marzano is another well-known variety. This makes them an especially good choice for homemade tomato sauces and oven roasting or drying. This is a good all-around tomato to grow. Best for: tomato sauce, canning, juicing, roasting, sun-drying, topping pizza, chopped into green salads, tossing into pasta dishes.
TOP 5 TOMATO TIPS
Location is everything. Tomatoes need a lot of sunshine, so plant them (or place containers) where they'll receive 8 full hours.
Offer some support. Keep your tomatoes healthy by keeping branches and fruit off the ground. Support them with cages, trellis or stakes.
Give them a drink. Tomatoes love a consistent watering schedule. Make sure yours receive about an inch a week. Water near the bottom of the plant (morning is best), being careful that soil doesn't splash onto the leaves above.
Mulch away. Adding organic mulch—untreated grass clippings, leaves, hay—around your plants helps keep the soil moist between watering, controls weeds and keeps leaves from touching the ground (which can promote disease).
5. No space? No problem! There are many tomato varieties that will thrive in containers. Dwarf (also called "patio") or compact varieties grow best, as do cherry or grape types, such as Tiny Tim, Micro Tom and Red Robin. Make sure the pot you use has adequate drainage (check for holes at the bottom), and remember that tomatoes dry out faster in containers, so you may want to check on them daily in the hottest summer months.
ROCKIN' RECIPES FOR THE RIPE ONES
Breakfast with a big dose of fresh flavor—sit down to Slow-Roasted Tomatoes with Avocado and Feta on Toasted Sourdough from Delicious Everyday. Roast your tomatoes in a Pyrex® Easy Grab™ 3 Quart Oblong Baking Dish with Blue Lid (but don't roast with the lid on!). Delicious for an appetizer or a lighter lunch or dinner, these Roasted Corn and Basil Stuffed Tomatoes from Pinch of Yum are healthy and super-satisfying. If you have any left, store them in a pretty Pyrex® No-Leaks Lids™ 3-Cup Rectangle Storage with Passion Fruit Lid. Impress your guests with this Stuffed Tomatoes Recipe with Greens and Mozzarella from Wishful Chef —or treat yourself! A serving for four should fit perfectly in a Pyrex® Easy Grab™ 8" Square Baking Dish with Blue Lid. Cultivate a garden with a well-tended tomato collection and get into the fresh zone with your summer meals. YOUR TURN: What are your top tomato choices to grow and eat?