Explore our world of brands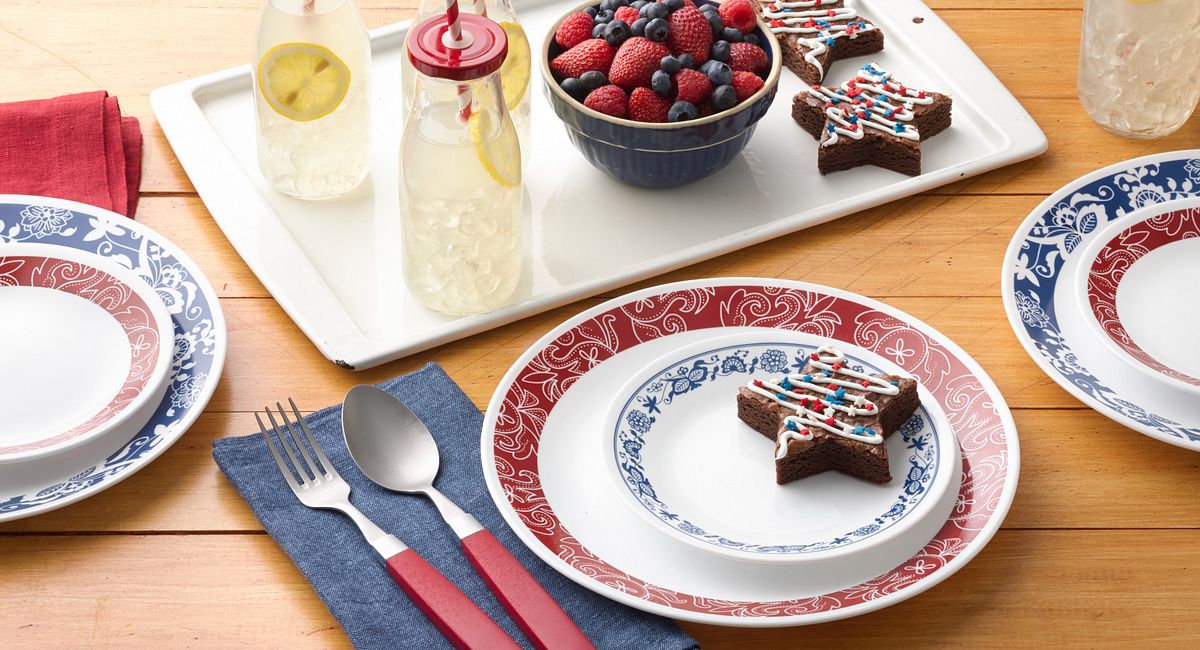 5 Outdoor Ideas for the Best July 4th Bash!
Highlights
Decorate outdoor parties with indoor accessories.
Let the colors of the Fourth, or the region in which you live, inspire the menu.
Go natural! Use flowers to pull together the look.
Are you proud to love the Red, White and Blue? Then throw a Fourth of July party that celebrates the land of the free…and the fun! With just a few bang-up decorations and a menu that can't be beat, you can host a bash friends and family won't soon forget. Check out this collection of 5 easy ideas.
1. RED, WHITE AND BLUETIFUL
There's no reason to sweat color choices, since the holiday is so defined by them. Have a grand old time decking your party space with tablecloths and runners, outdoor rugs and tableware in patriotic hues. Here are some starters:
Tie It Up. Simple white paper napkins can be tied with red-checked ribbon or blue raffia. Keep them tidy and easily accessible in a galvanized pail or pretty wicker basket.
Creative Cover. Sew red, white and blue bandanas together to create a custom yet inexpensive tablecloth. Or create a bandana rag wreath by tying 2-inch-wide strips onto a metal wreath frame.
Table Style. Keep the look patriotic with mix-and-match patterns. We particularly like combining CORELLE® LIVINGWARE™ BANDHANI 16-PC DINNERWARE SET with CORELLE® LIVINGWARE™ CLASSIC CAFÉ® BLUE 16-PC DINNERWARE SET
2. OPEN BAR
It just doesn't get more American than burgers and hot dogs on a grill. And the best part? You can build a condiment bar that will not only impress, but will make your job as host that much easier. Simply set dogs or burgers on a platter, such as the CORELLE® BOUTIQUE CHERISH™ 12.25″ SERVING PLATTER or the CORELLE® LIVINGWARE™ OLD TOWN BLUE 12.25″ SERVING PLATTER, with an array of creative toppings in small dishes that guests can help themselves to. Or take things one step further by offering ideas for regionally inspired combinations. For example…
The Carolinian. Pulled pork, coleslaw and Carolina mustard sauce.
The Wild West. Chopped green chiles or green chile sauce, pickled red onions and queso cheese sauce.
The Big Chicago. Tomato slices, diced white onion, pickle relish, sport peppers, celery salt and yellow mustard.
The Miami. Sliced ham, shredded Swiss cheese, sliced dill pickles and brown mustard.
The Cali. Guacamole, bacon and arugula.
3. REFRESH THE REFRESHMENTS
Ice-cold beverages are a must on a hot July day. Set a festive tone by finding a unique way to serve your guests. A few ideas…
Old-School Charm. Fill a vintage red wagon with ice and your favorite bottled beverages. The kids will have a blast taking turns toting it around. Free bottle service!
Soda Splash. Fill a kiddie swimming pool with ice and load it up with juice boxes, cans of soda and water bottles.
Upcyled Accessories. Going for a more rustic look? Fill a canoe or wheelbarrow with ice and easy-grab drinks for all ages.
4. BERRY GOOD SWEETS
Want to really impress? You can't go wrong with a generous dessert table. Not only does everyone like a little sweet stuff, but your options are endless when it comes to decorating and presenting. Here's how to keep it light with fruit.
One Cool Cake. Make an American flag out of white angel food cake cubes and blue and red berries, arranged on a pretty platter. But take a quick picture first because you can bet this dessert won't last long.
Colorful Kabobs. Skewer fruit and other foods in patriotic colors (blueberries, strawberries, raspberries, banana slices, marshmallows) and shapes (stars cut out of pineapple and
watermelon) onto wooden picks. Serve on a slender serving dish like the CORELLE® SQUARE™ PURE WHITE 10.5″ APPETIZER TRAY.
Ready, Set, Dessert. Create grab-and-go parfaits by layering vanilla yogurt, granola, honey and mixed berries into mason jars with lids. Keep fresh on ice and attach a spoon with ribbon.
5. DON'T FORGET FLOWERS
Pot up patriotism with lush container gardens filled with pretty blooms. There are plenty of options when it comes to outdoor plants in red, white and blue hues.
The Red. Red geraniums are inexpensive but impressive with their colorful blooms that look like exploding fireworks. Salvia and verbena are easy to find and low maintenance.
The White and Blue. Shasta daisies, mums and snapdragons look pretty in white. Queen Anne's lace and hydrangea are also lovely options. Lobelias and petunias both boast blue hues that demand attention.
Show It Off. Create tabletop displays with any of the blooms above. Or visit your local florist for some easy-to-find, ready-cut varieties. Place small red rose bouquets in blue mason jars or vases. Put pretty white daisies into vintage glass soda bottles tied with gingham fabric bows. Or, in a low-profile rectangular box, create an American flag out of red, white and blue carnations.
With so many beautiful (and delicious) ways to celebrate, this patriotic party may be your most memorable yet. Happy Fourth!
EXPERT TIPS
MORE IDEAS FOR THE FOURTH. Want more sweet desserts? Find a few of our July 4th faves here.
ADDED TOUCH. If providing ice for drinks, freeze red and blue berries in cubes for added color.
CROWD PLEASER. Make a festive punch or two and pour into large self-serve acrylic or glass dispensers.
YOUR TURN: How do you decorate for the Fourth?
Highlights
Decorate outdoor parties with indoor accessories.
Let the colors of the Fourth, or the region in which you live, inspire the menu.
Go natural! Use flowers to pull together the look.