Explore our world of brands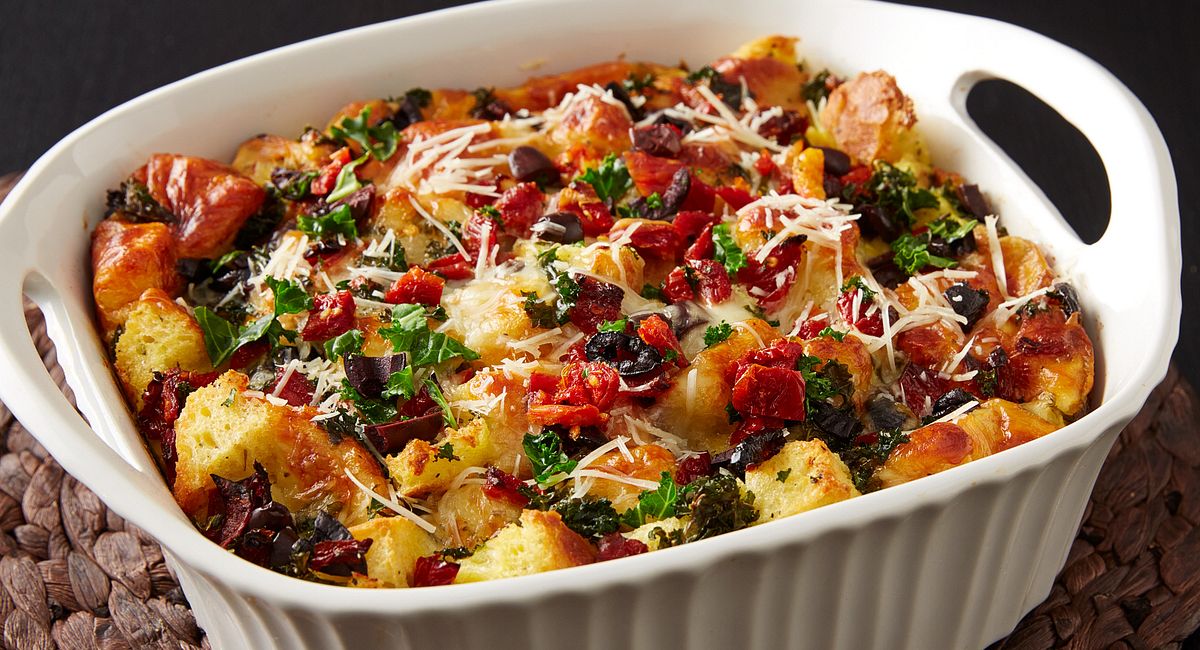 Simplest Way to Feed a Crowd? Egg Bake!
Oh, the egg. Small but mighty, it's said to be nature's perfect food. Whether basted, scrambled, fried or poached, you really can't go wrong with how you make eggs. They're easy to cook, fill you with protein and taste great with meat, veggies, cheese or just salt and pepper.
The morning of a recent photo shoot, Photo Studio Coordinator Sue Heairet whipped up two killer crustless quiches (perhaps best known as egg bakes) to kick off the shoot. She knows all too well how a well-fed crew is a productive crew. In addition to a buffet of fruit and pastries, one egg bake featured green chilies, spinach, cheddar and bacon. The second was made for the meat-free crowd with spinach, tomatoes, mushroom and cheese. It's remarkable how quickly two PYREX® 3-QT OBLONG BAKING DISH. Not a crumb was left behind.
Sue's delicious dishes reminded me how an egg bake is a tasty way to feed a group, and that it's a terrific choice when you're strapped for time. The night before, chop the ingredients, crack the eggs and store them in the fridge so that in the morning you only need to mix them together and pour into the baking dish (a Pyrex® Easy Grab™ 3-quart is our go-to).
Another reason egg bakes are awesome: Versatility! You can easily add or subtract the ingredients to please picky eaters, or wow your adventurous ones. It's fun to experiment with different cheeses, meats and vegetables and use different seasonings to make a drool-worthy breakfast. Pick a spicy chorizo for a Mexican-themed breakfast, or go Italian with fresh basil, tomatoes and mozzarella. The combinations are endless!
Next time you need an easy make-ahead breakfast that everyone will enjoy, make an egg bake!
CHEESE AND SPINACH EGG BAKE
YIELD:
12 to 15 servings
PREP TIME:
15 minutes
1 dozen eggs
1 can (4 ounces) chopped green chilies
2 cups (8 ounces) shredded cheddar cheese
2 cups cottage cheese
1 box (9 ounces) frozen chopped spinach, thawed and drained
Preheat oven to 375°F. In a large bowl, beat eggs. Add remaining ingredients and stir well. Pour into a PYREX® 3-QT OBLONG BAKING DISH.
Bake for 45 to 60 minutes or until a knife inserted in the center comes out clean.
Variation: Add bacon or ham to this dish, if desired. Cook and crumble a 1-lb package of bacon, or purchase a 1-lb package of diced cooked ham. Stir in with the other ingredients.
YOUR TURN: Tell us what ingredients make your egg bake special.