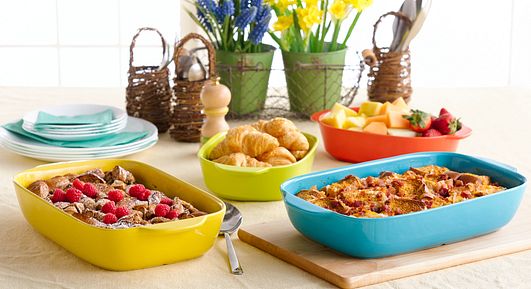 Food Art: Behind the Scenes at a Photo Shoot
To master the fine art of food photography, it takes a lot of hands in the kitchen (pun intended) to create images that are lick-the-screen-delish. Here's a peek behind the scenes at one of our recent photo shoots, where we strive to create the finest epicurean photographs in the food industry. It takes countless hours of planning, shipping product, propping, collaboration between brands and photo staff, grocery shopping and a secret ingredient: Unbridled talent to change food photography into food masterpieces.
Innovation

spotlight
CW by CorningWare™
A Colorful New Style to Express Yourself
A vibrant and stylish new line of bakeware called CW by CorningWare®. Our new product line is designed to complement the way you cook and entertain, plus add a whole new layer of versatility to your kitchen and entertaining style. In other words, this is not your mom's CorningWare! But, she's welcome to spice up her kitchen style, too.