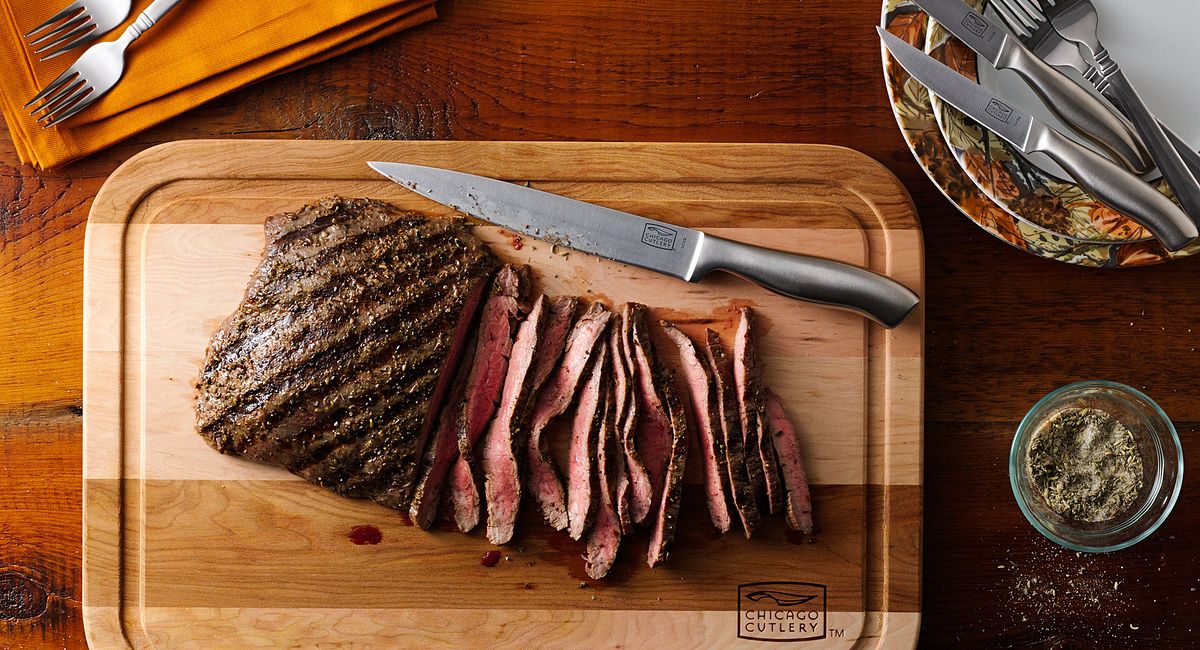 Flavors for Fall Grilling
Cooler temps and colorful leaves are a sure sign that fall has arrived. But just because you're pulling out sweaters doesn't mean it's time to put away the grill! This indispensable summer "appliance" can help with dinner 'til the snow flies (and for diehards, even then!).
Brisk days and chilly nights are tailor-made for firing up your coals (or gas, we don't judge!). We've got some tasty recommendations for spicing up your go-to rubs and marinades with autumn-inspired flavors, as well as a few sides that'll round out your dinner. To make it even easier, they bake in the oven while you're grilling so everything can be timed just right.
SOAK OR SPREAD? (THE WHY AND HOW)
When grilling meat, a rub or marinade is essential for achieving the ultimate taste and texture. Marinades contain a fat (often oil) and an acid (like vinegar or citrus juice), along with spices, herbs or other seasonings, to tenderize tougher cuts of meat. Your meat will sit in the marinade anywhere from 30 minutes to overnight. Rubs can be dry (seasonings only) or wet (mixed with oil), and form a crust that enhances the flavor of the meat. A great choice for fattier cuts, you'll sprinkle and pat on a dry rub (or massage in a wet version) and let the meat mellow for 15 to 20 minutes before grilling. Some recipes even call for the one-two punch of both a marinade bath and a follow-up rub with the sole purpose of taking your taste buds out for an unforgettable joyride.
AUTUMN-INSPIRED FLAVOR COMBOS TO FALL FOR
APPLE + PUMPKIN Tender baby back ribs brined in apple cider and rubbed with pumpkin pie spice? Yup, sounds like an excellent fall dinner to us!
COCOA + CURRY Sweet and spicy and smoky. This rub is an all-around overachiever, and your chicken will thank you.
CINNAMON + HONEY Simple and super flavorful, this sweet pork tenderloin marinade gets a little sass from soy sauce and garlic. Serve with warm homemade applesauce for even more awesome autumn-ness!
STOUT + MAPLE An earthy and full-bodied marinade that'll bring out the best in your steak.
FENNEL + SAGE Perfect for pork chops, a fantastic rub featuring strong autumnal herbs and a sprinkle of smoky pimiento.
FOUR FAB SIDEKICKS
Find even more fall flavor in these oven-baked options. We've selected recipes that'll complement almost anything you toss on the grill.
EXPERT GRILLING TIPS
Warm up—let the meat come to room temperature before placing it on the grill; 20-30 minutes usually does the trick.
Keep it clean—scrub your grate before grilling for less stick and nicer marks.
Be conservative—only grill for the minimum suggested time and then check for doneness. You can always cook it a little more if needed.
Give it a rest—let meat sit at least 5 minutes between grill and plate, and cover loosely.
Cut smart—slicing against the grain ensures a more tender bite.CHICAGO CUTLERY® INSIGNIA® STEAK KNIVESmake it easy with ergonomic handles and super -harp blades featuring our exclusive Taper Grind® edge.
This isn't the first time that we've been fired up over rubs and marinades before—can you blame us? If you're not quite ready to let summer flavors fade, check out our Grill Thrills story from earlier this year. We're big fans of easy meets delicious, and most marinades and rubs are quick and simple ways to coax maximum flavor from your grilled meats.
YOUR TURN: How will you grill up some fall flavor this year?