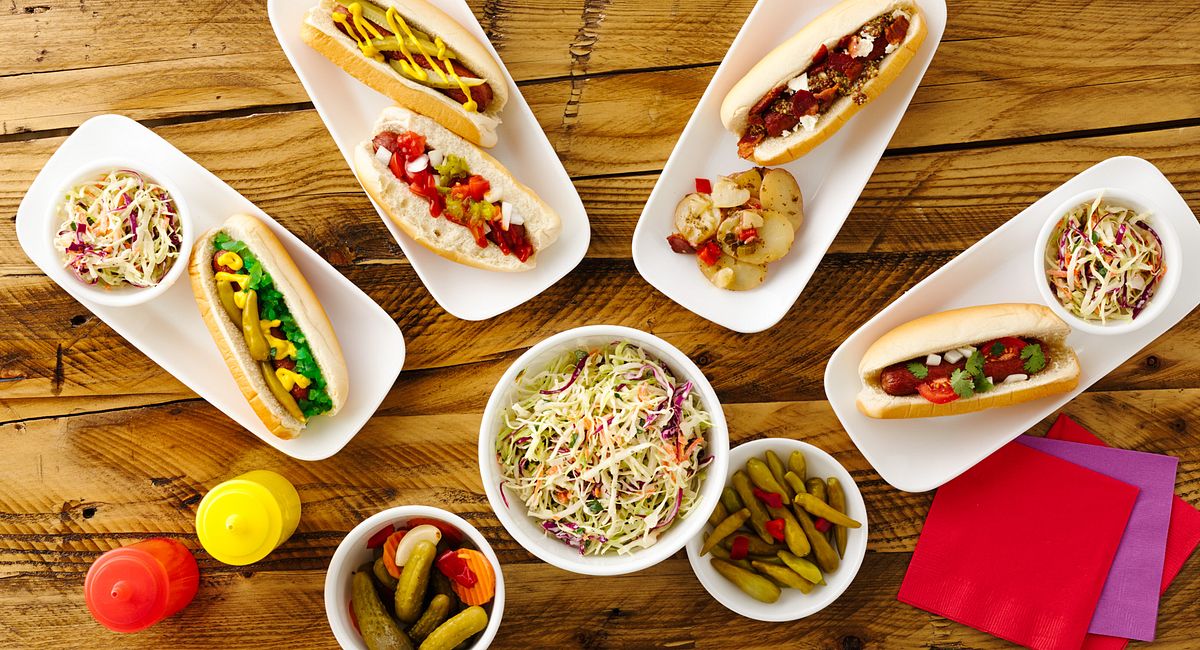 Food Fireworks for the Fourth of July
Fourth of July celebrations aren't just about the fireworks. They're about potlucks with favorite friends, sun-soaked picnics with family and the annual unveiling of fun-themed eats. Instead of serving the same-old summertime standbys, entertain guests this year with a table full of fresh food ideas. These unique party eats are guaranteed to turn any patriotic potluck from wow to kapow!
BUILD A HOT DOG BAR
Hot dogs are a simple and inexpensive way to serve up sizzle. Arrange a hot dog station, offering cooked dogs, brats and buns. Have your guest bring the condiments. Make it a contest for creativity and flavor. They can go basic—relish, onions, sauerkraut, shredded cheese and jalapeños. Or all out—with options like homemade queso, canned salsa, pickled peppers or kimchi. Don't forget to include simple ballots for voting, plus a "top-dog" prize for the winner.
SERVE UP SALADS
Salads aren't just the easiest way to elevate your entertaining—they're also the most colorful. Red raspberries, bright blueberries and star-shaped star fruit are a simple way to kick off a Fourth of July color scheme. Turn your traditional potato salad into a patriotic one by swapping in red, white and blue creamer potatoes for russets. Or toss together a feisty firecracker bowl by mixing crunchy romaine with slices of blue carrots, tomatoes and mozzarella cheese cut into star shapes with a mini cookie cutter.
Style Tip: Serve your sides in CORELLE® LIVINGWARE™ WINTER FROST WHITE 3-PC SERVING SET. The gleaming white dishes let your colorful food be the star of the show.
MIX-IN FUN DRINKS
Put even more color on your party table with refreshing red, white and blue cocktails. Set out a make-your-own mixology table, offering guests a variety of red, white and blue spirits. Then let them come up with custom-created sippers. Raspberry vodka, coconut rum and Blue Curacao are a good place to start. Don't forget to offer additional mix-ins. Lemons, lime and a splash of cream will give your guests everything they need to get creative.
Entertain This: Add some bang to your beverages by rimming CORELLE® COORINDATES® SPLENDORS ACRYLIC GLASSES with Pop Rocks. Dip in honey, rim with the candy and get ready for riot of snaps and pops!
DELISH DESSERTS
Sweeten up your party table with a fleet of red, white and blue desserts. Outdoor entertaining in the hot summer sun calls for desserts that don't melt in the heat. Place a cooler of red, white and blue ice cream pops in a tableside cooler. Or invite guests to create their own treats with a S'mores Bar or Shortcake Sampler.
Entertain This: Display desserts on a CORELLE® LIVINGWARE™ WINTER FROST WHITE 12.25″ SERVING PLATTER. They're break-resistant and easy to clean, so you can comfortably serve guests on the "good" dishes and retire those flimsy paper plates to the recycle bin.
With an entire food table full of eye-popping eats, now all you need is a red, white and blue tablecloth, colorful utensils and 20 of your favorite friends. It's sure to be one hot holiday!
How Do You Celebrate the Fourth? We'd love to know. Share your Fourth of July traditions and recipes in the comments below.