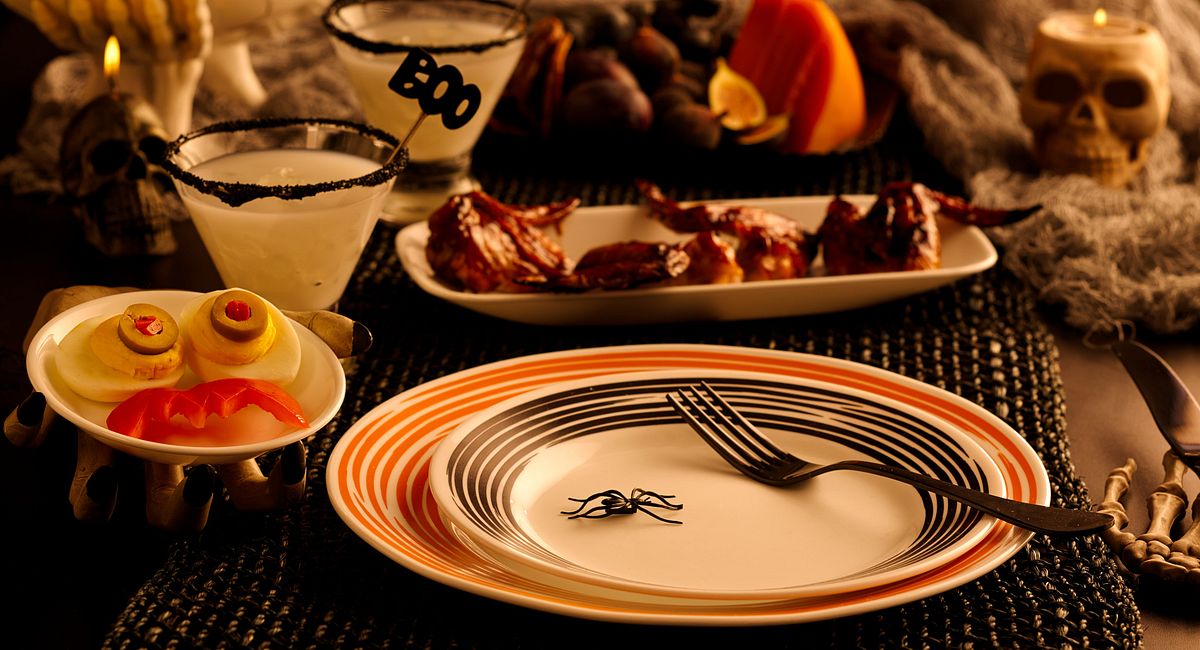 Throw a Halloween Boo-Bash
You gather up your princess, puppy and vampire, and hit the streets with a flashlight, calling out warnings to "Slow down…wait for your sister!" "Hold up your skirt so you don't trip!" "Remember to say thank you!" "Stop right there! Don't eat any more candy 'til we get home!" After the first four or five houses, you're ready to head back, but the kids are scheming to hit the next neighborhood over. You're also wondering if your spouse got the better end of the deal by staying home to pass out candy.
This year, take a break from the race, er…routine, and host a hair-raising Halloween party in the comfort of your own home. Conjure up some creepy decor and invite friends and family over for a night of spooooky snacks and freaky fun and games.
SET A KILLER SCENE
Whether you lean toward enchanted or eerie, creating a party-ready atmosphere is critical for a Halloween bash. Depending on your level of commitment, you can buy, borrow or even rent props and decorations, or save a little money and flex your creative muscles by making some yourself.
Stop by your local farmers market and purchase different sizes of pumpkins, squash and gourds. Place them around your home as is for a natural look, or spray-paint them for more drama. Try black, silver or even glow-in-the-dark paint. While you're there, grab a few pumpkins to carve, too! (insert link to CC Carving Feature)
Drape sheer black fabric or netting over tables, windows or around doorways.
Set out an array of flickering candles. From tall thin tapers to puddled pillars, dim the overheads and light a few to strike a balance between stage-fright bright and (gulp) a few too many shadows. Rather not play with fire at your party? Go for bump-proof LEDs.
Dying to dangle spiders, float ghosts or stage a full-on front-yard graveyard? Check out pictures and get tips on how to make these and more on sites like Pinterest.
SERVE UP SPOOKY SNACKS
Channel your inner mad scientist and whip up a gruesomely good spread. Keep it simple with appetizers and desserts, and serve buffet-style with a stack of Corelle® LivingwareTM Urban Black lunch plates. The bold black-and-white design will highlight your hideously tasty food. Remember to stir up a spellbinding drink, too, and let guests sip from mysterious black Corelle stoneware mugs.
Equal parts scary and savory: Cut cheese pizza into thin strips and press a red bell pepper triangle on one end for truly terrifying finger food.
On the sweet yet squeamish side, concoct a creepy-crawly dessert with "spiders" and "worms" from A Spicy Perspective. For more dreadfully delicious treats, check out our Pyrex post on Halloween Desserts on our World Kitchen blog.
Gross out the thirsty adults at your party with one of these Halloween shooters from Celebration Generation, and entrance the kiddos with Cemetery Slime punch, a creepy take on the root beer float. (For extra ickiness, place plastic bugs in ice cube trays, fill with water and freeze, then add to beverages.)
DARE THEM TO PLAY
Goofy or ghastly, fun parties need fun activities, and fun Halloween parties need to reward the effort of the players! Prizes are always welcome, and give you yet another chance to show off your sinister—or strange—side!
Out go the arms, limp go the hands and back roll the eyes. Shuffle like the undead and hold a zombie walk with awards for scariest, silliest and most creative.
Scream to the extreme! Same deal: prizes for the loudest, most bloodcurdling, weirdest, etc. (And if you didn't invite the neighbors, be sure to warn them!)
Haunted scavenger hunts are a hit with older kids and adults. If you'll include little ones, have them partner up with someone bigger and make sure the list of items isn't too creepy.
Flashlight tag is a fun and easy game for all. If the yard is very dark, keep players safe with glow-in-the-dark bracelets.
And music is a must, of course. Have a soundtrack of spooky sounds playing in the background.
No matter how into Halloween you are, a little extra effort can go a long way to making a party a smashing success. And look at it another way: If you skip the trick-or-treating, your candy stash will consist of only your faves, and there won't be any duds in the bowl.
YOUR TURN: Would you rather host the Halloween party or go to one?