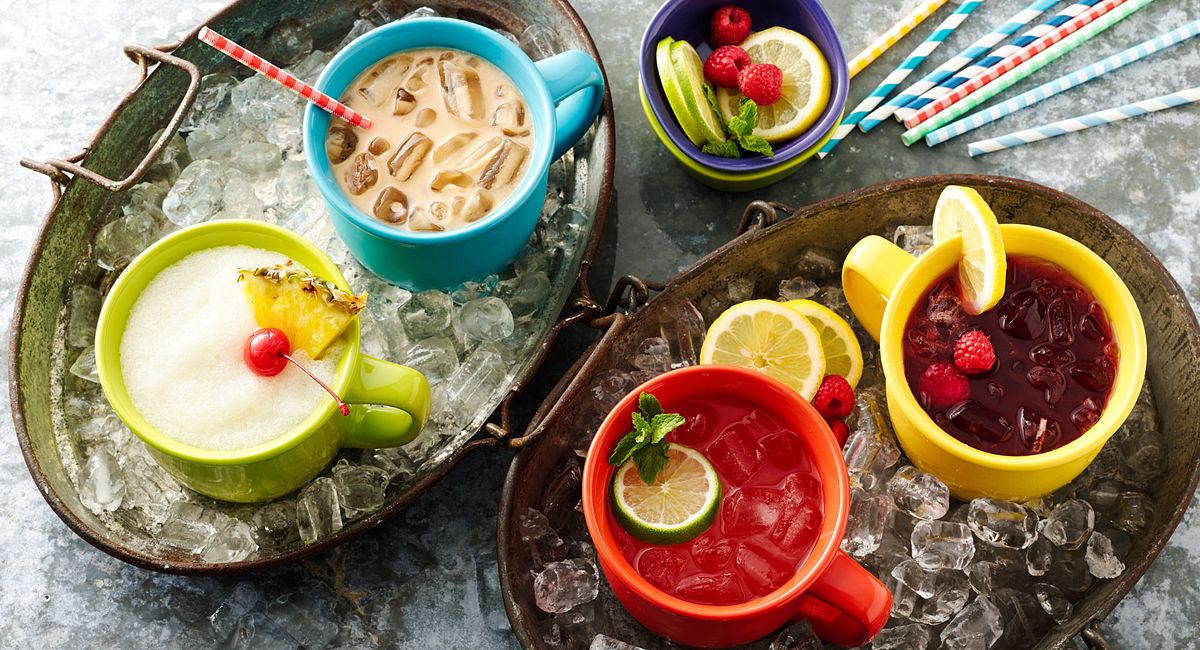 Mug Shots: Cool Summer Sips!
The dog days of summer have arrived, and keeping cool is the name of the game. You can stay inside and crank the a/c, but that option just doesn't say summertime fun. Instead of shutting yourself in, enjoy a summer escape outside with refreshing drinks in CW by CORNINGWARE® 20-OUNCE MUGS.
The mugs are made of durable stoneware, and have a handy tight-fitting lid to keep things fresh and free from spills when on the go. And, they're just what you need to mix up ingenious summer drinks! No need to go easy on them, either. You can boil water using a microwave right in the mug, then add ice after for a super-quick iced tea. Or freeze mai tai mix for overnight slushies. This all-in-one mug can be used for everything from microwave to fridge to freezer—plus it's pretty enough for your trendy patio table.
Here are a few favorite ways to beat the heat and enjoy summertime sips with these make-and-go mugs:
FREEZER PINA COLADA
Summer days fit naturally with sand and surf. Grab our tips on how to Make Your Beach Day the Best Ever, then pack a cooler full of easy Freezer Pina Coladas before you head beachside. They can be prepared in a blender, then conveniently frozen in mugs overnight. When ready, simply remove the lids and enjoy this tropical slushy.
GET THE RECIPE
OVERNIGHT THAI LATTE
Grab your googles and head to the swimming hole, or pull out the blow-up pool and turn your backyard into a wet escape. Either way, you've got to mix up an Overnight Thai Latte. Coffee grounds soak overnight, steeping into a dark yet mild coffee by morning. Whisk in sweet milk and the result is a delicious drink that will turn any pool day into a Cool Pool Party.
GET THE RECIPE
MOSCOW MULE
Nothing says summer like a lazy afternoon spent lounging in your own backyard. Fire up the grill with a few of our best Secrets for Backyard Grilling, then serve sparkling Moscow Mules from frosty mugs. This may be the most foolproof way to enjoy a summer day!
GET THE RECIPE
LEMON-BERRY ARNOLD PALMER
Soak up the shade and sip cool lemonade with our modern twist on an old classic. The additional twist of berry takes this summertime favorite to a new level. All you'll need is a berry-flavored tea bag, a lemon, a little sugar and a porch swing. Porch swing not required.
GET THE RECIPE
EXPERT TIPS
What's your favorite summer sipper? Leave us a comment below telling us about your favorite mug
drink.