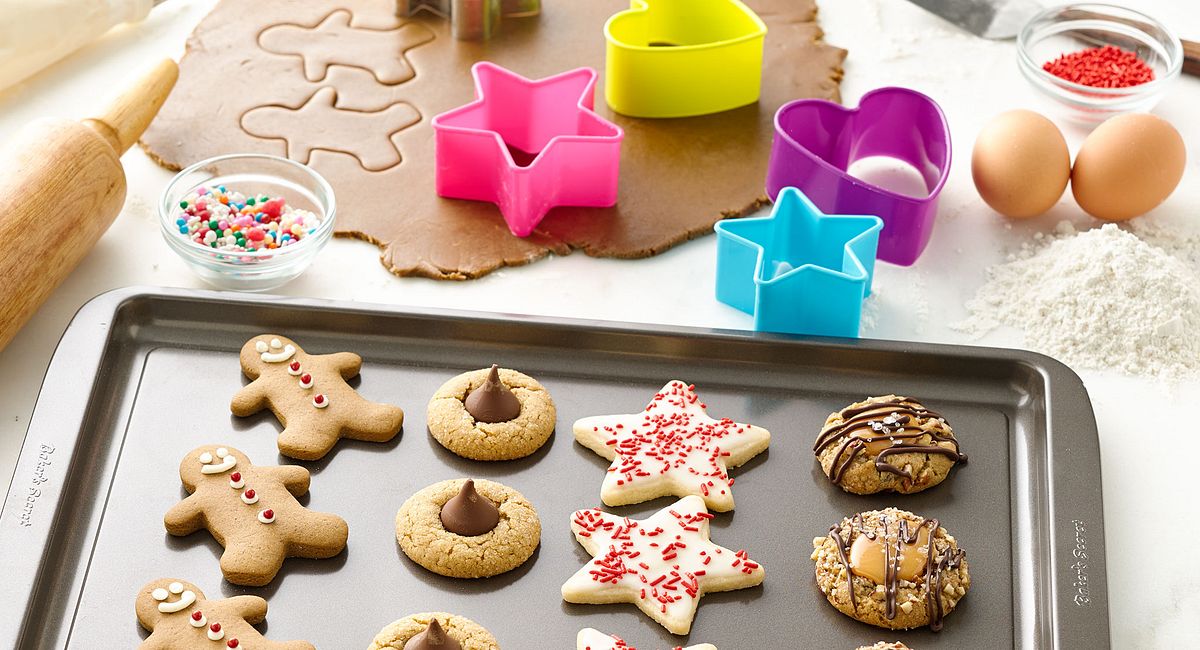 Host a Cookie-Making Marathon
Whether holiday baking is a family affair or an excuse to get together with your girlfriends, we can help you prep for a well-planned cookie-making marathon. Having everything in order will make the baking process quick, easy and stress-free so you can focus on the fun as you enjoy whipping up your yummy treats.
MAKE YOUR LIST, CHECK IT TWICE
As you make your grocery list, read through all of your favorite holiday cookie recipes first to help you plan for amounts. Stock up on essentials like flour and sugar, and remember to include those dash-of-this and pinch-of-that ingredients that make grandma's secret recipe so special. Feel free to divvy up your list and ask your friends or family to bring supplies. Or, make the shopping trip a part of the fun and go together.
FOR GOOD MEASURE
Being prepared means more than just gathering ingredients. Your tools count, too, as the right equipment will help you get the right results. Start with a good selection of bowls in various sizes for mixing up different types of dough and frosting. Then use the BAKER'S SECRET® COLOR MEASURING SPOON SET and BAKER'S SECRET® COLOR MEASURING CUP SET to make measuring easy and accurate. The BAKER'S SECRET® COOKIE DOUGH SCOOP is also super handy for creating equal portions of dough.
PARTY ON
You've prepped with precision and organized with care, but remember that part of your mission is to have fun!
JUST ADD TUNES: Put on some upbeat music to get everyone in the holiday groove. Check out this festive playlist from The Grown-up Shoes or put together your own.
RAISE A GLASS: From cocoa and coffees to wine or fun holiday-themed drinks, a few sips will do wonders for maintaining the spirit of the occasion!
KEEP THEIR STRENGTH UP: You're working with some mighty tempting materials, so chances are you're sampling the goods here and there. Offset the sugar high with a simple and savory spread of tasty appetizers. Check out Appetizers to Make the Night Before for easy make-ahead ideas.
TIPS FROM THE EXPERTS
SOMETHING FOR EVERYONE: When you're deciding which cookies will grace your holiday cookie platter, don't just make your favorites. Add a little something for everyone, and be sure to label any cookies that contain common food allergens like nuts or soy!
STRENGTH IN NUMBERS: Make sure you have several
BAKER'S SECRET® 9″ X 13″ COOKIE SHEETS so you can pop in a new pan of cookies as soon as your previous batch is done baking. This will help you avoid unnecessary pauses and keep things moving along. It's also a good idea to have plenty of cooling racks.
STOW 'EM SAFELY: Ask guests to bring containers to transport their share of the cookies home, but also have some extras on hand in case they forget or you need more. You could even suggest they check out the SNAPWARE® SNAP 'N STACK® COOKIE & CUPCAKE CARRIER which has stackable layers to sort and store all the varieties of cookies safely in one place. Just snap it shut and carry it on the go with the convenient handle.
A cookie-making marathon combines the fun and the necessary all in one sweet day. But don't plan it too early in the season or you might find yourself having to host another party to replenish the goods!
YOUR TURN: What are your top cookie recipes to make for a party like this?