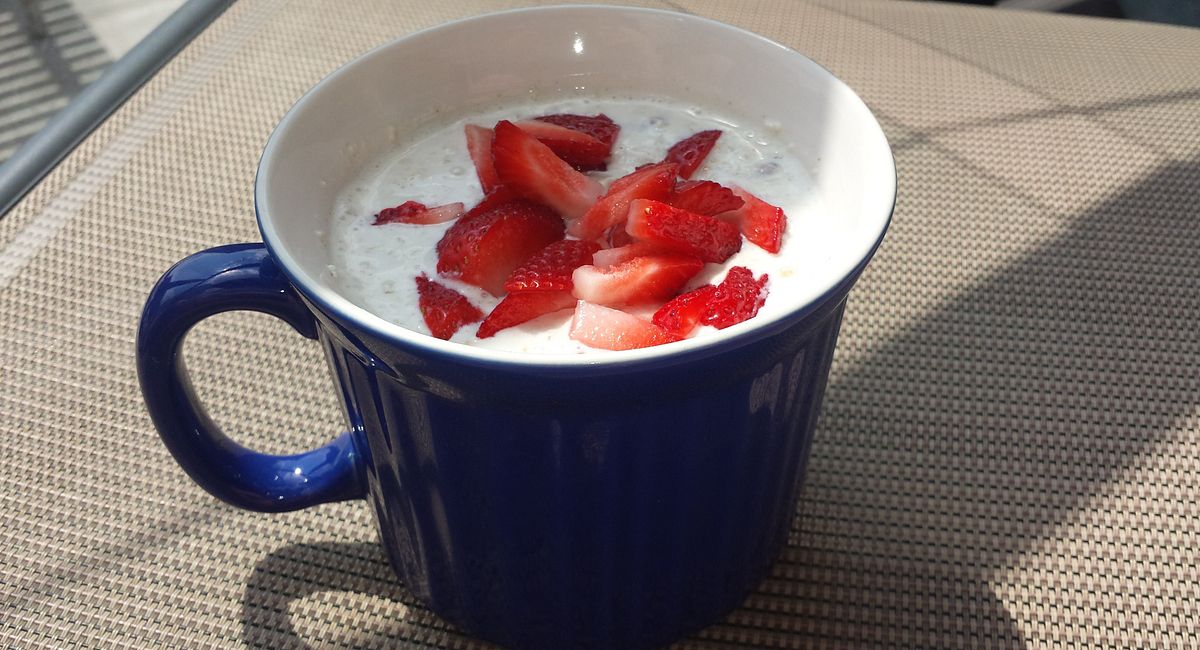 Rise and Shine with Overnight Oatmeal
Since we were small, we've been told breakfast is the most important meal of the day. But when the realities of life—getting kids (and yourself) up and dressed, backpacks packed, driving and arriving at the office in time for your first meeting—come into play, actually eating that well-rounded first meal can be nothing short of a miracle. If you remember to grab a banana to munch on while sitting in traffic, you're ahead of the game. Thoughts of an omelet or yogurt parfait may dance in your head, but who has the time?
Enter overnight oatmeal. This simple and flavorful breakfast has revolutionized mornings. As simple and quick as a PB&J, overnight oatmeal is a tasty no-cook morning meal that will fill you up without gobbling up your time.
EASY AS 1-2-3
Fast, flavorful and nutritious, overnight oatmeal is so easy to prepare that even your kindergartner can help make it. All it takes is three basic ingredients and about 5 minutes.
Gather your ingredients. You'll need old-fashioned oats (steel-cut or quick-cooking oats don't work as well), Greek yogurt and milk. Pour ½ cup each of oats, yogurt and milk into a CorningWare® ColoursTM Pop-Ins® mug, then stir until well mixed.
Dice and toss in your favorite fruit. Pretty much anything you have on hand will work well; just make sure it's cut into bite-size pieces.
Snap on the lid, put the mug in the fridge, go to bed.
When you wake up, you'll have a rich, pudding-like oatmeal that will taste so good you'll think you're eating dessert for breakfast. Eat it right away, or tuck it into your bag and enjoy it at your desk at work—the Pop-Ins mug lid will keep the oatmeal from spilling while you're on the go.
PARTNER YOUR FLAVORS
Try strawberries with banana, peaches with blueberries, or pineapple and mango with coconut. Be adventurous and experiment with all sorts of satisfying combinations.
GIVE IT A BOOST
After your oatmeal has set overnight, take 30 seconds to add a dose of extra protein and antioxidants.
Chop and sprinkle pecans, walnuts or almonds on top for a satisfying crunch. Pistachios or hazelnuts are healthy, flavorful choices, too.
Stir in flax, hemp or chia seeds for additional fiber and omega-3 fatty acids.
Pump up the protein even more by mixing in whey or soy protein powder; just be sure to mix it thoroughly with the milk and yogurt before combining with the oats to keep it from being gritty.
SPICE IT UP
Sprinkle on a bit of spice to enrich flavor and offer even more health benefits. Cinnamon stabilizes blood sugar; ginger is an anti-inflammatory; and cocoa can enhance circulation.
EXPERT TIPS
Frozen fruit works well if your favorite flavor is out of season. Keep bags of berries and other fruit in the freezer and thaw out a serving size on a plate in the fridge. (Although it'll thaw faster at room temp, the texture will be better if you do it slowly in the fridge.)
If you're using plain yogurt, add a little honey or maple syrup to sweeten it up.
If your taste is more savory than sweet, use plain yogurt and try adding cooked bacon pieces and chopped scallions, diced cooked ham and a crumble of Gorgonzola, or torn baby spinach and a sprinkle of feta.
Satisfying and simple, overnight oatmeal can be a morning lifesaver for adults and kids alike. With just a little p.m. prep time, you'll be out the door with a delicious hot breakfast in hand in no time.
YOUR TURN: What are your top oatmeal flavor combos?