World Kitchen® | Frank Fontana's Easy Secrets for a Simpler Life
Who wouldn't want to check in with a friendly expert whenever they needed advice on what's trending in décor? Or a few DIY ideas for the holidays? How about simple tips and shortcuts to make a busy life just a little more fun, tasty or colorful?
Enter Frank Fontana, World Kitchen's new brand spokesperson, who is ready to share clever tips and ideas for every room in your home. If you know Frank as a celebrity lifestyle expert, you know he is a genius when it comes to lifestyle secrets and ideas. If he's new to you, you'll quickly understand why Frank is a best-selling author (Dirty Little Secrets of Design), an Emmy-nominated TV and radio host and all-around super resource when it comes to helping make your house the home you've always dreamed of.
Frank is also a super fan of World Kitchen brands—Corelle, Pyrex, CorningWare, Snapware, Baker's Secret and Chicago Cutlery. He has them in his home and, like many of you, remembers his mom and grandmother using them too.
To kick things off, we asked Frank to share a few tips and tricks to simplify your life. Like today. Like right now!
FRANK'S TIPS: SECRETS FOR A SIMPLER LIFE
FRANK'S TIP No. 1: Dress Up or Down Dining Room Table
FRANK'S TIP No. 2: Organize Your Kitchen & Bakeware
FRANK'S TIP No.3: Your Wedding Registry is the Perfect Opportunity
FRANK'S TIP No. 4: Your Kitchen is the Hub of the Home
FRANK'S TIP No. 5: Set up Your Home to Support Fitness Goals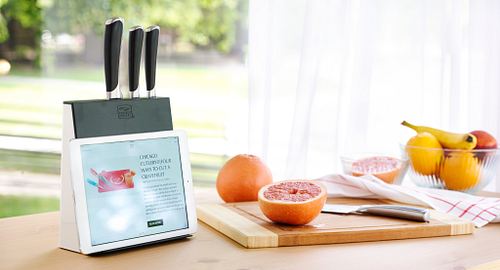 FRANK'S TIP No. 6: Clear Clutter Before Dinner Prep
We know dinnertime is a busy time in the kitchen. To keep things running smoothly and efficiently, I first clear the counters of clutter, giving me and my family maximum working space. This helps us get dinner on the table quickly with a lot less stress. Chicago Cutlery understands this too. They've recently introduced a new space-saving knife block in its WEST TOWN 6-PIECE PREP SET. I like it because it holds my tablet with the recipe I'm making upright and nearby, without taking up any additional counter space. And, the knives I need for prep are right at my fingertips.
FRANK'S TIP No. 7: Quick Craft Totes
Crafting is fun for everyone in our family. What's not so fun is chasing down the supplies needed and the cleanup after. But with a little organization, crafting is way more fun. We've created a portable crafting tote at our house using the SNAPWARE® SNAP 'N STACK® HOME STORAGE 6" X 9" RECTANGLE. It holds just about everything we need for crafting at home. And, with a convenient handle, we can take it with us when the kids' extra activities require the creative touch.
FRANK'S TIP No. 8: When a Dash of Salt Is Too Much
Yup. Happens to me too. Sometimes, I add just a bit too much seasoning to a dish. Luckily, you don't have to waste the time, groceries and effort that go into cooking. Here are a few tricks:
Add a little bit of lemon or tomato. The acid in these ingredients will help reduce the effects of an overly salted-and-peppered dish. If the acid is throwing off the flavor, add just a pinch of sugar to counteract the sour.
Dilute salty soups or stews with a little bit of water.
Toss in extra ingredients, like potatoes, veggies, meat, pasta, rice or beans. Not only will that help reduce the salt or pepper content, it'll ensure that you end up with leftovers! For more help when it comes to overseasoning, check out more SPICE MISHAP TIPS FROM PYREX®.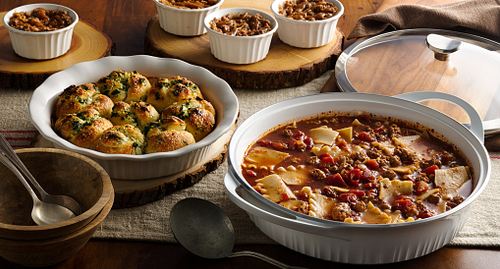 FRANK'S TIP No. 9: Less Cleanup, More Fun
I love time to be creative in the kitchen. The cleanup time? Not so much. That's why CorningWare® bakeware is the perfect answer for more fun and less mess in the kitchen. What I love is that you can prep, serve and store in the same bakeware and cookware. Want to be inspired? Check out this CORNINGWARE MIX & MATCH BAKEWARE MEAL. You can make the whole dinner with just a few pieces of CorningWare bakeware. So easy!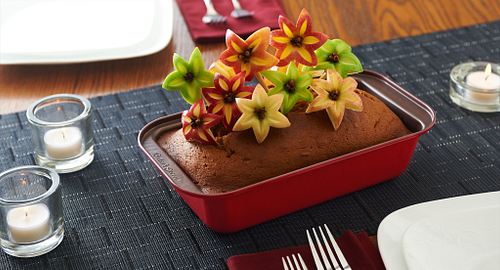 FRANK'S TIP No. 10: A Most Delish Centerpiece
Here's a creative and delicious way to decorate your table. Create a centerpiece made of entirely edible materials. Sounds hard, but it is actually easy. Check out this BAKER'S SECRET EDIBLE CENTERPIECE. It tastes as good as it looks, and takes that extra trip to the florist right off your to-do list.
FRANK'S TIP No. 11: Chipped Dish Turnover
Chipped ceramic dishes make your table look shabby and worn. I took a clue from my mom and rely on Corelle dishware for my tablescapes. They're super durable and chip-resistant. She never worried about me setting the table using Corelle dishware, no matter how young I was. So what do you do with all those extra chipped and worn ceramic dishes in your cupboards? Here are some great UPCYCLING IDEAS FROM CORELLE. My favorite? The bird feeder and birdbath combo from JUST IMAGINE.